Girls Of The Internet – Le Visiteur Featured Artist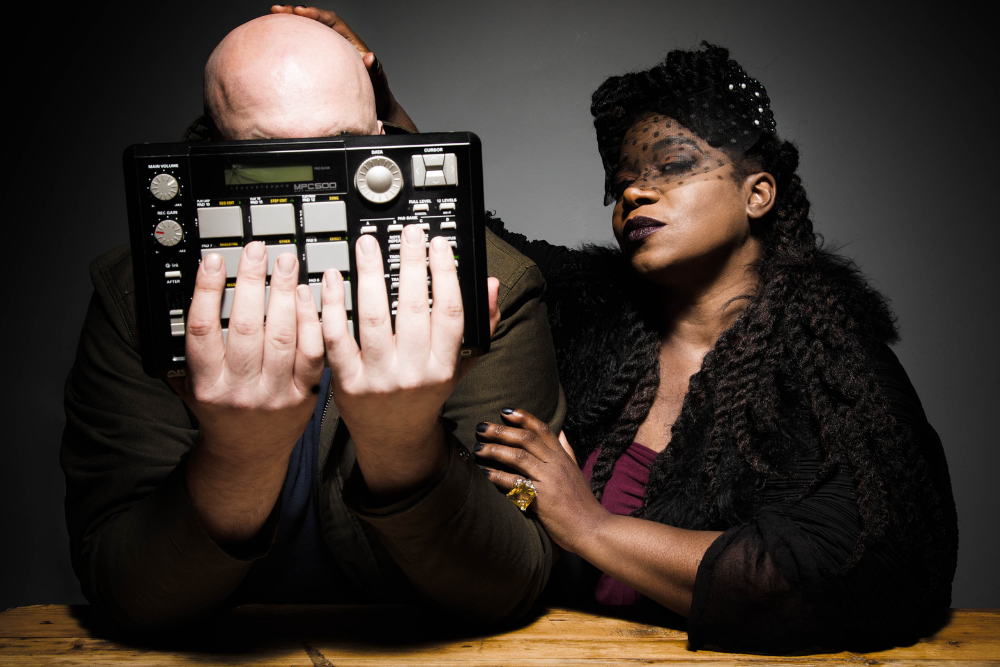 Girls Of The Internet – Le Visiteur Featured Artist
Hailing from the UK live electronic outfit 'Girls of the Internet' have been gaining some serious love from a long list of the finest selectors on the planet including The Black Madonna, Jimpster, Butch, Thatmanmonkz, Marcel Vogel, Luke Solomon and Fouk.
It's easy to see why, their previous single 'Humble' caught heavy club rotation and their latest EP 'U Already Know / Your Love' is another huge step forward. It's packed with powerful club tracks weaving multiple genres together and features the energetic vocals of NYC's Jitwam and MC Princess Precious. They have a sound which is uniquely Girls of The Internet.
We caught up with them to discuss their live set up, their upcoming album 'SYRUP' and their influences.
'U Already Know / Your Love' is out 31st May. Check It Out on Juno HERE
Hi there Girls of the Internet,
Thanks for speaking to us today.
For our readers who haven't come across your releases before how would you describe the musical style of Girls of The Internet?
Patrick Adams making records for Dance Mania. Chic replacing Tony Thomas with Moritz von Oswald. We make house music, but we combine elements that don't normally fit.
How would you describe your forthcoming album 'SYRUP' and can you give us a bit of history about the album?
It's an album about waiting, and misplaced faith. 'SYRUP' started when I was at the lowest point in my life – I couldn't see a future for myself, so I started to make music and my path became apparent. There are messages in the artwork.
Which 3 tracks from your discography would you say are quintessentially Girls of The Internet?
When U Go
This was the first full track I made, and still the best thing I've done. The first person I sent it to was Luke at Classic, and he signed it straight away. It changed my life.
U Changed
Firstly, I've been wanting to work with Olivia Louise for so long – I've been a big fan of hers for such a long time. Disco was the start of everything we know, but I felt as we moved into the 2000's, the part of disco I found most interesting was not the part that other artists were continuing. That real harsh pitched up Ron Hardy looping of lovely disco that pushed into Relief & Dance Mania records in the 90's is what I fell in love with, but all I was hearing was the percussion-heavy nu-disco sound. 'U Changed' was my first attempt at bringing that weird vibe and putting it into a modern context.
Heaven In You Arms
I never wanted to be a sample-based artist – I've been buying sample-based records for so many years, and I think so many producers rely on it so heavily. It's beyond boring. I've always loved disco house, but it's so rare that somebody can come along with a sample-based disco house record that is even remotely interesting or saying something new. Working with vocalists and musicians takes ages, so while I was sat in my little studio, I started messing around with some samples with a drum machine and some distortion pedals. I played them to people, they freaked the shit out, so I decided to put them out. I thought it would be a good way to show Girls' sense of humour too. I call whatever I do with samples a "mixtape", because I feel guilty pinching other people's creativity and calling it my own. This is just fun bangers for the clubs!
Please can you describe your production set up for us and what were your most used pieces of equipment or plugins that you used in making Syrup?
A lot of 'SYRUP' is samples; all of the keys are from some samples of an old Rhodes and an out of tune Piano which I have re-pitched and edited and fed into a sampler and chromatically played. A lot of the guitar is me playing an MPC of cut up guitar samples. There is a Nord Lead on there that I've had forever, a Monologue, Korg DS-8, A Cello, A few cheap distortion and saturation pedals, messing about in Maschine, lots of live bass. I tend to make ideas and recordings with whatever I get my hands on, various studio sessions with musicians and vocalists, then dump it all into Ableton Live and build the arrangement and mix. One thing I use on every track is distortion and saturation, which can either be from a cheap pedal or plug in.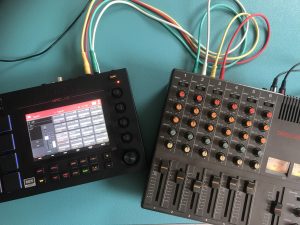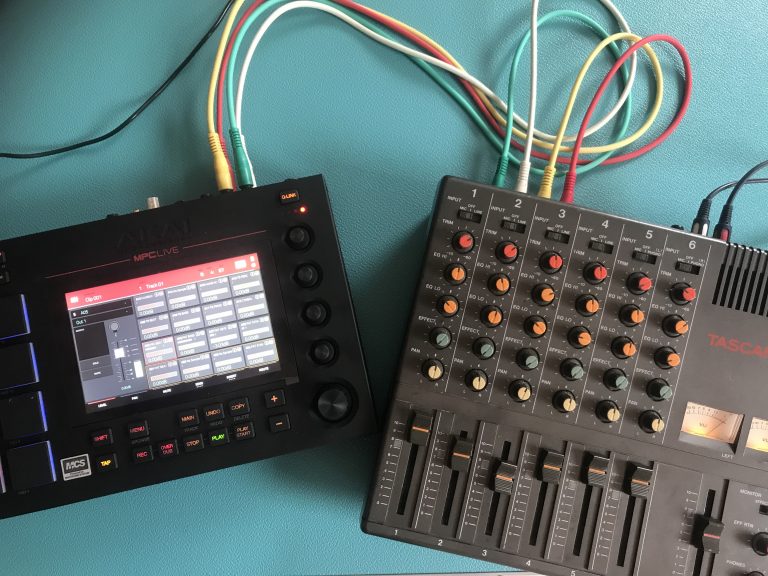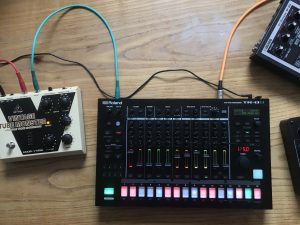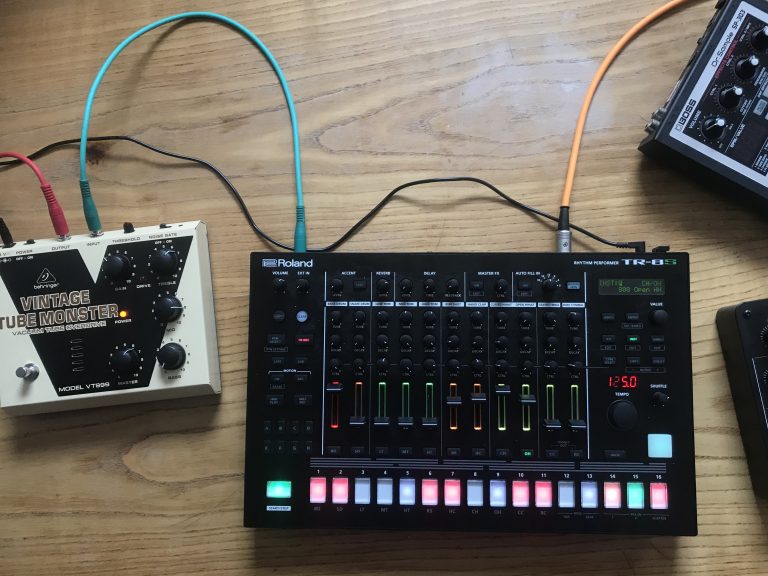 You have pulled in some brilliant collaborators already, if you could organise collaboration with anyone working today who would it be and why?
Man, so many people! Right now, mainstream wise, I love Lizzo – she embodies everything that's good and positive about 2019 to me. I really want to work with Derrick Carter as a singer because I love his voice so much. Can I get Corrina Joseph out of retirement? She was only active for a couple of years, and only did like 5 tracks, none of which were that big, but she's one of my favourite singers of all time. Her tracks with Basement Jaxx are very special to me. I'd love to do some stuff with Maragret Grace, Terrence FM, Jamie Lidell, Eska, Laetitia Sadier, Karen O. I could keep listing people forever.
What would a typical day in the life of The Girls of The Internet be like?
Stare blankly at the wall until my brain works, do some emails, mess about on Ableton, walk and get a coffee, go back on the computer, grab some lunch, maybe do a painting, more Ableton, dinner, watch Drag Race, bed.
Please can you give us 3 tracks which you would say have directly influenced your style of production on SYRUP
Roy Davis Jr – Gabrielle
Start with the obvious – Humble is clearly directly influenced by this. I was always fascinated by how the whole of the UK garage scene was so influenced by this track, but the drum pattern was something that didn't find itself anywhere else – in a scene built on specific drum patterns, that's mind blowing. I just wanted to explore the pattern a bit more, give it some harsher drums.
The Joubert Singers – Stand On The Word
The piano on 'Take Back' was undeniably influenced by Joubert Singers – I wanted to try and pinch the elements I liked about it and put it over really stark, minimal drums. Mixing elements of disco with minimal house is really interesting to me.
Donna McGhee – It ain't no big thing
So my favourite thing in all of disco is that really minimal finger plucked guitar around the root note. When you have an element right at the front hammering away so obviously, when it does deviate with the chords it's so impactful. 'It Ain't No Big Thing' is one of my favourite tracks of all time, and my favourite example of this kind of guitar. I went through about 8 guitarists trying to get somebody who can do this, but nobody could mail it – which is how my MPC guitar work began.
When you are djing what is your 'if all else fails track'?
Oh man, that's a hard question. I think my whole record box is full of tracks like that – I only put big hitters in my box/USB stick. One thing I hate about dance music is how transient everything is – the big tune one week is forgotten by next week. I like tracks that stay with me for years. I have a ton of big records that slay dance floors, but I'm not going to give you my secrets. You can have this:
Trankilou – Atom Funk.
Are there any gigs coming up that you are really looking forward to?
CAN'T WAIT to play with Nightmares On Wax and Andres at XOYO on 1st June!
Are there any plans for Girls of the Internet live shows and if so what can we expect?
Aside from DJing, we have a few ways of playing live; a samplers & drum machines live show, a live P.A. with the dulcet tones of the legendary Linda Muriel, and the full band show. We are DYING to play somewhere, just waiting for some bookings to come in. We did a mini stripped back live P.A. at Love Vinyl in London for Record Store Day which was great. Now starting to get some DJ bookings in, but no promoter has been brave enough to book us live yet! We do have a BBC session coming up soon.
What else can we expect from Girls of The Internet in 2019?
We're working on some new projects, but I can't speak about any of it yet. Another mixtape is in the works, and it'll be more expansive than the last one. I've already written half of the music for the next album too!
For more info on Girls of The Internet please check:
Facebook: https://www.facebook.com/girlsoftheinternet
Soundcloud: https://soundcloud.com/girlsoftheinternet
Tags:
classic music company
,
disco
,
Girls Of The Internet
,
HOUSE