Groove Assassin – Le Visiteur Featured Artist + Mixtape 079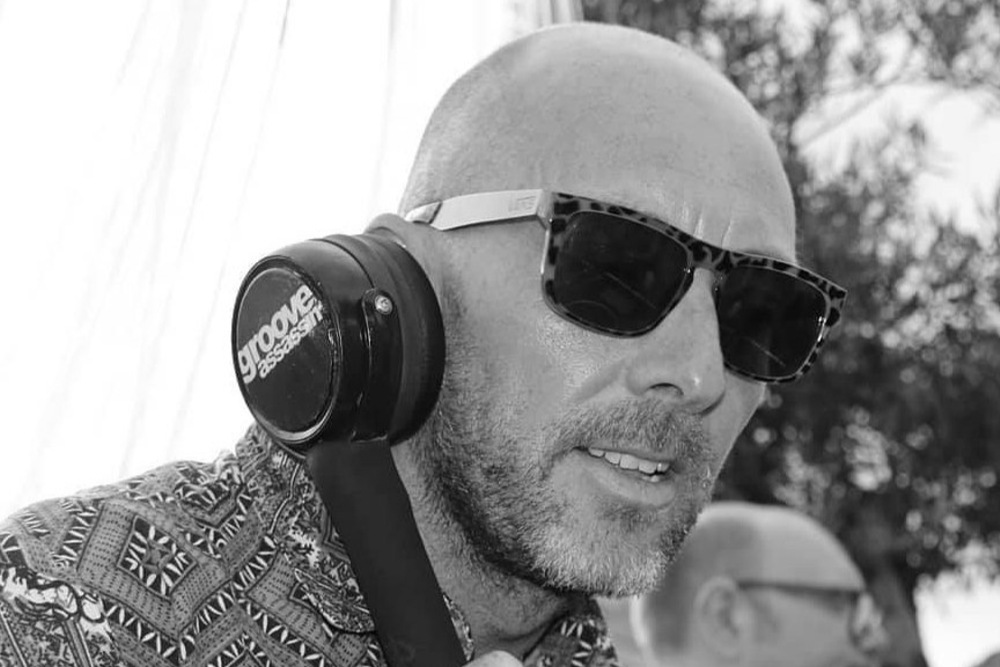 Groove Assassin – Le Visiteur Featured Artist + Mixtape 079
Hailing from Sheffield in the UK Groove Assassin has been a firm fixture on the house scene for more than two decades. Along the way he has built a huge reputation as one of the finest producers around.
Raised on a steady diet of Soul, Disco, Funk and Chicago House you can hear this fantastic combination shining through in his own productions. He produces tracks which have that peak-time dance-floor nous but equally have enough funk, soul and heart for repeated home listens.
It's a combination which has seen him in huge demand for both his original tracks and his remix skills featuring on the finest labels out there including Defected, MN2S, Strictly Rhythm, Ministry of Sound, Quantize, Soul Heaven & King Street.
As a DJ too he has visited every corner of the globe from the States to Australia & Dubai to Japan featuring at some of the best clubs the planet has to offer.
As well as his single releases and remixes he has also put together critically acclaimed artist albums and numerous DJ Mix compilations. Along the way worked with some of House music's greats including DJ Spen, Eddie Amador, Kenny Bobien and Robert Owens. Again it's an extensive list.
Indeed Groove Assassin shows no sign of slowing down anytime soon with a huge release schedule so far in 2019.
We caught up with Nick Moss aka Groove Assassin to discuss his career to date, his upcoming releases, his label and to ask him for some great tips on how to build a career in the industry. He also put together this superb mix for us including everything from Soulful, Latin and deep dancefloor vibes. Please make sure you give it a share on Soundcloud and help us spread the love.
Hi there Nick,
Thanks for speaking to us today.
For our readers who haven't come across your releases before how would you describe the musical style of Groove Assassin?
I'd say it's a very wide spectrum of house music but always with some soul thrown in. I suppose from a DJ/producer point of view I'm best known in the Soulful House genre. I've done a lot of remixes over the years that lean more towards that style but I like to dive into all different styles of house and beyond when producing and DJing. It really just depends on my mood / label or the venue/club if I'm DJing.
Please can you give us 3 of your own tracks which are quintessentially Groove Assassin.
Kem – Heaven (Groove Assassin & Marlon D Remix) Jellybean Records.
For the Soulful heads I think most people will know this one. It's quite an anthem on the soulful house scene and still gets a lot of love to this day. It's being doing the damage since 2007! Joe Claussell has his own dance for this one 🙂
Kerri Chandler – Yellow (Groove Assassin Heal my Heart Edit)
This one was one of my all-time favourite tracks by one of my fav producers and DJ's Mr Kerri Chandler. It's more of an edit /remix as I added in the acapella from Heal my Heart worked it around and chopped and looped different section of the original Yellow track. It was a big record for King Street Sounds NYC.
Volia…. the result was a smasher and it's somewhat of an anthem at certain parties around the country namely Groove Odyssey … It sounds incredible on the MOS main room system
Groove Assassin – Whatcha Got?
For my third choice I've chosen this brand new track I've just recently released on my Things may Change! label. It's kind of got all the elements of an old school house track, it's quite stripped back with a definite 90's influence running throughout. It's been working the dance floor recently and I've had some great feedback. It's also going to feature on the Papa Records ADE 2019 album so watch out for that dropping real soon !
How would you say your sound has developed since you started producing?
I'd like to think my sound has got tighter and sonically better over the years. I often listen back over tracks from a few years ago and can't even remember how I made them. I've heard my tracks and remixes in DJ's sets and on other DJ's mixes and thought…..
''Wow I know this track ….it's sounds great , what is it?''
One specific remix was a dub mix I'd done for Solid Ground records and I heard it playing on a Larry Heard mix and it turned out to be a remix of mine. Although it sounded somewhat familiar I didn't even recognize it as one of mine it until I saw the track list. That was pretty cool moment ……slightly concerning though …early Alzheimer's ????? 🙂
Over the years you have worked with some of the greats of the scene. Which collabs have really stood out for you and if you could organise a collaboration with anyone in music who would it be and why?
This is the one question I always try to avoid on interviews mainly because the are so many people I'd love to work with that it's hard to pin point one artist. People who had have a huge influence on me as an producer and DJ from the early house scene would be Masters at Work , Mood II Swing, Kerri Chandler, Jovonn, Frankie Knuckles, Larry Heard, Glenn Underground, Deep Dish, Murk….
I can keep going and going … but yeah any one of those greats would be great to collab with.
What would you say is your proudest moment in your music career so far?
I think gig wise it would have to be playing proper Soulful House to 5,000+ people in Jakartta outside Indonesia's largest shopping mall, that was pretty special. It's fantastic to see people dancing / playing / supporting and asking for my tracks and remixes. It's humbling to see your music touching people from the other side of the world.
I've been very lucky to travel the world and meet some amazing people from all walks of life just by making and playing music and I been able to play at some of the best clubs & venues around the world.
Looking back at some of the artists and labels I've worked with makes me feel very proud and makes all the hard work seem worth it.
I've been lucky to release tracks on my all time favourite labels that I was going crazy about as a teenager. I never thought that would have been possible when I first started out. Being on the same bill or warming up and standing on stage and playing alongside the pioneers of the scene is a very humbling experience and very surreal.
You have had an incredible long term career in the music industry. What tips do you have for our readers who are trying to get established in the industry?
Stay focused have a plan stick to it, don't be afraid to be different and get out and network as much as possible. It's like a game of snakes and ladders with sadly more snakes than ladders nowadays. Never give up keep pushing on, target labels and brands specifically and push your own sound/brand hard, no one is going to do it for you !
Please can you describe your production set up for us and which 3 studio resources or plugins do you recommend?
Over the years I've streamlined massively. The only outboard I have at present is a Roland JV1010, Emu Vintage Keys. I'm an Ableton head have been for a while although dive into Logic now and again.
I love the Waves plugins and also the Arturia Collection and more recently the Roland Cloud plugins. The FabFilter bundle is great too but I try not to overload too much on plugins. Just try and work well with the tools you've got learn them inside out.
You have a series of releases incoming please can you tell us a little about those and what else can we expect from you over the next 12 months?
I've been working on building the catalogue on my Things May Change label so I've been pushing releases out pretty consistently over the last few month's. As the label states 'Things may Change' which allows me to release a variety of deep n soulful flavoured house and disco boogie beats. I'd get bored releasing the same sound all the time
It's really about mood and feeling for me and diversity. Keep it fresh and exciting.
I've currently just released a single by David Bailey ft Hanlei called Keep Up! It's already flying up the Traxsource charts. The original is a Broken Beat affair and I've knocked up 2x remixes for the package which are more deep soulful house.
DJ Spen has just released a track of mine on his Unquantized imprint. It's a sample of an old Trammps records which is getting a huge response at present. I'm looking forward to working on more projects with Spen very soon.
I'm also starting to compile the next Things May Change LP Vol 3 which will feature some unreleased tracks as well as some of the recent favourite's from the label.
I'm constantly working on new music & remixes so expect plenty more over the next 12 months and beyond and some exciting collabs that I can't say too much about at present.
And finally, please can you give us 4 tips for a great day out in Sheffield. A place to buy records, a place to eat, a place to drink and a place to dance.
Sadly most of the record stores in Sheffield have gone. There's a pretty cool small shop close to me called Record Collector. It's been there since I was at school and you can pick up some rare disco jazz funk soul bits from there if you dig deep enough.
Kelham island is a good place to start off in Sheffield. It's a hub of decent micro brewery's & real ale pubs with some great food halls and some smaller more artisan bars and cafes.
As far as dancing goes I don't dance I'm a DJ 🙂 only kidding. I haven't been out in Sheffield for a while, I wouldn't know about the club scene, but I know it isn't great for soulful house in Sheffield.
I much prefer spending the weekends out on my bike in the Peak District if I haven't got any gigs and I'm not locked up in the studio.
For more info on Groove Assassin please check:
Facebook: https://www.facebook.com/GrooveAssassin/
Soundcloud: https://soundcloud.com/nikmoss-grooveassassin
Tags:
dj spen
,
groove assassin
,
Quantize
,
soulful house
,
Things May Change