Harold Matthews Jr Worship Mix – Mixed by Sean McCabe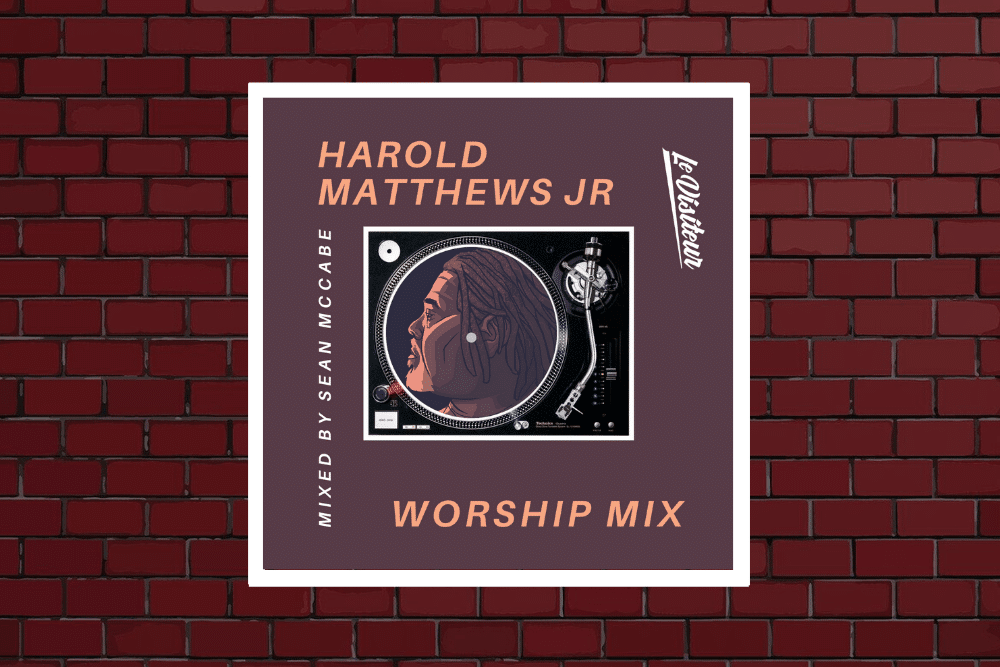 Harold Matthews Jr Worship Mix – Mixed by Sean McCabe
Like what you hear? To help support LV Online buy us a coffee via Ko-FI. Click HERE
It's been a while since we properly caught up with Sean McCabe. Based in Bristol Sean is one of the UK's finest house producers. Releasing his first work in 2003 at the age of 17 he has since amassed a huge discography of original releases on some of the planets finest labels including Local Talk, Strictly Rhythm, Vega Records, Tribe, and Quantize. He has also remixed for some of the legends of house music including Dennis Ferrer, Evelyn Champagne King, Carolyn Harding, Blaze, and Roland Clark.
Sean is also behind the classy label Good Vibrations which consistently releases some of the finest Soulful house around. It's become a real go-to label for the scene.
His latest project is an album with Chicago songwriter and producer Harold Matthews Jr. Harold wrote his first releases in the early 90's with artists like Ron Trent, Terry Hunter, Maurice Joshua and Ron Carroll crafting songs such as "Ritual Of Love" and Barbara Tucker's "I Get Lifted". In the late 90's he received plenty of support for his work as Blak Beat Niks and he has since gone on to release with Slip N Slide, Makin' Moves and Peppermint Jam and work with Mark Knight, Glenn Underground and of course Sean McCabe.
Peripheral Vision landed today on vinyl and you can grab it via: https://www.juno.co.uk/products/harold-matthews-jr-peripheral-vision/857372-01/
We have a full interview with Sean incoming about the project, in the meantime he put together a worship mix for us picking out some of Harold Matthews Jr's finest moments. It's an incredible mix showing the depth and breath of his work.
Check it out below and please give it a share over on Soundcloud and help us spread the love. You can also check out the full tracklist at the bottom here.
Q1: What can you tell us about the theme of the mix and what are some of the key tracks for you?
It's a collection of tracks with songs written by and some even performed by Chicago based Harold Matthews Jr. He's a Good Vibrations Music label artist who we are releasing an album with soon. The mix Includes tracks under his Blak Beat Niks alias, and collaborations and remixes with the likes of Ron Trent, Glenn Underground, Barbara Tucker, 95 North, Kerri Chandler and myself. "Celebration" was a big one for me, and is still a favourite.
Q2: How does the style of mix here compare to how you would approach a live DJ set?
Well I don't normally play music all by the same artist, and I probably play with a bit more energy in a live set with more dubs between the songs. But there is some variation to the music in this mix and I have programmed it to flow and build throughout, which I would do live.
Q3: Which other artists DJ mixes do you find yourself coming back to time and again and do you have a favourite that you gravitate towards?
This is a tough one as it's not something I do now like I used to. There is so much music to keep up with, I'm only ever listening to new mixes and shows. A lot of the ones I listened to on repeat were CDs given to me by friends at events years back, or mix compilations. The only one I can think of that I go back to is Dave Lee's Vintage House and Garage set at Southport Weekender. I was there at the time, so it brings back good memories. It was a solid set full of classics I still love and is very well put together. I still come back to this now and then when I'm in the mood. It's good for those late night car journeys too.
For more info please check:
Sean McCabe Facebook: https://www.facebook.com/seanmccabemusic/
Sean McCabe Soundcloud: https://soundcloud.com/seanmccabe
Sean McCabe Instagram: https://www.instagram.com/seanmccabemusic/
Sean McCabe Twitter: https://twitter.com/seanmccabemusic
Good Vibrations Music Facebook: https://www.facebook.com/good.vibrations.9210/
Good Vibrations Music Soundcloud: https://soundcloud.com/goodvibrationsbristol
Harold Matthews Jr Facebook: https://www.facebook.com/hmattjr
Harold Matthews Jr Instagram: https://www.instagram.com/aka_big_ed/
Harold Matthews Jr Worship Mix – Mixed by Sean McCabe – Tracklist
1. Harold Matthews Jr & DJ Fill – Pause
2. The Blak Beat Niks – The Right Place (Sean McCabe Deepa Reprise and
3. The Blak Beat Niks – The Right Place (Sean McCabe Deepa Dub)
4. Harold Matthews Jr feat. Symone – One Body (Sean McCabe Deepa Vocal Mix)
5. Crocker and Harold – Our Music (Dub)
6. Crocker and Harold – Our Music (Original)
7. The Blak Beat Niks – Get Over Yourself (Sean McCabe Classic Mix)
8. Harold Matthews Jr & Black Sonix – Deep Into My Sleep
9. Serenity Project – The Sun Will Shine
10. Blak Beat Niks – Ritual of Love (Ron Trent's Vocal Beat Down Mix)
11. Blak Beat Niks – Alright
12. Blak Beat Niks – Celebration (95 North Ruff House Dub)
13. Blak Beat Niks & Ron Carroll – That's The Way (Ooohhh)
14. Barbara Tucker – I Get Lifted
15. Blak Beat Niks – I'll Be There (Kerri Chandler Dark Vibe)
Tags:
Good Vibrations
,
Harold Matthews Jr
,
Sean McCabe
,
soulful house