Ibiza 2019 with Christian Laguna and Luca Garaboni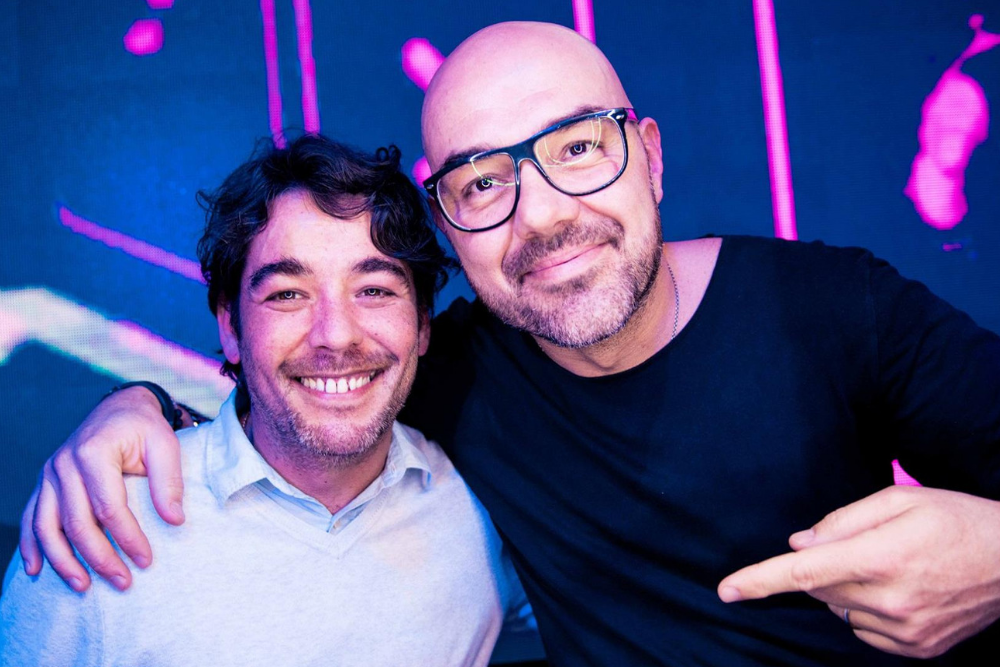 Ibiza 2019 with Christian Laguna & Luca Garaboni
+ Mixtape 055 Luca Garaboni Live from Blue Marlin Day Time Set
With another Ibiza season well underway in what is proving to be another exceptionally exciting year we thought we would try to get to the bottom of just what it is that has lead to Ibiza's near mythical reputation and why people come back year after year to the island.
We spoke to Christian Laguna who runs the Ibiza based Ground Level agency and 07800 Management and one of his hottest artists Luca Garaboni for their thoughts about the island, their plans for the summer and to get some proper inside tips about where we should be checking out this summer.
Luca who is resident at the Blue Marlin as well as being A&R manager for Flashmob records also put together a superb mix together for us showcasing some of the sounds he will be playing this coming season. Check it out below and please give it a share on Soundcloud and help spread the love.
Hi there Christian and Luca,
Thanks for speaking to us today.
Christian please can you tell us a little about your relationship with the Island and about Ground Level, your agency?
Well being born and raised here with my brother Alberto it's be a total privilege, we feel blessed and grateful every morning to live in such a paradise and mecca for electronic music. The past decades have been our school of what we have become today thanks to all the different movements of electronic music in the 90's and 00's that we have experienced.
Luca you are originally from Italy, how did you first discover Ibiza and what are your favourite memories of your first trips to the island?
Thanks to the music I have know Ibiza since forever. It's been ten years since I came across the island, and before that I was often at the Isle of Pag in Croatia. My thoughts go to Space and DC10 for sure, the real temples of House music, and to all the magic vibes touching my soul.
Luca which of your own tracks would you say are quintessentially Luca Garaboni and how would you describe your musical style?
The question is not too easy to answer, because in every season of my life as a producer I have had a lot of different inspirations. Now I believe "Womb" (out on Viva Music) is the peak of my self-expression, it shows all the energy I put into this job!
Chris what do you think it is about Ibiza that makes people fall in love with the island and come back year after year?
Well, the answer is clearly the feeling of freedom your experience from the moment that you step out of the plane and your get that slap of fresh air from the sea coming directly into your face. It's the total feeling of freedom that you get when you walk in places and you make your life with the locals. It's truly a place where you can be yourself and that's what makes Ibiza special for people I believe.
Luca you have been resident at the Blue Marlin since 2017. Please can you tell us a little about your residency with them, when can we catch you playing at the venue this year and what can you tell us about the style of your sets for Blue Marlin?
Blue Marlin Ibiza was the beginning of a new life-step as a dj. Being the resident dj of this important club gave me a huge responsibility but a great stage to perform on and the chance to meet many great artists from all around the world also.
I play day and night sets at Blue Marlin Ibiza, but what I love the most is playing from the dusk. The vibe makes me crazy and the sound is so sweet, melancholic but always groovy. My dj-sets run through Deep House melodies to much sought-after notes, never losing the rhythm.
Chris, the last few years have seen some huge changes in Ibiza with changes to licensing affecting boat and beach parties and club opening times and also significant changes to the predominant music styles. What do you think we can expect from the 2019 season?
We can only expect more of that, since the island has been exposed and promoted in certain ways which has affected the whole situation. Honestly we are only looking to try and keep that true spirit of the island and what it was but we are aware that the 90's are gone and it is becoming more difficult year after year to keep that spirit alive.
Luca which artists and club nights will you be checking out when you are not playing and are there any new events or residencies starting this year that you are particularly excited about?
There are a lot of exciting places on the island but as you can imagine it's really impossible to be everywhere. I prefer venues that represent my personal music tastes such as "Dance or Die" by Nic Fanciulli (at Ushuaia), Ants (at Ushuaia), Warriors (at Octan) and Vagabundos (at Amnesia).
I spend my free time with friends, usually going to dance at "Heart", where you find something interesting every day of the week, independent of the music style.
Luca please can you give us a few tracks which you would say are your perfect Ibiza tracks.
Summer has just arrived and cool stuff can be released in every moment.
Actually I think "Roll The Dice" by Flashmob, "Joys" by Roberto Surace, "Fury's Laughter" of S.A.M, "Baiana" of Barbatuques (Pablo Fierro Edit) and my "Womb" itself could be the killer-floor tracks of this 2019… Crosstown Rebels, Rob Soul, Pampa stuff as well.
Chris please can you give us 3 tips for places to visit on the island that are maybe a little off the beaten track that people might not have visited before.
Honestly I could not give you the answer as we keep the secret places very hidden so we can still enjoy them 🙂 Honestly the island is beautiful and you have beautiful sunsets on the San Antonio side and beautiful sights all over the North of the island close to Portinatx or the beautiful neighbouring island Formentera which is one of the pearls of the Mediterranean sea or maybe the world.
Luca what are your plans for the 2019 Ibiza season?
I am always working to improve my skills and get better every day as a producer and as a dj. You never stop learning!
Chris the last couple of years has seen a huge resurgence worldwide of disco which filtered though into Ibiza hugely last year with the massive success of Glitterbox. How do you think this is going to manifest itself this year?
This is just a cycle of music and I believe that Glitterbox has hit a sector of people who were looking for electronic music but were not ready to go to Techno clubs and didn't want mainstream music. It's people who were used to clubbing in the 90's and even before so they are going back to their roots. I will consider they will become the first generation of electronic or house music grandfathers.
Luca can you recommend a beach for sundowners with a disco soundtrack?
Blue Marlin at Cala Jondal without any doubt! https://www.bluemarlinibiza.com/ibiza/
Christian if you were asked to collate your perfect Ibiza club night which 4 artists would you book and why?
Our perfect Ibiza club night would obviously be with our talent, I can only recommend to visit and listen to Luca Garaboni, Paula Serra, Nukov & Yelmet & Nnader Razdar.
Luca when you are djing what is your 'if all else fails track'?
Marco Lys – The story continues
I was the first to play that track on April 2017 during my debut at Blue Marlin Ibiza and what happened was absolutely mind-blowing. One year and half later "The story continues" became "Track of the Summer.
For more info please check:
Ground Level Website: http://www.groundlevelibiza.com/
Ground Level Facebook: https://www.facebook.com/GroundLevelManagement/
Luca Garaboni Facebook: https://www.facebook.com/pg/djlucagaraboni
Luca Garaboni Soundcloud: https://soundcloud.com/lucagaraboni