Inkswel Releases On Boogie Angst. Le Visiteur asks him to 'Empty His Bag'.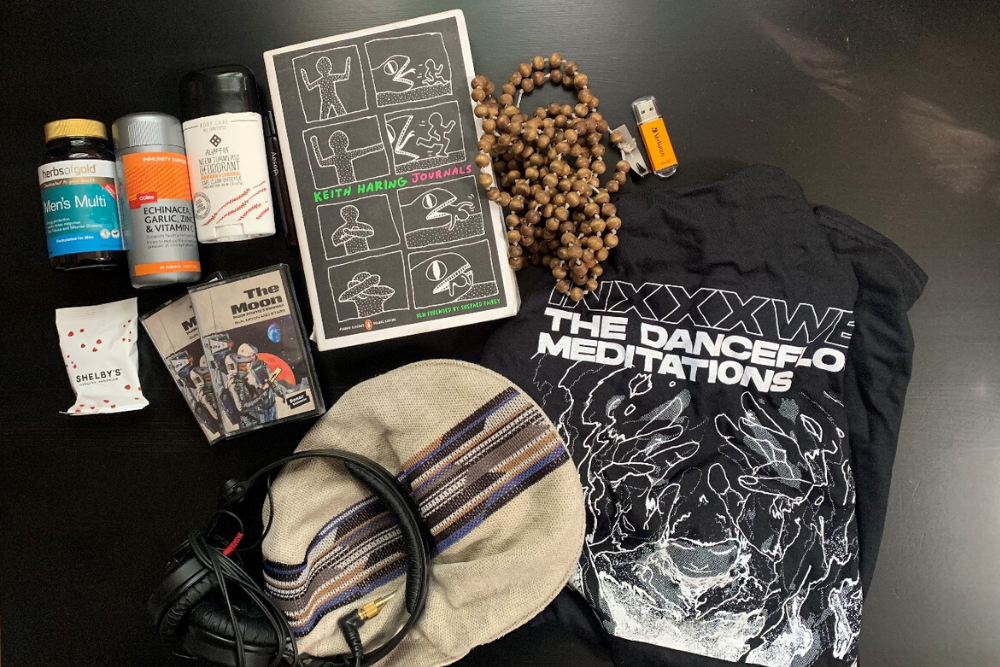 Inkswel Releases On Boogie Angst. Le Visiteur asks him to 'Empty His Bag'.
Inkswel is an interesting character and one who is musically difficult to pin down. He is an artist who is equally as comfortable making smooth soulful house as he is hip hop jams and he can easily turn his hand to crafting deeper house and broken beat.
What it is safe to say is that Inkswel's musical DNA is made up of wonderful kaleidoscope of fascinating sounds and that he is an artist who most definitely creates music which has an incredible quality.
With his latest release just about to land on Kraak & Smaak's Boogie Angst we put a few quick questions to Inkswel to try and give us a little more focus on what it is that makes him tick as an artist. He was also good enough to empty his gig bag for us, you can check that fascinating feature below.
Hi there Inkswel,
Thanks for speaking to us today.
For our readers who haven't come across your releases before how would you describe the musical DNA of Inkswel?
Im a Bboy first and foremost…my musical upbringing comes from Hip Hop.. I was a Hip Hop purist at the start and through the dance my taste evolved outwardly following music that was more dance focused. Funk and disco at the start and then in the early 2000's when I heard broken beat it really struck a chord with me and my taste and my direction has been expanded ever since.
You have such a varied musical output. What artists influenced you when you were starting out on your own production journey and what did you learn from their music that you have put into practice in your own?
I think similarity wise I definitely look up to greats like DJ Spinna and Jazzy Jeff. These guys do it all and as DJ's they cover all bases. This really painted a picture for me of how I wanted to approach things. Obviously we are very different stylistically but the approach to soulful music in general is where I find an affinity with these guys. Kenny Dope is also a great example. Hip Hop is the foundation and backbone and that attitude is there even when making a House or Broken beat joint!
Please can you give us three tracks from your discography which you would say are quintessentially Inkswel.
Inkswel – She Likes Techno feat. Reggie B & Kid Sublime
I guess this is the track I'm best known for. I made this at the start of my journey releasing music, I was living in Amsterdam at the time with my ex girlfriend and linked with KC The Funkaholic (the owner of Kindred Spirits records and Supersonic Jazz). At the time he invited me to play his 80's boogie funk party called BOOGIE BASH, and he started a label based around this party and the rest is history!
Amp Fiddler – Funk Is here To stay (Inkswel Remix)
This came about when I was living in Berlin and I felt that it really showed my evolution. It still has my sound but it's more polished and well rounded. It was an honour to be asked to do an official remix for Amp Fiddler so I really tried to pay respect to the original track and him as an artist. It involved a horn section and live bass among other things.
Inkswel – Shut Em Down feat. John Robinson
This is an older track from my more Hip Hop days and I've stayed linked with John Robinson as a friend ever since. For me this shows the evolution of things as its my roots, a very crazy sample flip on this one that is almost too hard to explain. It really still strikes a chord with me and shows the angle I took with things growing from the start, as far back as around 2009.
How would you describe your latest EP The People which is out now on Boogie Angst and can you give us a bit of history about the EP?
I make a lot of music so I'm unsure about the back story really, it started with the sketch idea of the title track and then evolved from there. Dave Aju sent me the vocal and then I approached the guys at Boogie Angst. I guess at the time I was trying to do things with a less conventional direction percussion wise. So the basis of the track is the off beat.
Where can we catch you next:
o Sunday March 8 – Pirate Life Brewery, Adelaide
What else can we expect from Inkswell in 2020?
Pugs Atoms & Inkswel – The Moon LP – Sonar Kollektiv
Inxxxswel – Dancefloor Meditations – EDITS Album
Planetsef – Wanderlust EP – Cooperation Records (Bugz in the Attic Label)
and loads more..
Inkswel's latest release lands on Boogie Angst on March 6th and you can check the immense Cody Currie remix of The People below and our EP review HERE.
You can grab the EP including ace remixes from Cody Currie and Thatmanmonkz via: https://Inkswel.lnk.to/ThePeopleEP
Inkswel – What's In You Bag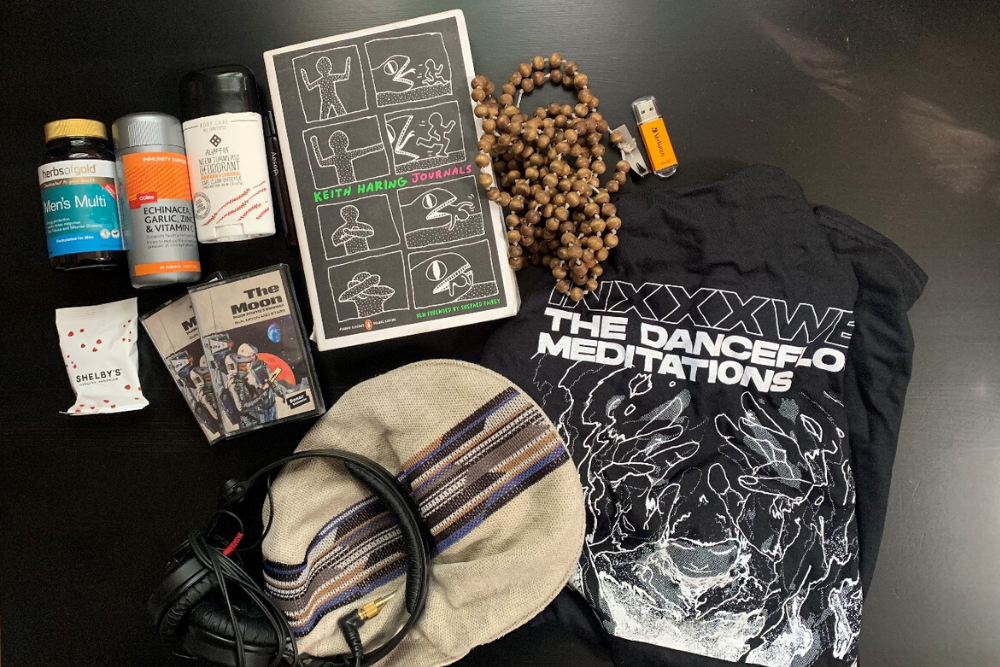 1. Men's multivitamin (herbs of gold)
– need to keep regular on tour.. lack of sleep and good organic vegan food makes it hard to maintain and I want to be able to bounce back quick and do my job pro.
2. Echinacea and ginger tablets
– for the same reason as above but if I need to knock those germs out (aeroplanes are gross).
3. Alaffia deodorant
– self explanatory really, no one wants to stink.
4. Aesop Marakesh fragrance
– this smells great and is also travel friendly as it's a rub on balm type of affair.
5. A good book
(Keith Harring journals)
Need to read in downtime to slow the brain down and get a break from screens. My wife bought me this 4-5 years ago but I'm only just getting to reading it.
6. Sandalwood beads
These are my lucky charm, have been carrying them around and wearing them for almost 10 years, a good luck charm of sorts.
7. USBS
– sticks of magic.
8. Headphones – Senhheiser hd25
Industry standard I guess.
9. Kangol
I live in hats really, but I love Kangol golf hats..
10. INXXXWEL – dancefloor medtiations t shirt
– Some merch I got made on tour in LA via the homies at HIT+RUN / design by Joel VDK.
11. Pugs atomz & inkswel cassette tapes
Tape version of the new album I have dropping on Sonar Kollektiv.
12. Shelby's cookie
Dope ass vegan gluten free cookies you can get in Australia. My go to travel snack. It tastes like junk food but is hella healthy.
For more info check:
Inkswel
https://www.facebook.com/inkswel/
https://soundcloud.com/inkswel
https://www.instagram.com/inkswel/
Boogie Angst:
https://facebook.com/boogieangst
https://soundcloud.com/boogieangst
https://boogieangst.bandcamp.com
Tags:
Boogie Angst
,
Cody Currie
,
Inskwel