LV Premier – Jackie Moore – Holding Back (Breakdown Mix) [A's And Bee's]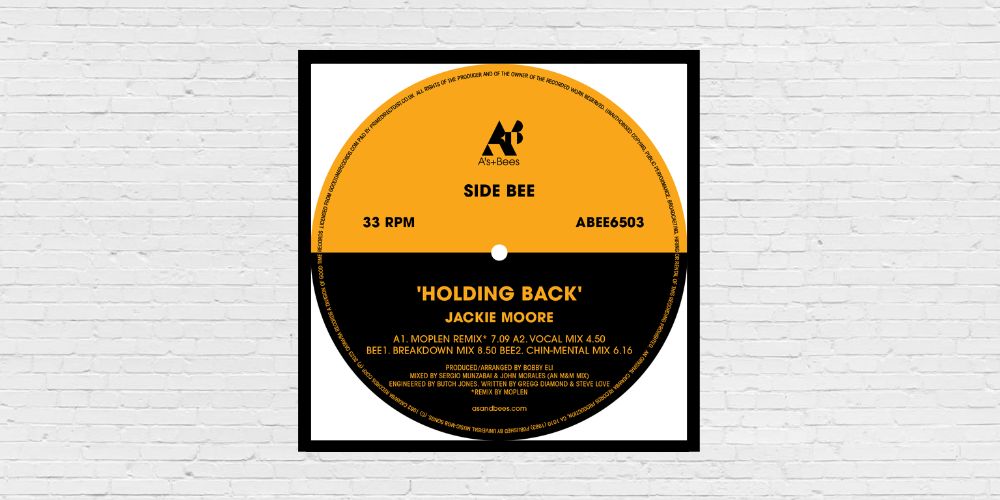 Definitely one of my favourite labels right now is A's+Bees who are delivering sumptuous heavyweight pressings of dusty classics with each release featuring both the often overlooked or under appreciated original with a modern re-interpretation.
Following up the brilliant Late Nite Tuff Guy re-interpretation of Silk's holy grail unreleased track Somethin' 'Bout The Way which I covered here, and is a must have, they are back with Italian maestro Moplen reworking Jackie Moore's delicious Holding Back a track previously produced by none other than M&M aka John Morales and Sergio Munzabia.
Sublime Disco all round from this all star team and as always 50% of profits go to the British Beekeepers Association.
Check out the ludicrously life affirming Breakdown mix, M&M at their absolute finest above. Warm with soaring strings, beautifully tight bass and a powerhouse vocal performance. As you would expect from one of the most consistent producers on the scene Moplen's reqork also hits the spots perfectly taking everything that makes the original special and giving it that extra pizzazz for the 2023 dancefloor.
Grab the 12″ from the 8th September and pre sale available now via: https://www.juno.co.uk/products/jackie-moore-holding-back-vinyl/966093-01/
For more info on John Morales, Moplen and A's And Bee's please check:
John Morales Facebook: https://www.facebook.com/John-Morales-230746626983955/
John Morales Soundcloud: https://soundcloud.com/john-morales
John Morales Twitter: https://twitter.com/JohnTheMixer
Moplen Facebook: https://www.facebook.com/moplenluca
Soundcloud: https://soundcloud.com/moplen
Moplen Instagram: https://www.instagram.com/lucamoplen/
Moplen Twitter: https://twitter.com/LucaMoplen
A's & Bee's Soundcloud: https://soundcloud.com/asandbees
Love this? Check out another recent scorcher from John Morales HERE.
Like what you hear? To help support LV Online buy us a coffee via Ko-FI. Click HERE
Tags:
A's And Bee's
,
jackie moore
,
john morales
,
Moplen