Jay Vegas drops The Mix 04 and gives us some ace producer tips!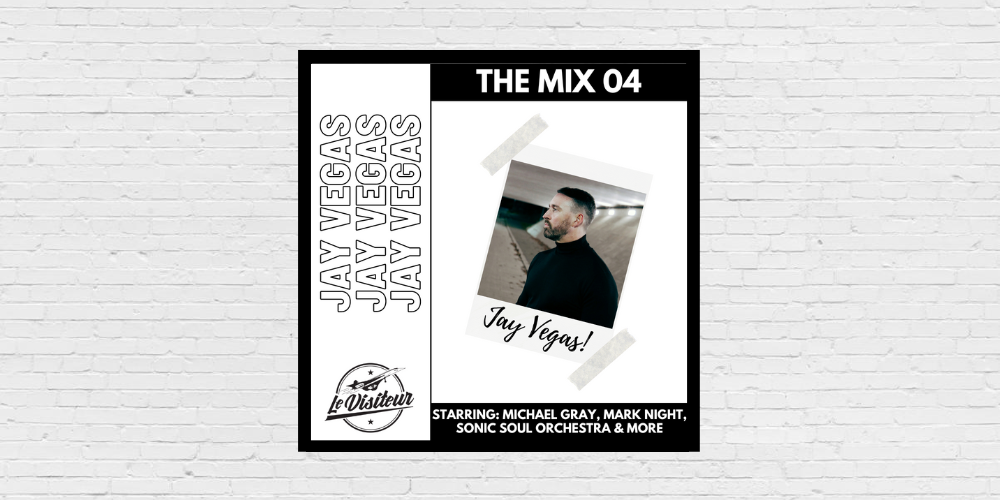 Jay Vegas's tracks have long been a secret weapon in my DJ sets all over the globe. With an extensive discography harking back to the 00's Jay has stayed true and consistent to his sound across a decade and a half crafting effusive house and disco combining classic riffs and synth lines with stellar production skills and original tracks aplenty. He is also one of the heads behind the excellent Hot Stuff label, another go to if you are looking for floor fillers.
His tracks quite literally never fail to light the touch paper under the dancefloor.
With a brand new remix of Sonic Soul Orchestra's Happy People out via Tinted which we premiered HERE we are very pleased to invite Jay for his LV debut on our new Mix series.
As you might have expected from one of the finest out there Jay's mix is off the scale energetic combining his own work with that of the hottest producers out there. You can check the full tracklist at the bottom of this feature.
You can grab Jays remix of Sonic Soul Orchestra's Happy People HERE
I also managed to grab a quick chat with Jay about his Happy People Remix, his studio and he gave us some great producer tips.
Please can you tell us about your remix of Soul Sonic Orchestra and what vibe you were aiming for with the remix.
I liked the original mix, so I wanted stay true to it's feel good, uplifting disco vibe. I felt there was a melodic element missing on the chorus. So I decided to add some extra strings, which I layered with some vibes to accentuate the melody. I stripped down and rearranged the vocals, as there were some parts I felt weren't needed. I also added some timbalis on the intro and main breakdown to add some extra energy and excitement for the dancefloor.
Please can you tell us about your studio. What is your production set up? What is your indispensable piece of equipment or plugin that you use for your sound and what is next on your studio shopping list?
My studio set up is PC based. I use Ableton as my main DAW and occasionally use Reason or Cubase. I've done away with most of the hardware and work mostly 'in the box' nowadays.
I have a handful of plugins that I use regularly. But if I had to pick one I guess it'd be the T-Racks spectrum analyser. I use it to monitor my mixdowns; as I usually mix as I go.
Next on my shopping list is a new studio computer and a new audio interface!
Please can you give us your three favourite studio tips for up-and-coming producers?
1. You don't need to compress everything!
2. Mix in mono. Most sound systems are mono. If you get the mix sounding good in mono, the chances are it'll sound even better in stereo.
3. Adopt a growth mindset and be resilient. Music production is continual learning process and there'll almost certainly be setbacks in your music career. So embrace the challenges and keep focused on what you want to achieve.
Please can you tell us about the mix you have done for us. How does it compare to you club sets and what are some of the key tracks for you?
It's quite a funky mix. My club sets are energetic. I like to play most genres in my sets. I think it's boring to stick to one style. DJing should be a journey – a story – a memory – a moment in time.
There's a couple exclusives in the mix: a remix I've done for Mattei & Omich called 'My Feelings' and a remix for DJ Kone & Marc Palacios called 'Dale'.
What else can we expect from Jay Vegas in the next 12 months?
It's an exciting year, as Hot Stuff is celebrating its 10th anniversary. So we've had some amazing remixes to celebrate it by: Mark Knight, Angelo Ferreri, Mattei & Omich, Hatiras & DJ Kone & Marc Palacios.
Expect to see more remixes from me on various labels (it's been a busy year) and some exciting collaborations that I can't yet disclose. I'm also working on a single for Mark Knight's new label Fool's Paradise. I'll also be releasing some new material on Hot Stuff autumn/ winter time.
For more info on Jay Vegas and Tinted check:
Jay Vegas Facebook: https://www.facebook.com/dj.jayvegas
Jay Vegas Soundcloud: https://soundcloud.com/jay-vegas
Jay Vegas Instagram: https://www.instagram.com/mrjayvegas/
Jay Vegas Twitter: https://twitter.com/JayVegas1
Tinted Records Facebook: https://www.facebook.com/Tintedrecords
Tinted Records Soundcloud: https://soundcloud.com/tinted-records
Tinted Records Instagram: https://www.instagram.com/tintedrecords
Like what you hear? To help support LV Online buy us a coffee via Ko-FI. Click HERE
Le Visiteur – The Mix 04 – Jay Vegas – Tracklist
1. Jay Vegas – Can U Feel It (2023 Remaster) [Hot Stuff]
2. CJ Cooper – Disco Juice [SoSure Music]
3. Luther Vandross – Never Too Much (Michael Gray Remix)[DMC]
4. Jay Vegas – One Day (DJ Kone & Marc Palacios Remix) [Hot Stuff]
5. Mattei & omich – My feelings (Jay Vegas Classic House Mix) [Metropolitan]
6. DJ Kone & Marc Palacios – Dale (Jay Vegas Latin Remix) [Hot Leaf]
7. Grant Nelson – In Motion [Swing City]
8. Hatiras – Starlight (Jay Vegas 'Beam Me Up' Remix) [Spacedisco Records]
9. Jay Vegas – Rock Tha Show (Angelo Ferreri 'Jackin Shot' Remix) [Hot Stuff]
10. Mark Knight, Nitro deluxe – Brutal [Toolroom]
11. David Penn, Sex-o-Sonique – I Thought It Was You [central Station Records]
12. Seamus Haji, Michael Gray, Phebe Edwards – You Bring The Sun (Groove Assassin Extended Remix)[Sultra Records]
13. Angelo Ferreri – Love Problems (James Silk Remix) [Deepalma Soul]
14. Raven Maize, Dave Lee – The Real Life (David Penn Remix) [Z Records]
15. Sonic Soul Orchestra Feat. Phillip Ramirez – Happy People (Jay Vegas Classic Disco Mix) [Tinted Records]
Tags:
Jay Vegas
,
Tinted
,
Tinted Records