Everyone Back To Mine with RSL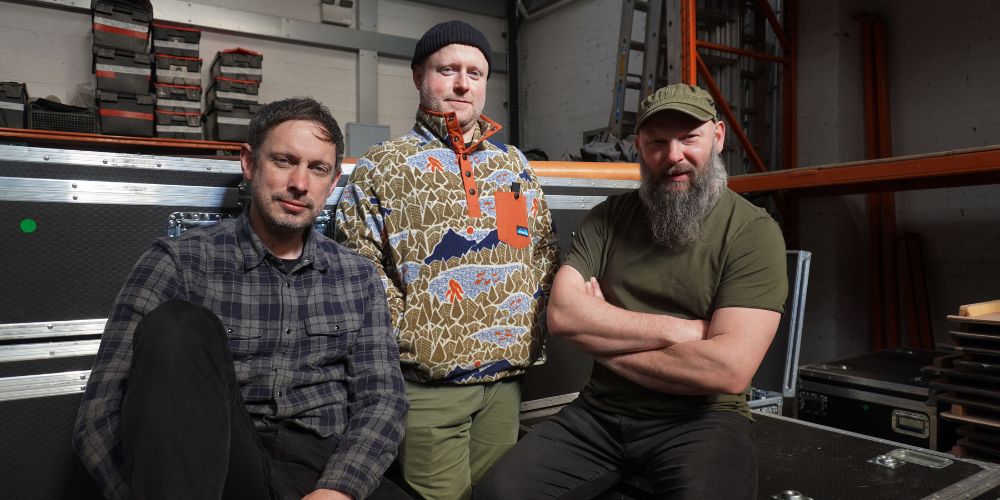 This Friday, 4th August, see's the return of the wonderful RSL with the 20th Anniversary re-release of their classy album Every Preston Guild. On release it saw huge support from Gilles Peterson who made Wesley Music from the album his track of the year on his Radio 1 Worldwide show giving the band a real spotlight. Packed with class, this is most definitely an album which deserves a second lease of life. The full original 8 piece band have reformed and are playing at We Out Here Festival, Blues Kitchen, Manchester, and the Jazz café over the summer so keep an eye out for that.
Following up on our re-up of the stunning Danny Krivit mix of Wesley Music which you can check HERE in full and the track below we managed to persuade RSL to put together an Everyone back to mine selection for us and as you might expect from and act whose music combined a multitude of world and vibrant dance sounds it's a stacked list featuring Latin, Afro Beat, Jazz funk, vocal soul, deep electronica and dream house. A quality selection from start to finish.
You can grab this brilliant album via: https://rslmusic.bandcamp.com/album/every-preston-guild
Everyone Back To Mine with RSL
1. Alegre Allstars – Agusese Usted
From the classic Nu Yorican experiment on Fania Records coming out of New York in the 1970's, this track was a huge influence on us during the writing of Every Preston Guild. We really loved the amazing brass arrangements and piano montunos. Check out Allegre Allstars album, Te Invita.
2. Fela Kuti – Roforofo Fight
Regarded as one of the first true Afrobeat records by Fela Kuti with drummer Tony Allen. Amazing polyrhythms with bags of influence from Highlife & Calypso. Its an epic 15-minute journey of the high energy, shuffling wonkiness that is Fela's classic style.
3. The Manuel Azevedo Quartet – Futebol De Bar
This is an amazing cover version of the classic piano solo work by Cesar Mariano.
A simple workout of piano, bass and drums but with such intoxicating energy and vibe. A proper stormer.
4. Lonnie Liston Smith – Expansions
A classic tune this one! Lonnie Liston Smith was the pianist for Pharoah Sanders and also worked with Miles Davis and Art Blakey to name a few heavyweights. That heavy bassline coupled with the hypnotic triangle is absolute magic. Hints of the Rae & Christian sound coming out of Manchester many, many years later.
5. Don Carlos – Alone (Paradise)
Classic deep house record from 1991. Uplifting piano and synth strings, genuine Balearic sunrise tackle. Perfectly suited for 2am Electric Chair at The Music Box in Manchester, pulling on the camo-netting (if you went, you'll know what we mean!).
6. Red Snapper – Hot Flush (Sabers of Paradise mix)
Andy Weatherall on the remix. Need we say more? This record literally made Joe pick up a Double Bass and it became part of the RSL sound. We first saw Red Snapper play live at the Finsbury Park Festival in 1997 and they were incredible. This track has been played at many parties back at the studio after nights out in town.
7. Julie Driscoll, Brian Auger & The Trinity – Let The Sun Shine In
The Hammond Organ has been an integral part of our music since day 1. Let the Sun Shine In is a perfect example of the power of the instrument, layered against Julie Driscoll's' killer vocal the result takes the original composition to a whole other level.
8. Harlem River Drive – Harlem River Drive Theme
We were first introduced to this music when AIM sampled the Rhodes riff and the track was released on a Grand Central compilation. I remember buying the original 'Nu Yorica' compilation and that wonderful feeling when you hear a track for the first time and recognise the sample, magic! The original track was from the album of the same name, by the band of the same name and came out of post Boogaloo Spanish Harlem
9. Nightmares on Wax – Le Nuits
For the seminal album, Carboot Soul, this has soundtracked many an evening in the studio. Perfect listening for getting onto that there astral plane. It features elements of the Quincy Jones anthem "Summer In The City" and really does make you feel the warmth inside of your own soul.
10. Antonio Adolfo – Variacoes
The sun's coming up, daylight slowly is creeping in and its time to accept the beginning of a new day. Those mixed feeling s of guilt and also being cheated out of the end of your night give way to a blissful, warm appreciation of all things truly real.
WHAT A PARTY, WHAT A NIGHT. See you in the pub at 12pm, yeah?
For more info on RSL check:
RSL Instagram: https://www.instagram.com/rsl_music_official/
RSL Bandcamp: https://rslmusic.bandcamp.com/
Like what you hear? To help support LV Online buy us a coffee via Ko-FI. Click HERE
Tags:
Everyone Back To Mine
,
RSL