Boys Own / Junior Boys Own / Jus' Trax Worship Mix – Mixed by Jerk Boy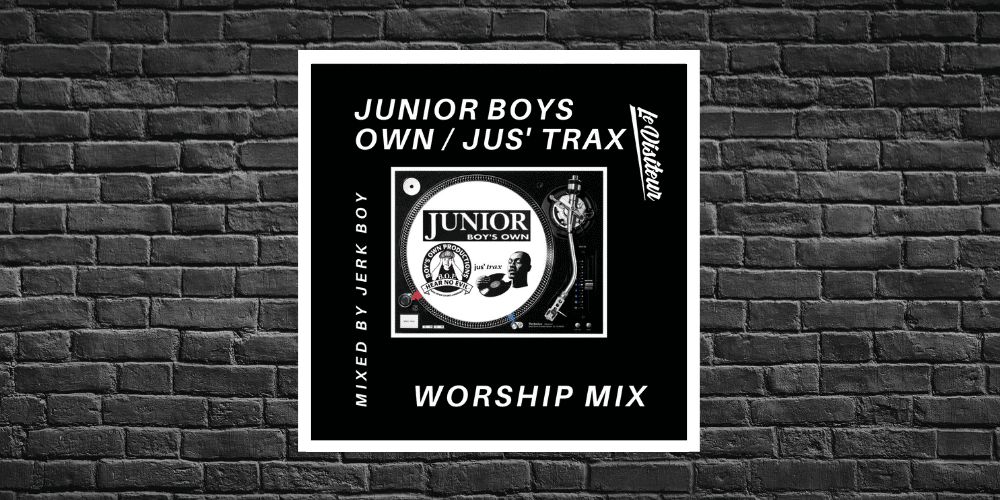 With a brand new single 'I Love Only You' out now on his own SoSilly Records we asked Jerk Boy to deliver a Worship Mix of an artist or a label which has been hugely influential in his own career. He picked one that is very close to our own heart in the shape of the compendium of labels and producers that made up Boys Own / Junior Boys Own and Jus' Trax. The mix is proper as you would very much expect from both Jerk Boy who is dynamite behind the decks and also with such an incredible discography to choose from.
We've have had 100's of mixes delivered over the years but this one goes straight into the best of list.
Jerk Boy has been a regular on the pages of Le Visiteur over the last couple of years delivering some sublime EP's on his own SoSIlly label from delicious discofied cuts to classy bubbling house cuts. His latest is I Love Only You which we premiered HERE.
We had a chat with Jerk Boy about the Worship Mix and I Love Only You.
What can you tell us about the theme of the mix and what made you pick Boys Own / Junior Boys Own / Jus Trax  for your worship mix?
Where do I start ! Boys own / JBO and all their label incarnations for me has played such a big role in who I am as DJ and music producer from day 1. I would hear everything that came out of the JBO camp at raves, in clubs, on mixtapes and CDs and at festivals seeing bands like Primal Scream where they were heavily involved on the production aspect. It was like I couldn't escape them. Over the years I would learn and find out more about where it started and who each individual was and what they did independently and together. Once I started to know more about the parties and fanzines and their general ethos of being a crew / band of misfits that resonated with me so much more. JBO was a story I wanted to be part of.
I feel there's loads of great legacy labels out there, but when you dig deep into their roots it's usually a producer/producers, and studio and office and some good releases under their belt, but I feel like that story is a 100 times over. JBO is so much more than that. JBO is a London legacy and for an Aussie raver / club kid on the other side of the planet it lends itself to the imagination of what it would have been like to be around and to be part of their story! And most importantly they had a sound, you could listen to the first 20 secs of one of their productions and knew instantly it was Boys Own Production.
Thanks Terry, Pete and Andrew (RIP) for making and signing so much amazing music x,
What are some of the key Boys Own / Junior Boys Own / Jus Trax tracks which have inspired you as both a DJ and a producer?
This is a hard one ! I'd say top 5 from the label and their productions
DSK – What Would We Do
Primal Scream – Come Together (Andrew Weatherall Mix)
Roach Motel – Movin On
Sunscreem – Pressure Us (Fire Island Mix)
Fire Island – White Powder Dreams (Roach Motel Mix)
What do you think made JBO stand out as a label?
I think their diverse mix of artists / genres / projects like Underworld, X-Press 2, Ballistic brothers, Chemical Brothers, Swag, Luke Slater, Future Shock, Dave Lee's (Sessomatto), Problem Kids and the list goes on. They had so many club anthems and commercial cross over success too, but always maintained their underground credibility.
Please can you tell us about your latest release I Love Only You?
I Love Only You, was born out of my love for Trussel 😉 Its had a few different versions and I sat on it for a few years and then played it to a friend and we dug back into it and here we are today !
It's inspired by Daniel Wangs (Morning Kids) – Free Lovin which I've always been a fan of and will still play ! but I needed to do my thing with it !
What else can we expect from Jerk Boy in 2022?
Loads of new music finally starting to see the light of day.
Its been a turbulent time for everyone  around the world and I'm starting to feel like the dust is settling a bit and everyone is finding their feet again. We are heading into summer down here in Australia so all the announcements of parties coming is soo good and the energy is amazing.
For more info on Jerk Boy check:
Jerk Boy Facebook: https://www.facebook.com/jerkboymusic/
Jerk Boy Soundcloud: https://soundcloud.com/jerk-boy
Jerk Boy Instagram: https://www.instagram.com/jerkboymusic/
Love this? Check out more from Jerk Boy HERE
Boys Own / Junior Boys Own / Jus' Trax Worship Mix – Mixed by Jerk Boy – Tracklist
1. The Paradiso – We Go Again (Stair Way To Heaven Mix)
2. Extortion – Feat. Dihan Brooks – How Do You See Me Now? (Joey's Young Soul Rebel Mix)
3. Primal Scream – Don't Fight It (Scat Mix)
4. DSK – What Would We Do (Steve "Silk" Hurley Mix)
5. Black Science Orchestra – Where were You
6. Fire Island – Back To Bones
7. Degrees Of Motion – Shine On (Farley & Heller Junior Style Dub)
8. Sunscreem – Pressure Us (Fire Island Mix)
9. Roach Motel – Movin On (Correct House Mix)
10. X-Press 2 – Rock 2 House (London Mix)
11. Men With Sticks – 3rd Eye
12. X-Press 2 – Music Express (Pierres N.Y Garage Mix)
13. Heller 'N' Farley Project – Jus' Friends
14. Ashley Beedle Presents The Jamayka Boys – Good Body Girls
15. Monie Love – Never Give Up (Junior Dub)
16. Janet Jackson – When I Think Of You (Heller And Farley Project Mix)
17. M People – Open Your Heart [Fire Island Remix)
18. Fire Island – There But For the Grace of God (feat. Love Nelson) [Roger's Garage Mix]
19. Primal Scream – Come Together (Terry Farley Extended 12" Mix)
Like what you hear? To help support LV Online buy us a coffee via Ko-FI. Click HERE
Tags:
Boys Own
,
Jerk Boy
,
Junior Boys Own
,
Jus' Trax