Ladies on Mars – Le Visiteur Featured Artist & LV Mixtape 106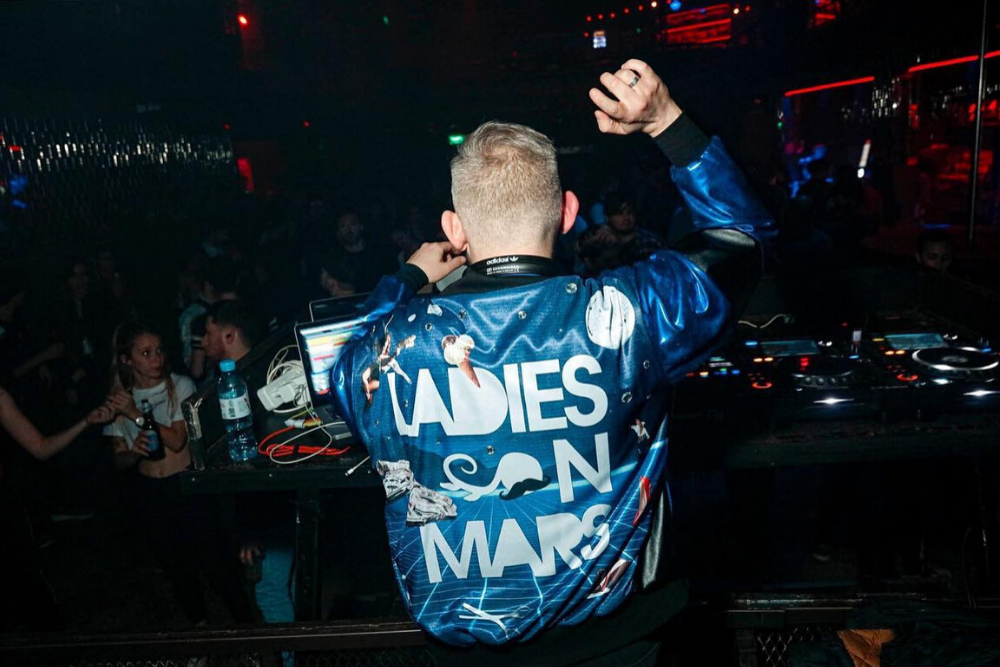 Ladies on Mars – Le Visiteur Featured Artist & LV Mixtape 105
Cover photo by Nighteyes from Club69
Ladies On Mars, aka Jonathan Douglas Braverman, is a DJ and producer hailing from from Buenos Aires in Argentina. Originally a techno and tech house producer and DJ he would work in these genres for a decade from 2006-2017 gradually moving over to working in disco and house.
Given his already stellar production abilities Ladies On Mars quickly took the scene by storm with huge releases on Masterworks, EMI, Sakura and Marshall Jefferson's' Freakin 909 label. He would also catch the eye of Midnight Riot for whom he has just released a very tasty four track EP 'Evil Lover', his third EP for the label, which is already doing some serious chart damage. Check our premier of Got Me below and our review HERE. You can grab it from: https://www.traxsource.com/title/1268085/evil-lover
As well as his brilliant slate of releases Ladies On Mars has a huge reputation as a live performer and has played all over the globe from Shoreditch Platform in London to the Kit Kat Club in Berlin. There have also been appearances all over South America from Mexico to Bolivia and Peru as well as the finest venues in his homeland.
Ladies On Mars has had huge support across the board from some of the top names out there including Late Nite Tuff Guy, John Morales, Claptone, Mat. Joe, Mighty Mouse, Michael Gray and many more. His steady stream of brilliant releases have seen him hit the Top 10's on the download charts and crash the Top 100 of Nu Disco artists on Traxsource in 2019.
We spoke to Ladies On Mars about his career so far, his current releases, his influences and his plans for 2020. Ladies on Mars also put together a spanking mix for us. Check it out on Soundcloud and please give it a share and help spread the love. The full tracklist is at the bottom of this feature.
Hi there Johnathan,
Thanks for speaking to us today.
For our readers who haven't come across your releases before how would you describe the musical style of Ladies On Mars?
Hello, thanks for contacting me for this amazing interview and also thanks for the review of my new EP: "Evil Lover", is an honor for me to be here. I describe my sound as a Retro Modern Groovy Disco House. It's a perfect mix of everything I love: Disco, Hi-NRG, Vocal Pop, House and the groove of the Funk! My mixes also have some tech touches. In the end is all about the dance!
Please can you give us three tracks from your discography which you would say are quintessentially Ladies On Mars.
Ladies On Mars – Hold On
This is my sound for the club, the sound and the groove for when I like to dance out of control, dancing like nobody is watching. This track gives me strength and power every time I play it. It is one of the proudest songs of my career so far.
Ladies On Mars – Boogie On Time
One of my favorites, this is a pure vocal and happiness track, for glitter lovers!
Ladies On Mars – Sex Fantastic
I love the bassline and the retro synth in this one. It is classic Ladies On Mars style!
How would you describe your latest EP Evil Lover which is out now on Midnight Riot and can you give us a bit of history about the EP and your involvement with the label?
The EP started to take shape during my last tour in the UK in 2019 during my spare time in Leeds (where I was staying). I think in a way, if you pay attention to sounds and themes, you can feel that English sound central throughout the entire release. It all started with the song "Funky Muzik" I originally produced mid 2019 and signed to Tropical Velvet as part of a compilation. It was great to have the possibility of being able to edit it for another label. As it was part of a compilation I was able to send it to Andy Williams in the hope of it being released as part of a 3rd EP for Midnight Riot Records. Andy did not hesitate and told me a great YES! That's when I started thinking about themes that could go with Funky Muzik, a funky groove-style Hi-NRG theme. It's the PERFECT track guaranteed to get the dance floor moving.
During my tour I started doing several tracks for the EP of which were: "Crusing", "Evil Lover" and the hit "Got Me". The choice was quite simple, choosing sounds that had strength and power. The end result is an EP which is already having a massive impact in just a few days since it's release.
My participation with the label is from the point of view of the artist of course. I have an excellent relationship with Andy that is growing and strengthening release after release. I also played with him and Michael Gray at the London Shoreditch Platform. Andy is awesome!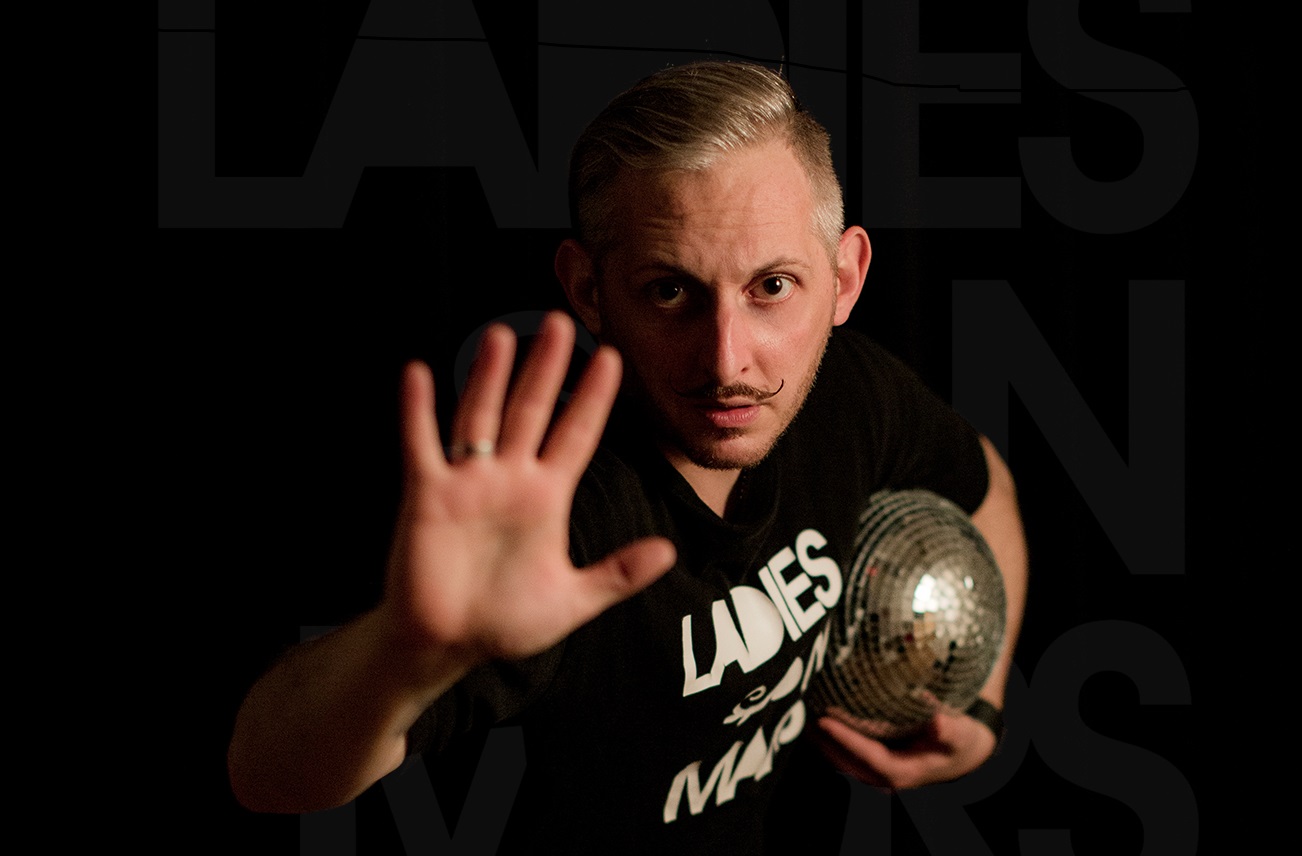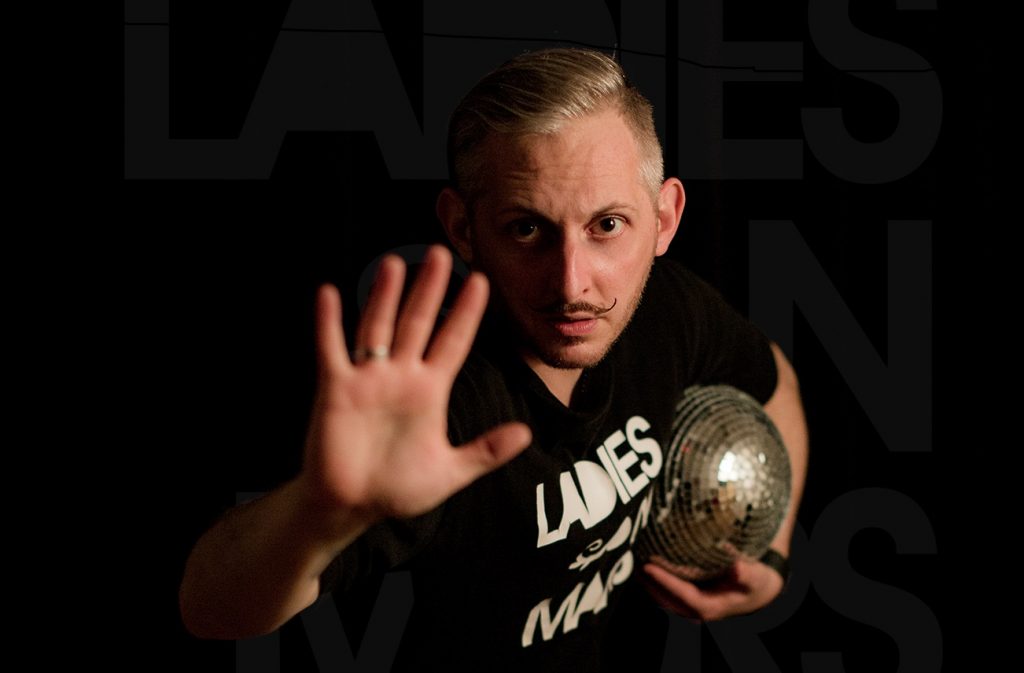 You originally started out your career producing techno and tech house. How would you say your sound has developed since you started producing and how has working in those styles influenced how you approach making disco?
I actually started doing Minimal, then I moved to Techno and Tech house, until I finally decided to switch to the colorful and fun side of Disco and House.
Music represents my moods and my emotional stages, today I am in a full stage of my life personally (love) and professional (my career and work). I am full of life and that is reflected in the style of music that I produce. It's no longer dark, black and gray, but full of colors and glitter, very bright!
Making and spending so much time with the techno and tech house sound helped me a lot to have the Disco sound that today identifies with the current Ladies On Mars sound. There are some sounds and arrangements that I use today that I used previously in my Techno productions which have helped me understand how to create tracks that work so well in clubs. The reality is that I am a Michael Jackson fan and I have loved the disco and funk of the 80's (with those electronic sounds) from a very young age. I feel it is natural to be doing Disco and House today.
Please can you describe your production set up for us and what is the one piece of equipment or plugin that you couldn't live without?
My production set up is simple:
An 2017 Imac with Ableton 8 and 9 (which I can't live without). An Allen & Heath Zedi-10fx console, Roland Aria TR-08 which I use for hi hats, claps and some percussion. A Korg Monologue, which I use for bass, sequences or pads. A launchpad and a launch xl. I certainly could not live without Ableton!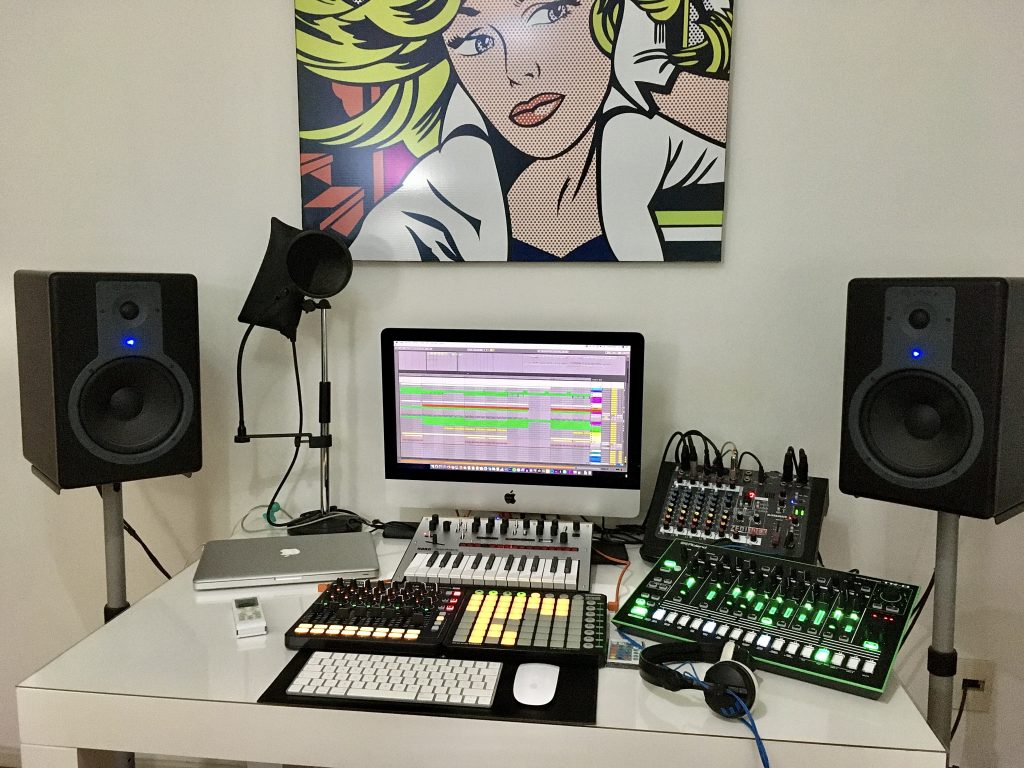 You are based in Buenos Aires, what can you tell us about the disco scene there right now and what artists and parties can you can recommend?
Mmmm the truth that in Buenos Aires, there is no disco scene to be honest. Only now is it starting to open up to that genre. The sound here is more Techno and Progressive and some house.  The disco genre is very new but luckily it is gaining more followers and more people and DJ's are turning to this genre which is already massive in UK / Europe.
Party? I would recommend without thinking: Club69. It has been running every Thursday for more than 20 years and I started playing there last year. Another party that I recommend is 2GTHR. Both parties depend on the DJ playing and the genre of sound.
National DJ's I really like how they play are: Toomy Disco, Diego Jazan and the duo LeFrak. Although they are playing tech house and house their sets are lots of fun.
Please can you give us 3 tracks which you would say have directly influenced your style of production.
Purple Disco Machine – Body Funk (2017)
The energy of this track is massive and pulled me in from the very 1st moment I heard it…. I can't stop playing it
Michael Jackson – Don't Stop Till You Get Enough (1979)
The bassline and percussion, the amazing groove and Michael's vocals. I still love the way made his tracks. He has always inspired me!
Bee Gees – You Should Be Dancing (1976)
The percussion catches me every time. The guitar riff arrangements blow my mind with the amazing vocals of course!
What would you say are you favourite career moments to date?
I have a lot of favorites moments:
Being in the studio making new music and then going to a gig and watching everyone enjoying my music – those moments are priceless.
Being on Tour.
My favourite moment was playing with PDM and making an official remix for Michael Gray which was a dream come true
You have a huge reputation as a DJ, how would you describe your style and what is your if all else fails track?
Oh!, Thank you so much! I am always trying to play better each time. As you know I play with Ableton, my career began as a producer and DJIng followed on from this, so my style when I play is very dynamic. I love when a set feels like a huge big track, like a movie, you know? Generate a situation but also don't stop the groove to make you dance. I'm trying to take you to another planet, another galaxy. I love to make edits and live remixes in my performance creating a vibe and keeping that groove building / growing and the dance floor moving.
Some of my tracks start like that, for example my track "Night's In Harlem" and "Disco Rogue". When I played techno I used to do "Live 100%" with 60 channels, something like that. Now with Disco I only use 8 channels. It's a DJ / Live hybrid. The equipment has never failed, but I guess if it failed you could always make claps and sing acapella (lol).
When everything fails I go back to basics and play my edit of Like A Virgin. Everyone always seems to like it! Or maybe a Purple Disco Machine track.
Madonna – Like A Virgin (Ladies On Mars Rework)
Madonna never fails, everybody wants to sing and dance to it. It has a very groovy part to dance to and some breaks to sing, this version definitely catches people's imagination.
You can get the version at band camp:
https://ladiesonmars.bandcamp.com/album/like-a-virgin
What else can we expect from Ladies on Mars in 2020?
A lot of things! Definitely a lot of new and amazing music and remixes!. A new remix I did for House Of Virus will be released this year. Also I'm making a remix for DC LaRue "Oh Ba-Ba" that I hope to finish very soon. I have some collaborations with Brothers In Arts and Adam Nova on the way and new releases on Freakin909, Midnight Riot and many more labels. And of course new free edits to download at Soundcloud and some more exclusive edits at my bandcamp: store: http://ladiesonmars.bandcamp.com
And of course a new Tour!!!
Finally, please can you give us 4 tips for a great day out in Buenos Aires. A place to buy records, a place to eat, a place to drink and a place to dance.
A place to buy the best records: MuzikSavedMyLife:
https://www.facebook.com/MuzikSavedMyLifeRecords/
A place to eat: BASA
https://www.facebook.com/basabsas/
A place to drink: Johnny B Good Palermo or Puerto Madero
https://www.facebook.com/JBGoodBuenosAires/
A place to dance: Club69, every Thursday, the best party ever!
https://www.facebook.com/club69.ba/
For bookings contact:
shout@planetdisco.club
For more info on Ladies On Mars Please check:
Web: http://www.ladiesonmarsmusic.com/
Facebook: www.facebook.com/ladiesonmars/
Soundcloud: www.soundcloud.com/ladiesonmars
Instagram: https://www.instagram.com/ladiesonmars/
LV Mixtape 105 – Ladies on Mars Tracklist
01. Yuksek – Bateu
02. Purple Disco Machine – Up & Down (Original Mix)
03. Mark Lower – Express Yourself (Original Vocal Mix)
04. Luca Guerrieri – Don't Go (Discoslap Remix)
05. Roberto Surace – Joys (Purple Disco Machine Remix – Ladies On Mars Edit)
06. Ladies On Mars – Evil Lover (Original Mix) (Midnight Riot Records)
07. Superlover – Funky People (Superlover Vocal Mix)
08. Ladies On Mars – Got Me (Original Mix) (Midnight Riot Records)
09. Michael Gray – 24/7 People (Ladies On Mars Remix) (Midnight Riot Records)
10. Ladies On Mars – Funky Muzik (Original Mix) (Midnight Riot Records) Vs. Moloko – Sing It Back (Mousse T.'s Feel Love Mix)
11. Ladies On Mars – Hold On (Original Mix) (Tropical Velvet)
12. Seamus Haji – Boogie 2nite (Seamus Haji & Blackhill Extended Mix)
13. Ladies On Mars – Boogie On Time (Original Mix) (Midnight Riot Records)
14. Audio Jacker – Holdin' On (Radio Mix)
15. Phil Fuldner – Take Me (Original Mix)
Tags:
disco
,
disco house
,
Ladies on Mars
,
michael Gray
,
Midnight Riot
,
nu disco