Le Visiteur Spin City Radio – DJ Mix November 2022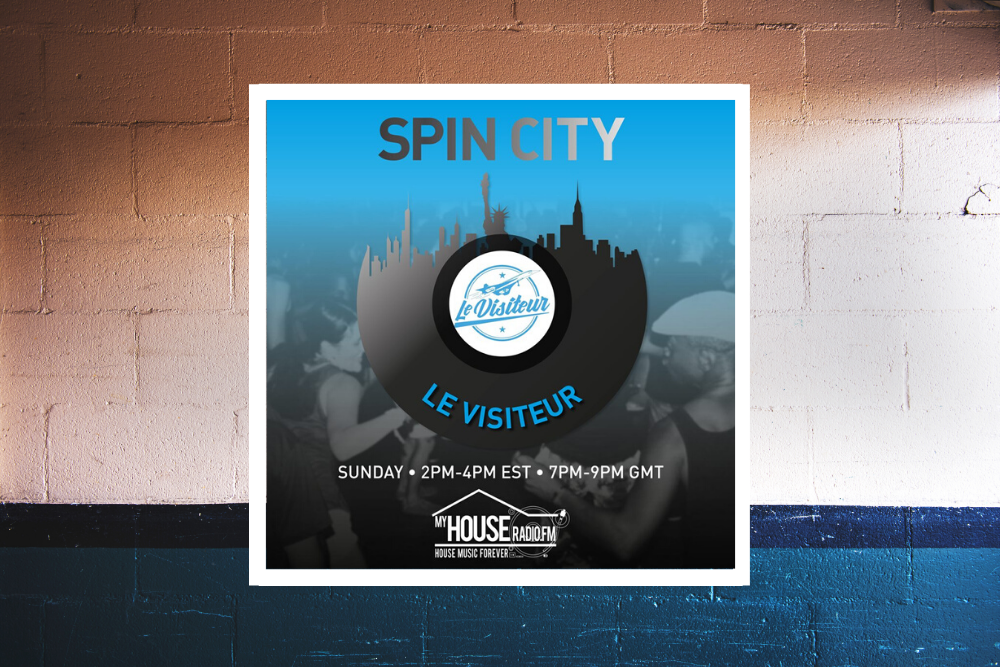 Last Sunday saw me return to Spin City radio, which airs on New York's number one House Music Station, www.myhouseradio.fm, with my last 2 hour Le Visiteur radio show of 2022. I had a huge pile of music put aside for this one but in all honesty when I came to put the show together none of it seemed to gel together into something that was truly exciting and fit with the general great mood I was in at the time. With the hours counting down to the show airing I decided to pull out Serato and have a jam instead.
The result was a great fun afternoon and two hours heavy on the groove disco and house music which builds to a chunky peak-time crescendo in hour 2. A little heavier in places than some of my previous mixes for Spin City, make sure you get this one turned straight up to 11. I sincerely hope that you enjoy listening to the show as much as I did recording it.
As always the show features some straight off-the-press cuts alongside a lot of personal favourites.
Le Visiteur – Spin City Radio – November 2022 – Tracklist
Sparkling Attitude – Tutto Perfetto [Ghetto Disco Records]
Da Lukas Feat Di Martino – Disco Manteca (No Synth Mix) [Ghetto Disco Records]
Re-Tide – Try This [Re-tide Music]
Jarred Gallo – Put Up Or Shut Up (Original Mix) [InStereo Recordings]
Sammy Deuce – Bring Back My Love (Original) [Groovy Riddim Records]
Rose Royce – What You Waitin' For (Young Pulse retouch)
Chewy Rubs – Just Let It Lay (Original) [Midnight Riot]
Rodion – BFR (Space) [Eskimo]
Will The Funkboss – Make It Clap (Original Mix) [Springbok Records]
Thatmanmonkz – The Assassinator (Original Mix) [Better Listen Records]
Brass Construction – Shakit (Young Pulse retouch)
More Amour – Nightshift (Original) [Hi Quality Records Inc]
Kano – It's a War (Purple Disco Machine & Lorenz Rhode Remix) [FullTime Production]
Cratebug – You make me feel good (Cratebug Edit)
Tiptoes – Let Go (Original) [Tiptoes Tapes]
Kassady – Low Down Drums (feat. Cimone JBS) [Nervous]
Todd Terje – Strandbar (Samba version) [Olsen Records]
Baby'o – In The Forest (Le Visiteur Edit)
Cratebug – Love hangover – Cratebug Edit
Austin Ato – What You Want (Extended Mix) [Classic Music Company]
Roger Garcia & DJ Kone & Marc Palacios & Luis Oleg – Funk Is Love (DJ Kone & Marc Palacios Remix) [Riviera House Recordings]
Gianni Bini – Back To My Roots (Original Bootleg Mix) [Ocean Trax]
Nicky Night Time & Dangerous Dan – A History (Original) [Music To Dance To]
Kort – Here & Now (Disco Dub) [Tropical Velvet]
Denis Sulta – d_k_y_,but i do (Original) [Sulta Selects]
Check out more Le Visiteur Mixes here
Check out more Le Visiteur Spin City mixes here
Tags:
le visiteur
,
Spin City
,
Spin City Radio