Le Visiteur Spin City Radio – DJ Mix August 2020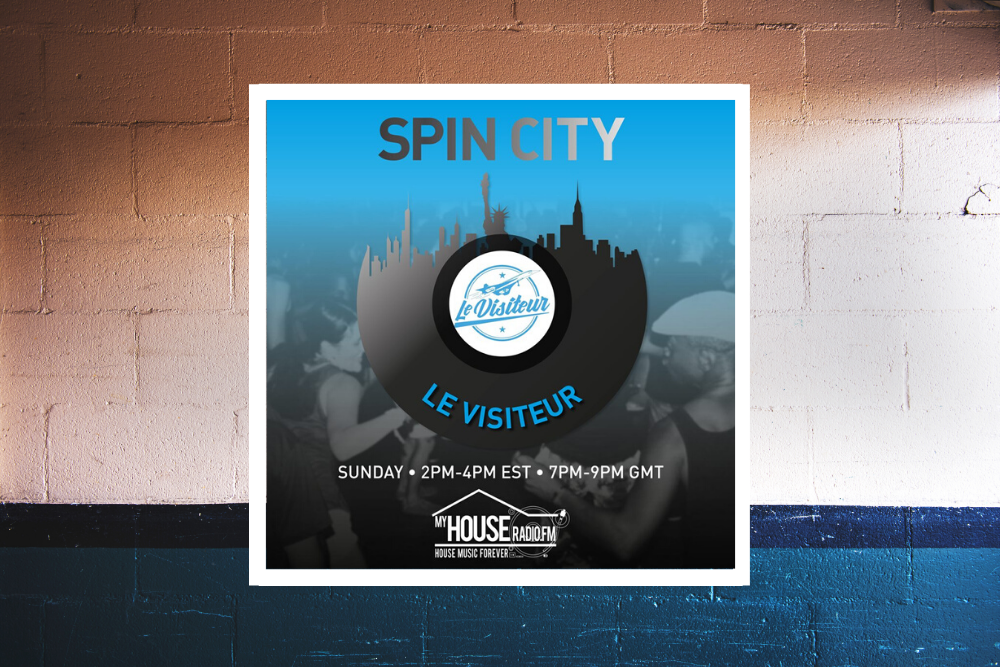 Le Visiteur Spin City Radio – DJ Mix August 2020
I was back for my quarterly residency on the brilliant Spin City last Sunday night on www.myhouseradio.fm. Spin City is rapidly becoming one of the most listened to house and disco shows anywhere online right now with huge listener numbers and it's no surprise as they are bringing in the absolute cream of the Djing world to guest week in week out.
For my show I picked some of my favourite tracks from the last quarter alongside some disco groovers, all time favourite club jams some hot off the press new tracks and a few unreleased gems which are going to blow up in the next few months.
It was a pleasure to put this set together and blow the dust off the decks after what has been a very long summer without gigs due to the Covid lockdowns.
I hope you enjoy it as much as I did compiling it. If you do please give it a share over on Soundcloud and help spread the love.
Le Visiteur Spin City Radio Residency Mix June 2020 – Tracklist
Kisk – Phunkadelic (Apparel Music)
Ed Wizard, Disco Double Dee – Groove Catcher (Original Mix) [Editorial]
Eva Gina – Gappy Daze (Original)
Frank Booker – More [Razor N Tape]
Monsieur Van Pratt – Feeling Funky [Daje Funk]
Soul Vision – Loose Ends 3 (Sandy Rivera's Leaving Mix) [deepvisionz]
Fingerman – Do It Again (Original) [Hot Digits]
Roman Truth – Magic Jiffy (Edit) [Toy Tonics]
Soul Central – All This Love (Club Mix) [Tropical Disco]
Phazed Groove – Sweet Talker [Tropical Disco]
Rose Royce – Lock It Down (Original) [Whitfield Records]
Fruit – If You Feel It, Say Yeah (Unreleased Full Version) [Athens Of The North]
Gimbrere – On My Mind [Sulta Selects Silver Service]
Austin Ato – Heat (Extended Mix) [Classic Music Company]
Detroit Swindle – Howsmusic [Heist Recordings]
Clyde Alexander – Got to get your love (Original) [Heavenly Star Records]
The Silver Rider – Roundhouse (Original Mix) [Whiskey Disco]
The Patchouli Brothers – Fuqua & James [Gamm]
Delfonic – M's Mistake (Original) [Toy Tonics]
Kerri Chandler – Disko Satisfaction (Original) [Large Records]
Warren Raww – Meekong (Original Mix) [4lux Recordings
Tiptoes – Let Go [Tip Toes Tapes]
Bustin Loose – Home Way Phase (Original Mix) [Whiskey Disco]
Dennis Sulta – Lyars (Forever mix) [Sulta Selects]
Soulphiction – Dirty Hot (Original) [Lumberjacks In Hell]
Black Sausage – Space Kitten (Long Black 12 Inches Of Love Original Mix) [Good For You Records]
Gill Scott Heron – I'll Take Care Of You (Mighty Mouse's Not So Official Edit TYpe Thingy)
Tags:
Austin Ato
,
Delfonic
,
Dennis Sulta
,
Detroit Swindle
,
Finerman
,
Frank Booker
,
Gill Scott Heron
,
kerri chandler
,
Kisk
,
le visiteur
,
mighty mouse
,
Monsieur Van Pratt
,
Phazed Groove
,
Roman Truth
,
Rose Royce
,
Sandy Rivera
,
Soul Central
,
soulphiction
,
Spin City
,
The Patchouli Brothers
,
The Silver Rider
,
Tiptoes