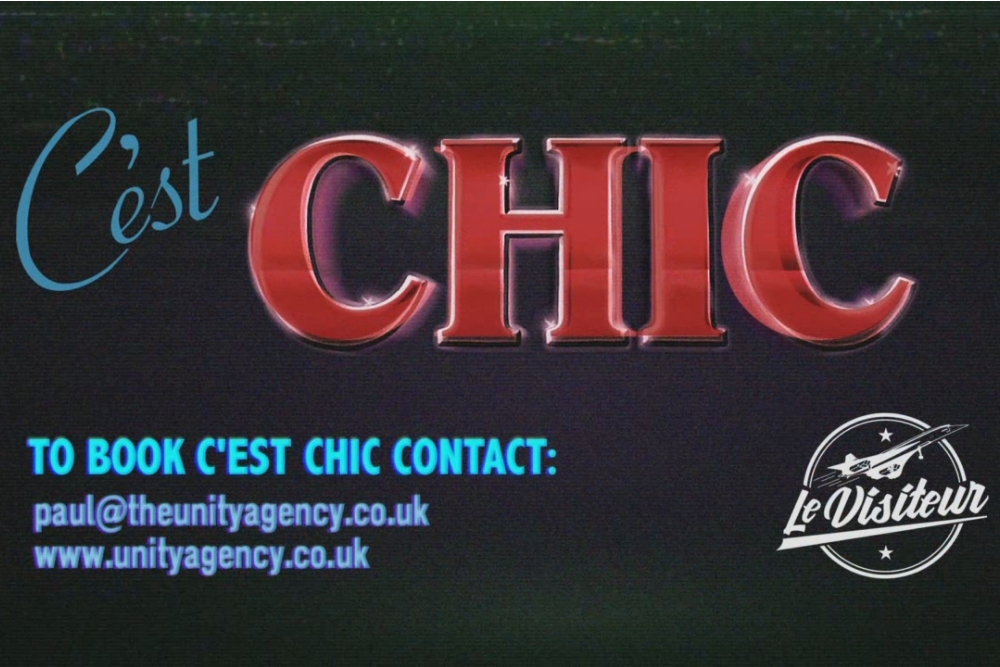 Le Visiteur's – C'est Chic
To book C'est Chic contact paul@theunityagency.co.uk
A while back as part of a post we were working on Le Visiteur Online posed the question what is your favourite ever Chic remix on Facebook to our DJ and producer friends. The response was phenomenal. It was a post which ran and ran with a mountain of brilliant suggestions. It turned out to be a subject very close to both our DJ friends and our readers hearts.
As a long time fan of Chic and Nile Rodgers I was inspired to investigate the subject deeper. It turned out that there were literally 1000's of remixes of Chic and the artists who they had helped produce over the years. It was also quickly apparent that they had millions upon millions of plays.
I took some of my favourites and compiled them into an hour long mix which you can check on Soundcloud.
The feedback from this post was also an inspirational moment. I wanted to bring my own passion for Chic and Nile Rodgers to life, a passion which was reinvigorated when I supported them to a sold out crowd in Edinburgh in late 2021. I wanted to share these brilliant remixes I had found, along with my own edits, as far and wide as possible. With this idea in mind I set about putting together a brand new video show C'est Chic which brings a whole new dimension to the music of The Chic Organisation.
The show fuses original videos, concert footage, TV appearances and specially created video animations with the hottest straight-to-the-dancefloor remixes of Chic's worldwide smashes simultaneously reverential but still very much brought band up to date for the clubbers of 2022. There will also be incredible remixes of the classic tracks that Nile Edwards has helped produce for other artists over the years, think David Bowie, Sister Sledge, Daft Punk, Madonna, Duran Duran and many more..
Expect a dynamic feel-good show packed with energy and excitement.
For more info contact:
Call: Paul +44 (0) 7910 583211
Email: paul@theunityagency.co.uk
Web: www.theunityagency.co.uk
As a a side not from all the tracks suggested via the original blog post by my DJ and producer friends I have also compiled a playlist featuring some of the finest remixes, dubs, mash-ups, extended versions and edits that were available of Soundcloud alongside some of their original mixes. I also added in many more brilliant remixes that I discovered during my research. You can check the playlist below.
There are tracks from some of the finest producers around including Dimitri From Paris, who has compiled an incredible body of Chic related work, along with Late Nite Tuff Guy, Kon, Pete Le Freq, Ziggy Phunk, Dr Packer and many many more. In keeping with the blog the list is primarily disco and house based although I found remixes in literally every musical style imaginable.
Tags:
C'est Chic
,
Chic
,
le visiteur