Lowheads – Le Visiteur Featured Artist & Mixtape 049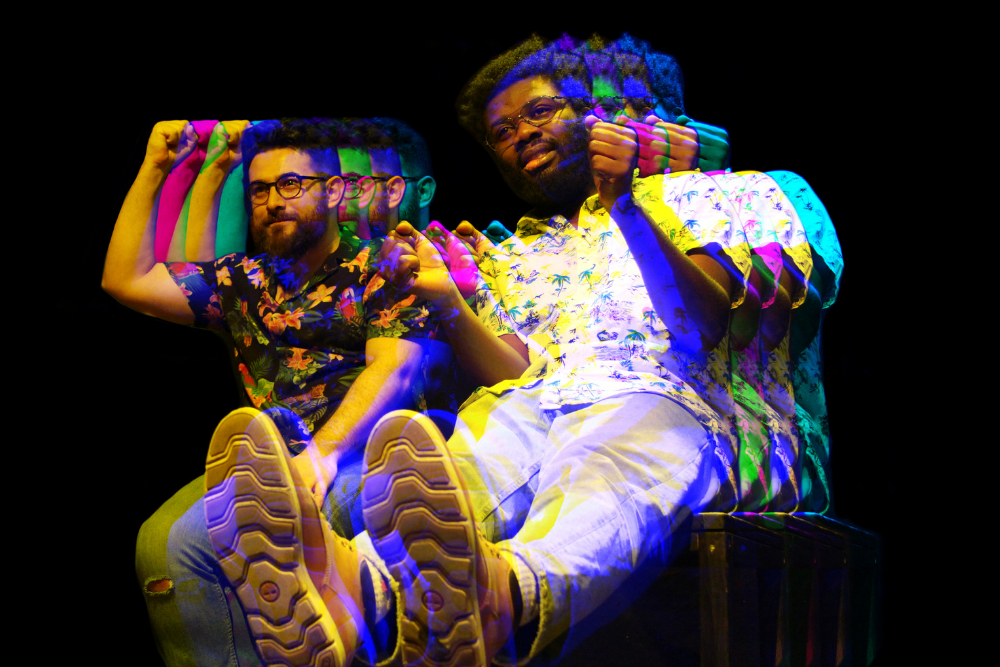 Lowheads – Le Visiteur Featured Artist & Mixtape 049
Lowheads are an Italian and Ghanaian duo hailing from Italy's burgeoning underground scene. Following a series of superb tracks and remixes for the likes of Classic Music Company, Flashmob, Soul Clap, Wolf & Lamb and Crew Love they are heading back to Wolf & Lamb for a full album release.
Written after several trips to Japan 'After Tokyo' is a love letter to the country. Featuring a string of guests including Greg Paulus of No Regular Play, Chasing Kurt and Tomomi Ukumori it's packed with 11 tracks fusing multiple bpm and genres together into an LP which flows beautifully. From Deep House through New York Disco to Balearica it's a one of the stand out albums of the year.
We spoke to the Lowheads about the album, Wolf & Lamb, their love of Japan and some tips for a trip to Tokyo.
They also recorded this very classy mix for us, check it out while you are reading the interview and please give it a share on Soundcloud and help spread the love.
Hi there Lowheads,
Thanks for speaking to us today.
For our readers who haven't come across your releases before how would you describe the musical style of Lowheads?
A fusion of genres we like the most which found a meeting point between our taste and musical interests. Since we are two heads we weave a different path which crosses afrobeat, Chicago house and funky disco to create a sound that is hopefully able to change the listeners day and make it more pleasant and fun.
La fusione dei generi che più ci piacciono e trovano un punto d'incontro tra i nostri gusti e interessi musicali. Essendo due teste intrecciamo percorsi di ricerca diversi, che attraversano afrobeat, Chicago house e funky disco per creare un suono capace di cambiare la giornata a chi lo ascolta e di renderla più piacevole e divertente.
How would you describe your debut album 'After Tokyo' which is out now on Wolf + Lamb and can you give us a bit of history about the album?
The idea of the album was born before our first trip to Tokyo in 2018. Lilith's party at Contact gave us a lot of positive vibes. The warmth the people gave us, joined with the atmosphere of a city that is so far and diverse from what is familiar for us, convinced us to develop an album to celebrate, in the best way, this experience.
L'idea dell album era nata precedentemente al primo viaggio a Tokyo avvenuto nel 2018. Il party Lilith al Contact ci ha regalato molte vibrazioni positive, e l'accoglienza che ci ha riservato il pubblico, unita all'atmosfera che ci ha trasmesso una città così lontana e diversa dall'ambiente che ci è più familiare, ci ha convinto di dover realizzare un Album per celebrare nel migliore dei modi questa esperienza.
What was it like working with Wolf + Lamb on the album project and what advice did the label give you when you were putting it all together?
After years of collaborations with the Crew Love guys, we built a full-trust relation about our product. Wolf + Lamb let us express the best of our potential and it was natural to work on our sound to meet their taste and their interests.
Dopo anni di collaborazioni tra noi e i ragazzi di Crew Love si è creato un rapporto di piena fiducia nel nostro prodotto, W+L Ci ha lasciato esprimere al meglio delle nostre potenzialità ed è stato naturale proporre il nostro suono e incontrare il loro gusto e il loro interesse.
Which 3 tracks from your discography would you say are quintessentially Lowheads?
Our Need Role EP had two very different tracks that were the genesis of our collaboration. It was proposed by Louie Vega who supported our project with Simon Dunmore.
Black Paradise was our first single with Pillowtalk, who followed us in every phase of its making. It lasted almost two years, from the studio voices recording until the final master for publishing. The final mix was done in a small room of the Circolo Arci Tunnel, our home and operating base.
Need Role due tracce differenti racchiuse in un EP che sono all'origine della nostra collaborazione, proposte a Louie Vega che ha sostenuto il nostro progetto di fronte a Simon Dunmore.
After We Gone (primo remix per w+l, il più eccentrico e dark che abbiamo fatto, più profondo rispetto agli altri nostril lavori ma sempre in linea con le nostre idee, è stato accolto molto positivamente sia dalla label che dal pubblico, superando il nostro stesso scetticismo.
Black Paradise il nostro primo singolo realizzato assieme ai Pillowtalk, che ci hanno seguito in ogni fase della sua lavorazione durata quasi due anni, dalle registrazioni delle voci in studio al master finale per la pubblicazione. Il mix finale è stato chiuso in uno stanzino del circolo arci tunnel, nostra casa e base operativa.
What was it about Japan that inspired you so much that you wrote an album after your were there?
The Japanese musical culture was what stimulated us to create this album. Their incredible attention to sound, the passion they put into research and the selection of sounds and new combinations made us understand that with commitment and dedication we could do something more with our sound. To describe, in the best way we can, our experience was such a different world from ours.
La cultura musicale giapponese è stata ciò che ci ha stimolato a realizzare l'album. L'attenzione nell'ascolto, sia dal vivo che attraverso il grande utilizzo di supporti fisici, la passione che usano nella ricerca e selezione dei suoni e delle nuove contaminazioni ci ha fatto capire che con impegno e dedizione potevamo fare qualcosa di più e raccontare nel migliore dei modi la nostra esperienza in consolle in un mondo così diverso dal nostro.
What tips can you give our readers who might be thinking about putting together a full artist album?
Passion, patience and conviction in what you are creating and in the message you want to spread.
Passione, pazienza e convinzione in quello che stai creando e nel messaggio che vuoi trasmettere.
The album is very much at the cross-roads of many different styles of music. What made you fuse so many genres and was it a gradual process or was that your intention from the start?
It was our intention since the beginning because we have influences from so many different musical cultures, the fusion of different sounds was natural.
É stata un intenzione dall inizio perchè avendo influenze di varie culture musicali è stata naturale la fusione delle varie sonorità.
There are some great collaborations on this album including your lead single with Chasing Kurt. If you could organise a collaboration with anyone in music who would it be and why?
Stefano: In the club scene with Detroit Swindle because I really appreciate how they work and I really enjoy their sounds. In the pop scene the dream would be to work on a Bruno Mars track. Michael Jackson, unfortunately, is no longer available.
Pasca: I'd like to collaborate with Folamour because I think that work with him in studio would be very intuitive, natural and fast, because I recognize a lot of similarities in his sound.
S: Nella realtà club con Detroit swindle perchè mi piace molto come lavorano e mi ritrovo molto nelle loro sonorità.
Nel Pop il sogno sarebbe lavorare su un take di Bruno mars. Michael Jackson, purtroppo, non è più reperibile.
P: mi piacerebbe collaborare con Folamour perchè credo che lavorare in studio con lui sarebbe molto intuitive, naturale e veloce, perchè riconosco in lui molte sonorità affini
Please can you give us 3 tracks which you would say have directly influenced your style of production on After Tokyo.
We pointed out these three tracks as they are totally different one to the other, but those are just three of the reference tracks that we got inspiration from during the creation of our album.
Abbiamo indicato queste tre tracce completamente diverse tra loro ma sono solo alcuni dei riferimenti da cui abbiamo preso ispirazione per la creazione del nostro album.
OutKast – So Fresh, So Clean
This one inspired us to make some crossover tracks.
questa ci ha ispirato a fare qualcosa di crossover
Soichi Terada & Nami Shimada – Sun Shower
We really wanted to collaborate with Tomomi
questa ci ha spinto nella collaborazione con Tomomi
Phil Collins – In The Air Tonight
And that's an influence from the '80s that stayed since our youth

un' influenza anni 80 che è rimasta dalla nostra crescita
When you are djing what is your 'if all else fails track'?
Stefano: it depends by the context, but if I had to choose a save-ass track I would definitely choose Italo (my production from 2012)

Pasca: For me is Ntombi and Survival – Tomorrow when I put this on I see people waking up and the party can start
S: Dipende dal contesto, ma dovessi scegliere la traccia che mi salva sempre il culo è Italo (mia produzione del 2012)
P: Per me Ntombi and Survival – Tomorrow quando lo metto vedo la gente risvegliarsi e parte il party
What else can we expect from Lowheads in 2019?
We have other productions in collaboration with several artists who we have already worked with and will be playing at several international festivals.
We are also already working on the second album.
Abbiamo altre produzioni in collaborazione con artisti con cui abbiamo già lavorato e partecipazioni in importanti festival internazionali.
Stiamo già lavorando per la realizzazione del secondo album.
And finally, from your travels there please can you give us 4 tips for a great day out in Tokyo. A place to buy records, a place to eat, a place to drink and a place to dance.
Lighthouse is our favourite place to listen and buy vinyl.
Jumbo has the typical Japanese barbeque 'Yakiniku' and that's where we go if we want to eat well, but pay attention to the prices!
Luckily, you can have really good ramen in every corner (and cheap).
If you want to taste amazing sake and local whisky, the typical bar/tiny houses in Shibuya and Shinjuku districts are amazing!
Naoki and Mio brought Lilith's party to be one of the nicest event in Tokyo (itinerant in clubs such as Womb, Contact, Vent, .. etc.)
If you want to spend an alternative night Dazzle Drums propose Block Party every first Sunday of the month at Aoyama zero club.
Moreover, other smaller venues like DJ Bridge Bar, Azumaya, Aoyama Tunnel and Oath are fantastic for having fun and have drinks in company.
Il lighthouse è il nostro negozio preferito per ascoltare e comprare vinili.
Il jumbo propone il tipico barbecue giapponese "Yakiniku" è dove andiamo se vogliamo mangiare bene, ma occhio ai prezzi!
Fortunatamente ad ogni angolo il ramen è buonissimo (ed economico)
Se si vuole degustare ottimo sake e il wisky locale i tipici bar/casette nel distretto di Shibuya e Shinjuku sono ottimi!
Naoki e Mio hanno portato il party Lilith ad essere una delle feste più belle a Tokyo (itinerante nei locali Womb, Contact, Vent ecc).
Se volete passare una domenica alternativa i Duzzle Drums propongono il Block Party ogni domenica del mese al Aoyama zero Club.
Inoltre altre realtà più piccole come DJ Bridge Bar, Azumaya, Aoyama Tunnel e Oath sono fantastici per divertisi e bere in compagnia.
For more info please check:
Lowheads Facebook: https://www.facebook.com/lowheadsofc/
Lowheads Soundcloud: https://soundcloud.com/lowheads
Wolf + Lamb Facebook: https://www.facebook.com/WolfLamb/
Wolf + Lamb Soundcloud: https://soundcloud.com/wolf-lamb
Lowheads LV Mixtape 049 – Tracklist
01 Lowheads – Phill
02 Lowheads – Stop Breathe Relax ft. Chasing Kurt (Baby Prince Remix)
03 Donny Benét – Konichiwa
04 Capyac – Creature Of Desire
05 Metro Area – Piña
06 Serious Intention, You Don't Know
07 Lowheads –  Seven Afro mood
08 Guts – Kenke Corner
09 Idris Muhammad – Could Heaven Ever Be Like This
10 Boz Scaggs – Lowdown
11 Lowheads – Heart Song
12 Lowheads, Duzzle Drums ft. Tomomi – Gentle Rain
Tags:
Electronica
,
house music
,
italy
,
LowHeads
,
Tokyo
,
Wolf + Lamb