LV Disco Selectors 36 – Kraak & Smaak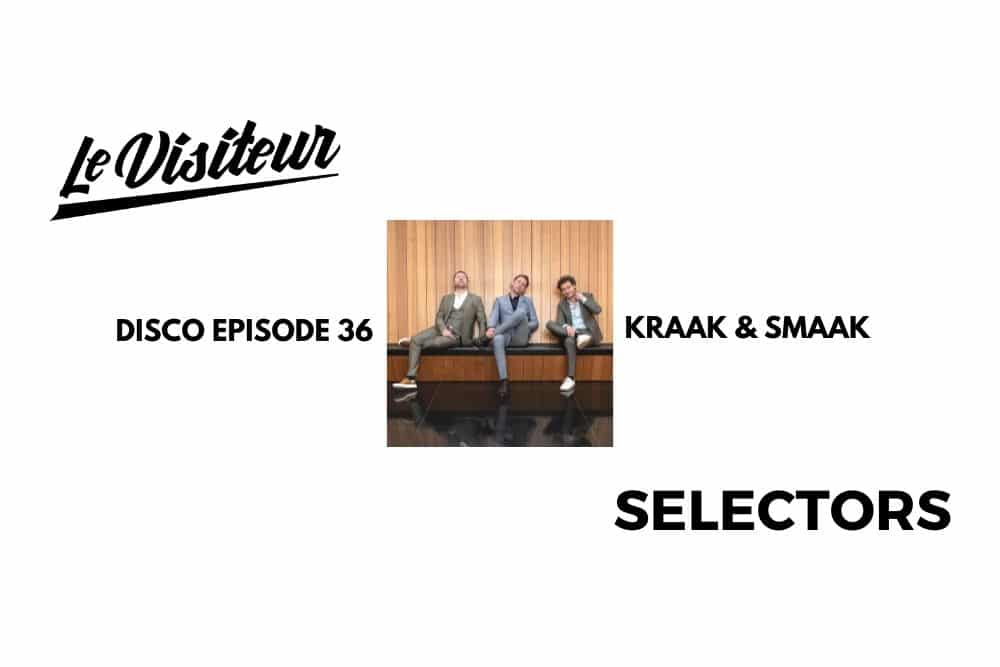 LV Disco Selectors 36 – Kraak & Smaak
Like what you hear? To help support LV Online buy us a coffee via Ko-FI. Click HERE
Kraak & Smaak are easily one of our favourite acts here at LV online, their live aesthetic permeates their work but they never lose sight of the fact that they are also creating tracks for the dancefloor. That though is still too simplistic as their take on Nu Disco and Disco & House covers way more bases from chilled right through through sun soaked poolside jams and onwards. Their catalogue is packed with music for every mood, every situation.
They are also behind the excellent Boogie Angst label which is one of a handful of labels creating music for the classic and classier end of the Nu Disco spectrum whilst touching on the multifarious edges of the disco universe. Their latest Boogie Angst release is the third volume from their Boogie Beats series featuring 5 extremely classy cuts from Kraak & Smaak, Steven Kimber remixed by Drop Out Orchestra, King Mutapa, Pontchartrain & FUTVRST. You can check out more on the release HERE and premier from the EP below.
Grab the EP via: https://boogieangst.lnk.to/BB3
To celebrate they put together this rather brilliant DJ mix for us, you can check out the full tracklist below. Please give the mix a share over on Soundcloud and help us spread the love.
We also spoke to Kraak & Smaak about the mix;
What can you tell us about the theme of the mix and what are some of the key tracks for you?
This mix nicely reflects the current vibe we are in: slowly moving into Summer and getting positively itchy for what's coming, especially after the whole Covid period, which we have hopefully left behind now. We start out with one of our own current faves, Corsica '80, catching that Summery, Mediterranean feel perfectly. We also introduce South-African producer King Mutapa's 'Gimme The Funk' here for the first time – featured on the new Boogie Beats EP. Recut is also a fave artist & label – we always check them out. Other standout cuts for us are those by Cleanfield (upcoming Dutch producer), fresh BA signing Georges from France; Nebraska is also present with yet another awesome track, and we also defintitely ought to keep our eye out for new work by Dogpatrol and Enduro Disco.
How does the style of mix here compare to how you would approach a live DJ set?
I think the mix, as are our other ones, represents the K&S DJ sound quite well: it's eclectic but always funky, whether it's modern disco vibes, straight up funk, a deeper shade of house or a more electronic approach. Overall – although an online mix is always that, and not a live show – this should give at least a good feel of the regular sound of our sets, although they can of course vary in terms of tempo depending on time slots and what type of club. One significant difference perhaps with our live dj sets though, is that the latter will usually contain more Kraak & Smaak and Boogie Angst material, as that is what people are coming for as well. Finally, we also regularly perform our dj sets with one of our live band singers, supporting as MC and singing on K&S instrumentals, giving the whole experience an extra touch 😊
Which other artists DJ mixes do you find yourself coming back to time and again and do you have a favourite that you gravitate towards?
I'd say the ones by Fouk are always a joy to listen to, but if I may (and I guess I can), I would like to highlight Boogie Angst's own Moods here.
This is a wonderful, extremely funky, musical and warm mid-tempo mix he recently made for Melvo Baptiste's Remedy Project. It fits him like a sleeve and knocks us off our feet every time we put it on. Be sure and check it out!
For more info check:
Kraak & Smaak Facebook: https://facebook.com/KraakAndSmaak
Kraak & Smaak Soundcloud: https://soundcloud.com/kraaksmaak
Kraak & Smaak Instagram: https://www.instagram.com/kraakandsmaak/
Kraak & Smaak Twitter: https://twitter.com/kraaksmaak
Kraak & Smaak Bandcamp: https://kraaksmaak.bandcamp.com
Boogie Angst Facebook: https://facebook.com/boogieangst
Boogie Angst Soundcloud: https://soundcloud.com/boogieangst
Boogie Angst Instagram: https://www.instagram.com/boogieangst/
Boogie Angst Twitter: https://twitter.com/boogieangst
Boogie Angst Bandcamp: https://boogieangst.bandcamp.com
Check out more on Kraak & Smaak on LV online HERE.
LV Disco Selectors 36 – Kraak & Smaak – Tracklist
Kraak & Smaak – Corsica '80 (Boogie Angst)
Recut – Groove A Thon (Recut Re-Edit) (Recut Music)
Cleanfield – Sunshy (House of Disco)
King Mutapa – Gimme That Funk (Boogie Angst)
Soulphiction – Bizzness (OPOLOPO Tweak) (Local Talk)
Jungle Fire – La Kossa (J Kriv Elektrikossa Dub) (Razor 'n Tape)
Demi Riquisimo – Divine Reality (Lost Palms)
Dogpatrol – Soapland (Kawaii Mix) (AVA. Records)
Enduro Disco – Forever (Exploited)
Art of Tones – All Night (Extended Mix) (PALP)
Georges – Now You're Gone (Feat. Stee Downes) (Boogie Angst)
Workerz – Something Different (Original Mix) (Feedasoul Records)
T.U.R.F. – Easy Way Out (Original Mix) (Slothboogie)
Nebraska – Your Love is True (Friends & Relations)
Tags:
Boogie Angst
,
fouk
,
kraak smaak
,
Moods
,
nu disco