LV Disco Selectors 52 – Casbah 73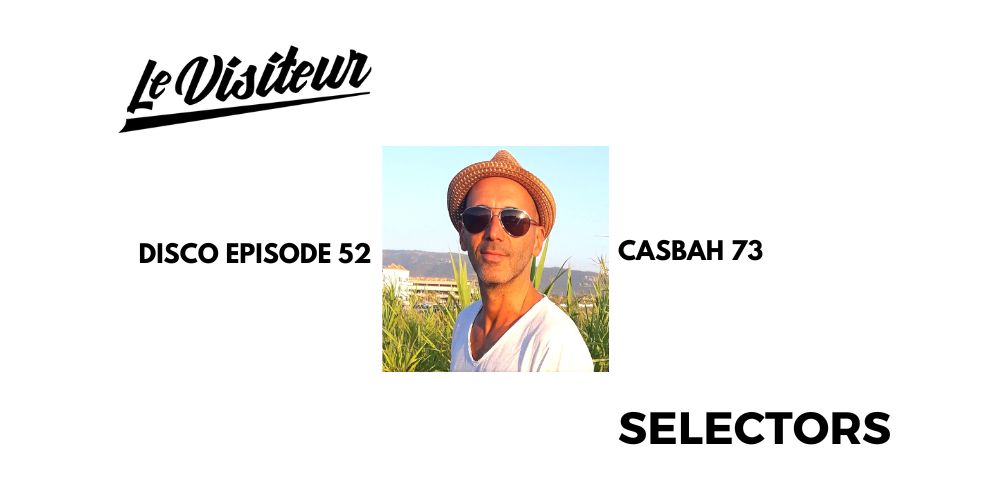 Casbah 73 has been very much following his own path over the last few years with seriously tasty releases on Gliterbox, Boogie Angst and Lovemonk. Crafting exciting modern disco he's an artist who is definitely turning all the right heads as well as filling dancefloors to the brim all over the globe.
His latest release see's him back on Lovemonk for a double header 7″ / digital release Doing Our Own Thing / To be Free and to top it all off Lovemonk have brought in none other than disco legend Dimitri From Paris to give his inimitable French touch to Doing Our Own Thing which we premiered a couple of weeks ago here and which you can check below
Safe to say that we are fans of Casbah 73 and we have asked him to step back up to the LV decks for a mix to celebrate the release of this tasty 7″ / EP which you can pick up here on vinyl and here on digital.
Check the mix out in full above and we asked Casbah 73 a few questions about the mix he put together for us.
What can you tell us about the theme of the mix and what are some of the key tracks for you?
I think you could maybe describe this a little bit more aptly as a ramble than a mix, but it's also maybe a set that is condensed, jumping through styles rather than transitioning through them (I'd need a few hours rather than sixty minutes to do that). Consider it an after hours jam, where you follow your whims in a spontaneous and carefree look-what-I-just-pulled-out-of-this-pile kind of way. Hopefully an element of fun can be felt in this mix.
Some key tracks? Well, there's a bit of everything: disco, afro, soul, house old and new. I'm really enjoying Austin Ato's output of late so there's a really funky one from him, it's the 20th anniversary (!!!) of my first ever release so there's a nod in that direction as well. After driving several overseas relatives mad in an effort to get hold of the latest Space Grapes release (only available for sale physically in select stores) I felt obliged to include something as a tribute to their valiant efforts.
How does the style of mix here compare to how you would approach a live DJ set?
I don't think I've ever managed to translate what I do in a live DJ set to a mixtape, nor would I try. What happens when you DJ live is completely a product of the moment and is influenced by what is going on right then and there, the interaction with the dancers. This is actually the magic of DJing and without that, the whole thing makes no sense. So whenever I record a mix, I try to compensate by experimenting more, playing great music that is less likely to get played out, to focus on different aspects than you would in a live setting but still keeping the emphasis on danceable music, to create that illusion in some small measure.
Which other artists DJ mixes do you find yourself coming back to time and again and do you have a favourite that you gravitate towards?
I'm totally random when it comes to listening to mixes. I will say off the top of my head, that I enjoy Red Greg's mixes. I love how he manages to always make disco sound fresh, lots of obscurities that feel like they are chosen with love and, of course, he is a consummate mixer so you know the whole thing will be expertly put together. You're in good hands, basically, something I could also say about Geology as well, for example.
I also enjoy Luke Solomon's series of mixes, I love how he plays around with loops and effects, his all-round eclectic, inventive approach. The title for one of his mixes is "Let's Make Mistakes" – making mistakes, taking chances, a philosophy I totally relate to when it comes to mixing, in a world where DJs are often a little bit too predictable and safe for my liking. Then there's Luke Una – I love how experimental and wide ranging his choices are. On the one hand I relate to a lot of what he talks about, his past experiences, on the other, when I listen to him I get the feeling that there are certain types of more abstract music, experimental electronica that are not top of my faves list but that if anyone can sell it to me, it's him.
Have you ever been at an impromptu gathering or house party, the kind with no DJ set-up, just your standard speakers where someone inevitably comes up to you and says that you're a DJ, so… DJ, no please or thank you and then shoves their phone into your hand? Well, my response always is to type in this mix by Honey Dijon and walk away. Inspired stuff.
An old recording of a live set by Red Greg. Just as I don't really believe in the idea of a DJ set performed without an actual crowd, I'm not a big fan of live recordings of sets either, because based on the same principle, you had to be there to understand the choices made. But I'm making an exception for this one because, even though they always sound much worse in terms of quality, I do like sets that are recorded with a mic that includes the audience noise, because at least you get to hear people's reactions and this helps make a bit more sense of what was actually happening. It's a good one!
For more on Casbah 73 and Lovemonk check:
Casbah 73 Facebook: https://www.facebook.com/casbah73
Casbah 73 Soundcloud: https://soundcloud.com/casbah-73
Casbah 73 Instagram: https://www.instagram.com/casbah73/
Casbah 73 Twitter: https://twitter.com/djcasbah73
Lovemonk Facebook: https://www.facebook.com/discosbuenos
Lovemonk Soundcloud: https://soundcloud.com/lovemonk
Lovemonk Instagram: https://www.instagram.com/lovemonkrecs/
Lovemonk Twitter: https://twitter.com/_lovemonk
Love this? Check out more from Casbah 73 here.
Like what you hear? To help support LV Online buy us a coffee via Ko-FI. Click HERE
Tags:
Casbah 73
,
Lovemonk