LV Mixtape 198 – Quinn Lamont Luke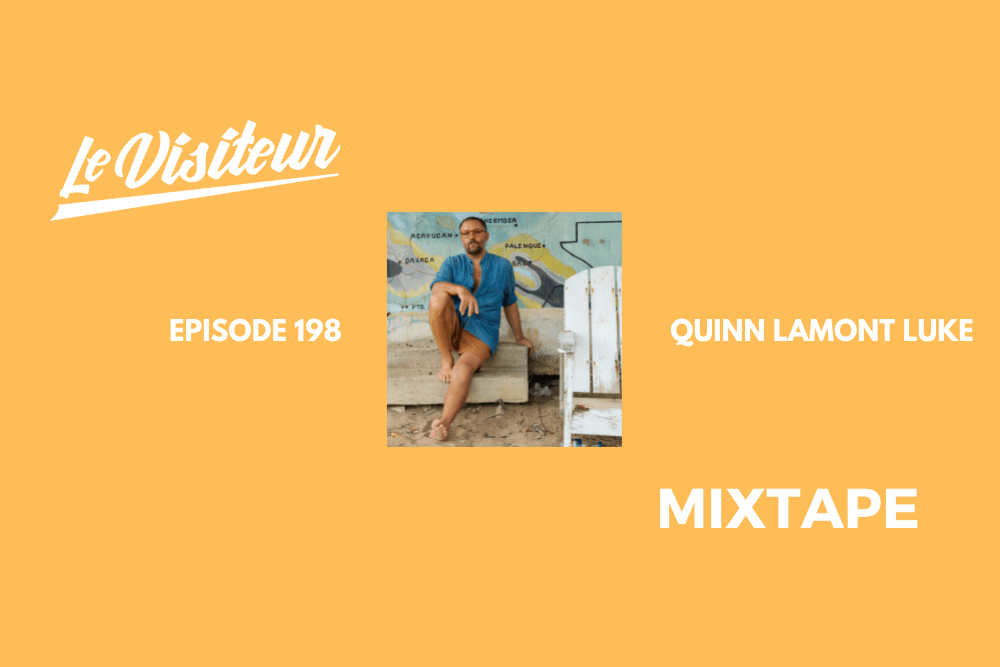 LV Mixtape 198 – Quinn Lamont Luke
Like what you hear? To help support LV Online buy us a coffee via Ko-FI. Click HERE
Singer, guitarist and original member of New York City's Phenomenal Handclap Band, Quinn Lamont Luke is an outstanding artist who under the curious moniker Bing Ji Ling as well as his Quinn Lamont Luke handle has toured the world at times living the rock star lifestyle supporting the likes of Bryan Ferry and Franz Ferdinand. In his own right he has released with DFA, Claremont 56, Leng and a long list of suitably cool labels as well as being a regular attendee at David Mancuso's Loft parties. It's safe to say that Quinn has lived the life.
His latest project is the El Triangulo record label, an outlet for his own material and projects that he is producing. Following on from his ace first release Don't Run Away Quinn is now back with a classy slice of deep house in the shape of 'Not My Day' a collaboration with Alex From Tokyo. who released the original track back in 2016 on his own World Famous label. Now given the once over for 2021 the Tokyo Black Stars gives the track whole new lease of life and a well needed digital release. It's a track influenced by both Larry Heard and the the live life to the full ethos of the Loft Parties and does both more than justice. It's also well worth tracking down for the Tokyo Black Star rework of Quinn's cover of the Lil Louis classic 'Club Lonely', which is a wonderful re-interpretation of a classic.
Grab the EP from: https://quinnlamontluke.bandcamp.com/album/not-my-day
To celebrate the release Quinn put together a spin tingling mix for us and we also spoke to him about the mix.
Q1: What can you tell us about the theme of the mix and what are some of the key tracks for you?
This mix is a collection of dance floor tunes that I have been feeling lately. Some of them are old favorites some of them are new discoveries. I created it thinking about the spirit of Ibiza and the times I have played and visited there in the past. Two key tracks are the one by Jamal Dixon with the remix by Shane Moloney, two guys I know from my time spent in clubs in New York. Shane really captured the vibe with this one. The other one I would highlight is the track by Q&A which is a side project I have with my friend Alexis Georgopoulos. We did it many years ago actually but it only came out recently on Leng Records so it's nice to hear it in this context.
Q2: How does the style of mix here compare to how you would approach a live DJ set?
Given the right circumstances I would play all of these songs in this exact order. It would just require the right atmosphere and crowd! I hope to be able to do that soon.
Q3: Which other artists DJ mixes do you find yourself coming back to time and again and do you have a favourite that you gravitate towards?
I think Artwork does an amazing job putting together interesting dance floor mixes. This one that he did not too long ago on the lot radio was a stand out for me.
Thank you for the questions! See you on the dance floor…
For more info please check: 
Quinn Lamont Luke Facebook: https://www.facebook.com/quinnlamontlukemusic
Quinn Lamont Luke Instagram: https://www.instagram.com/quinnlamontluke/
LV Mixtape 198 – Quinn Lamont Luke – Tracklist
1 Q-BASE – Il Sole (The Sun) (Deep Mix)
2 Blaze – The Garden
3 Koji Ono – Inner Rhythms
4 Don't Run Away- Quinn Lamont Luke
5 Jamal Dixon – Back (Shane's Dubstrumental)
6 Space Ghost – New World Energy (Sunset Mix)
7 Jacques Renault – High
8 Q&A – Revolving Mirrors
9 Chris & Cosey – Hybrid C
10 East Coast Love Affair – Shake
Tags:
Alex From Tokyo
,
classic house
,
Deep House
,
Quinn Lamont Luke