LV Premier – Fred Everything & Trevor Walker – E.S.M. (Earth, Sun, Moon) (Dub) [Compost Records]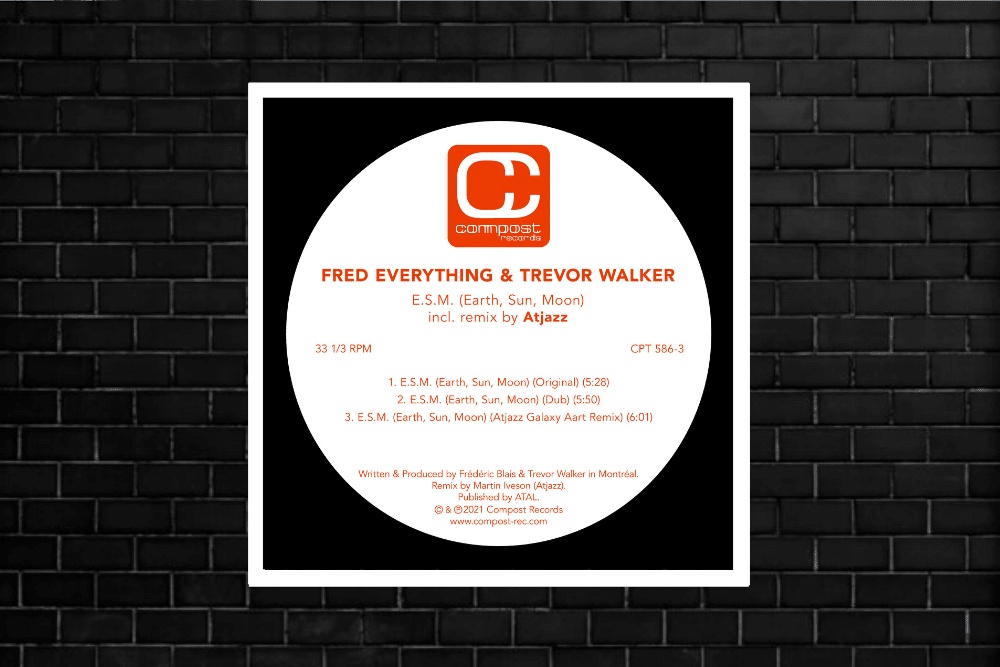 LV Premier – Fred Everything & Trevor Walker – E.S.M. (Earth, Sun, Moon) (Dub) [Compost Records]
Like what you hear? To help support LV Online buy us a coffee via Ko-FI. Click HERE
E.S.M (Earth, Sun, Moon) is a scintillating slice of euphoric deep house. It's a collaboration of Canadian DJ / Producers and longtime friends Fred Everything & Trevor Walker. The duo have shared the decks together many times over the years becoming well known for their four decks and two mixer sessions and they have carried that musical understanding over into their production together.
Fred Everything is a producer we love here at Le Visiteur, his work is rarely south of outstanding and he has built up a powerhouse reputation around the globe for both his productions and his exquisite dj sets. We have a full feature with Fred incoming shortly so keep and eye out for that.
Trevor has been described as one of Canada's best kept secrets, a DJ with an incredible pedigree being behind some of the longest standing residencies in the country. A musical encyclopedia, he one of the key proponents behind the Ottawa sound and has played alongside the creme-de-la-creme of the DJ world over the last three decades. Safe to say with production skills this classy he's not going to be a secret on the international stage for very much longer. We can highly recommend his Lifeboogie Vision mix series over on his Soundcloud HERE.
Smooth deep, and full of dancefloor know-how E.S.M. is wonderfully graceful. Our premier today is the dub with it's undulating bassline, ethereal pads, bubby vocal chops, chunky stabs and rock solid drum programming. All combine perfectly propelling it along to perfection for those hazy 3am smoke filled sets.
Coming replete with a spoken vocal mix and a trippy hypnotic remix from Atjazz this is a very classy release.
Grab the EP via: https://CompostRecords.lnk.to/FredEverythingTrevorWalker_ESM
For more info please check:
Fred Everything Facebook: https://www.facebook.com/fredeverything
Fred Everything Soundcloud: https://soundcloud.com/fredeverything
Fred Everything Instagram: https://www.instagram.com/fredeverything/
Fred Everything Twitter: https://twitter.com/fredeverything
Trevor Walker Facebook: https://www.facebook.com/djtrevorwalker
Trevor Walker Soundcloud: https://soundcloud.com/trevorlifeboogiewalker
Trevor Walker Instagram: https://www.instagram.com/lifeboogie/
Trevor Walker Twitter: https://twitter.com/lifeboogie
Compost Records Facebook: https://www.facebook.com/compostrecords
Compost Records Soundcloud: https://soundcloud.com/compost
Compost Records Instagram: https://www.instagram.com/compostrecords/
Compost Records Twitter: https://twitter.com/CompostRecords
Tags:
Compost Records
,
Deep House
,
fred everything
,
Trevor Walker