LV Premier – Glamour Hammer – Is It True (Yuksek Remix) & The Sunset Manifesto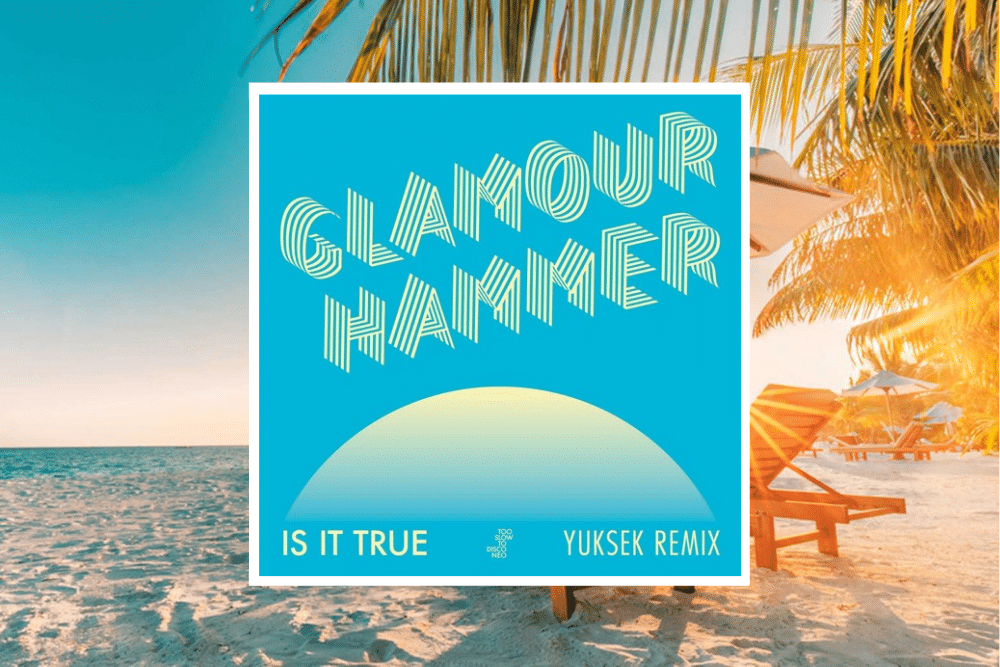 LV Premier – Glamour Hammer – Is It True (Yuksek Remix) & The Sunset Manifesto
Like what you hear? To help support LV Online buy us a coffee via Ko-FI. Click HERE
Too Slow to Disco have been on fire recently. With a series of outstanding albums and singles they are slowly but surely making the more laid-back sun-soaked edges of Nu Disco their own. Their current project is the magnificent The Sunset Manifesto album which features the cream of the Nu Disco world. You can grab it in a variety of guises including as a beautifully presented blue & yellow vinyl double album via: https://tooslowtodisconeo.lnk.to/SunsetManifesto & from Juno HERE.
Their latest single from the project see's French Nu Disco legend Yuksek step up to remix Glamour Hammer's Is It True which featured on the album in it's original form. This is the first of a series of high class remixes planned, further developing this already outstanding project. You can check that track above.
You can grab and stream the single from all your favourite sites via: https://tooslowtodisconeo.lnk.to/GHxYuksek
This follows up the excellent 12″ release from Kraak & Smaak which featured on the album.
It's an album who's releases we have covered in in depth as they have drip fed us various facets from the album across the last few months keeping our spirits high as we keep coming back to the album time and time again in the LV office . Featuring 16 tracks of stunning Nu Disco it's packed with a who's who of the finest artists working in the genres today and offers a tantalizing view of life beyond the current dark days. Summery vibes and poolside cocktails abound here, it's an album without a care in the world and a glimpse of the better times to come.
It's definitely an album from which is almost impossible to pick favourites from but we have been lucky enough to host premiers for a few of the tracks including this sublime Jack Tennis rework of Satin Jackets.
I think that you would struggle to put down on paper a more perfect selection of artists who sum up all that is good with the Nu Disco genre as it stands today. There are stand out tracks from Luxxury, Diskobeistet, Final DJ's, Kimchii , Poolside, Moods and many more.
This is an album packed with summer verve, just turn the heat up high, shake your favourite drink and enjoy!
For more info check:
Glamour Hammer Facebook: https://www.facebook.com/GlamourHammerOfficial
Glamour Hammer Soundcloud: https://soundcloud.com/glamourhammer-music
Glamour Hammer Instagram: https://www.instagram.com/glamourhammer_official/
Yuksek Facebook: https://www.facebook.com/yuksek
Yuksek Soundcloud: https://soundcloud.com/yuksek
Yuksek Instagram: https://www.instagram.com/yuksekofficial/
Yuksek Twitter: https://twitter.com/yuksek
Too Slow To Disco Facebook: https://www.facebook.com/tooslowtodisco
Too Slow To Disco Soundcloud: https://soundcloud.com/tooslowtodisco
Too Slow To Disco Instagram: https://www.instagram.com/djsupermarkt_tooslowtodisco/
Too Slow To Disco Twitter: https://twitter.com/djsupermarkt
Tags:
Glamour Hammer
,
Jack Tennis
,
kraak smaak
,
Roosevelt
,
satin jackets
,
Too Slow To Disco
,
yuksek