LV Premier – Les Inferno – Hey Santana & Daje Cutz Vol 2 [Daje Funk]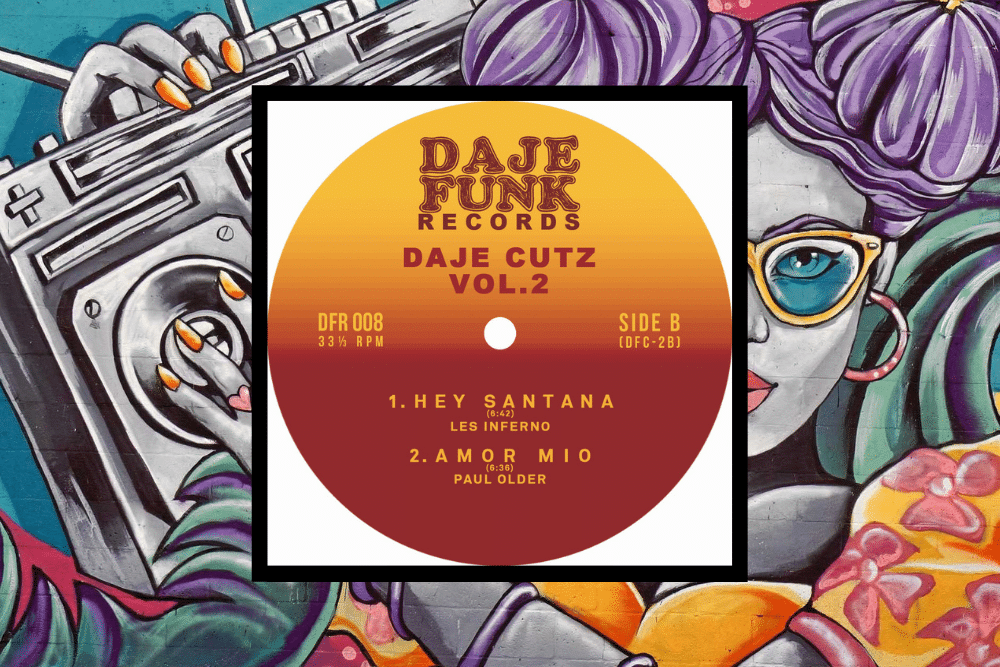 LV Premier – Les Inferno – Hey Santana & Daje Cutz Vol 2 [Daje Funk]
Like what you hear? To help support LV Online buy us a coffee via Ko-FI. Click HERE
Hot on the heels of Daje Cutz Vol. 1 which featured a trinity of talented producers in the shape of Monsieur Van Pratt, Matalo! and Paul Older, Samosa Records modern funk offshoot Daje Funk continues to evolve. Their follow up EP 'Daje Cutz Vol. 2' jumps from 10" to 12" so that they can pack in more of the finest dance-floor groove to help satiate even the most enthusiastic listeners among us.
'Daje Cutz Vol. 2' brings in five heavy hitting tracks including club jams from M.B. Edit, C. Da Afro and label boss Les Inferno. There are also return appearances for Paul Older and Matalo! who's Vol. 1 jams were picked up by DJ's all over the globe.
Up first and keeping the labels support for Italian producers running strong is M. B Edit aka Massimo Berardi. His track 'Your Love' is packed with groove aplenty. Warm bass notes, funk edged guitar licks and smooth keys all surround a bluesy funk vocal. Building up slowly 'Your Love' is soon dancing head first into Temptations-esque smile inducing vocal harmonies and powerful brass solos which give us a quintessential hands in the air moment.
Matalo!'s 'Abeja' takes us off into heavy percussion edged 70's vibe house music. This one is a gilt edged groover whose Caribbean flow is a real rollercoaster of emotions. With summer vibes through and through this one could very well become a BBQ rave and carnival staple.
Greek Disco machine C. Da. Afro is up next with 'Manhattan Groove' and it does indeed have that 70's NYC feel coupled with a distinct and vibrant Latin edge. It's a real musical tapestry of influences all flowing happily through its party spirit. Feel good energy aplenty right here!
Over on the flip, and our premier today, label boss Les Inferno gets in on the act with 'Hey Santana' which again has a 70's Latin spirit swirling around within it's percussion fuelled soul. This is another wonderful track which brings to mind the Blackout Allstar's 'I Like It Like That' for it's anything goes crossover dance-floor potential and we all know where that one ended up.
Last up but most certainly not least is Paul Older's 'Amor Mio' and its a real monster of a set closer which brings to mind a Latin superstition with its heavy funk clavi loop. Paul has come up trumps yet again, he's a producer to keep a close eye on with his deft dance-floor touches always impressing. Here he has looped this in all the right places as it ebbs and flows constantly with its sultry vocals and string stabs.
If you love your funk with a modern edge then this is another huge release from Daje Funk.
Grab it via: https://www.juno.co.uk/products/mb-edit-matalo-daje-cutz-vol-2/799654-01/
Love this? Check out our Disco and House playlists HERE
For more info please check:
Les Inferno Facebook: https://www.facebook.com/lesInferno.official
Les Inferno Soundcloud:https://soundcloud.com/les-inferno
Les Inferno Instagram: https://www.instagram.com/les_inferno/
Les Inferno Twitter: https://twitter.com/Les_Inferno
Daje Funk Facebook: https://www.facebook.com/dajefunk/
Daje Funk Soundcloud: https://soundcloud.com/dajefunk
Daje Funk Instagram: https://www.instagram.com/dajefunk/
Tags:
C.Da Afro
,
Daje Funk
,
Les Inferno
,
M.B. Edit
,
Matalo!
,
Paul Older