LV Premier – Matt Early & Lee Jeffries Feat Will Bee – Love Is Growing Deeper (Opolopo Remix)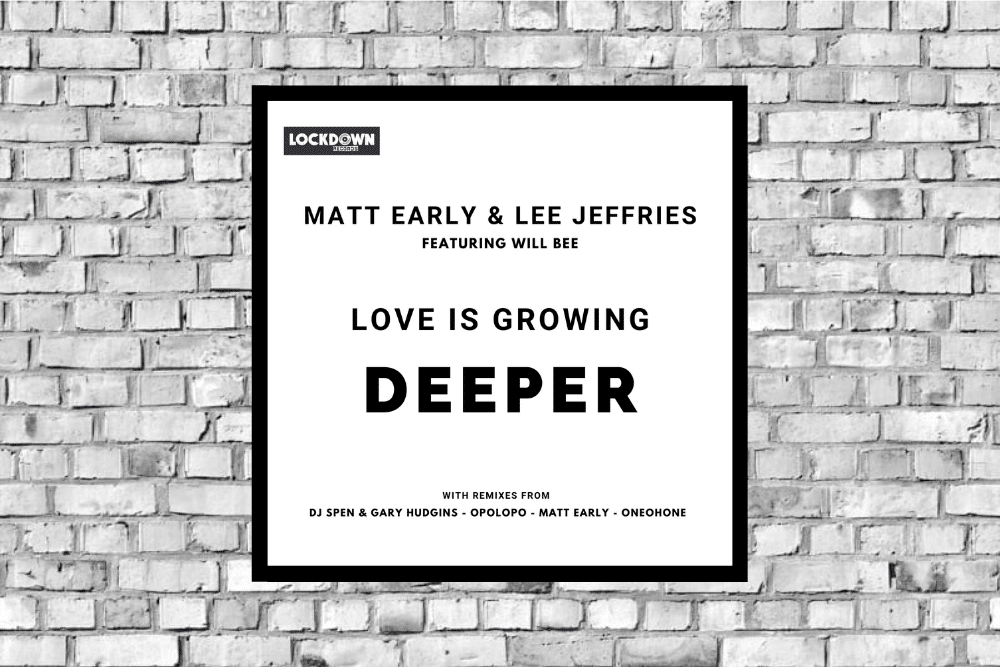 LV Premier – Matt Early & Lee Jeffries Feat Will Bee – Love Is Growing Deeper (Opolopo Remix)
Lockdown Records as the name suggests was only founded in 2020. Nevertheless it's a label with a very clear musical direction and a huge amount of both energy and notably industry contacts. With a mission statement to bring the best talent together from around the world to create anthems it's clear to see why they are already making a serious buzz in the House world.
Their debut track from label bosses Matt Early and Lee Jeffries Love Is Growing Deeper is a testament to the skills that they both bring to the project as here they have crafted a real classic slice of soulful house music.
The 12″ which lands 5th Feb features four tight mixes from DJ Spen & Garry Hudgins mix, Matt Early, Ray Hurley and our premier today from Swedish heavyweight producer Opolopo who does the business on the remix.
First up DJ Spen & Garry Hudgins are in outstanding soulful form coupling the powerhouse vocal with smooth keys, deft pads and a xylophone to create a wonderfully emotive musical moment.
Matt Early's mix ups the energy levels via classy strings and club ready drums, it's another smooth track whose key solos take it off into the stratosphere.
Over on the flip Opolopo turns in a heavy groove courtesy of a brilliant synth bassline. The vocal sits perfectly atop adding the soulful bliss whilst Opolopo adds in some outstanding key solos of his own. This is a club track through and through which will come into its element in the Ibizan and Croatian sun, hopefully sometime in 2021.
Ray Hurley takes it off in a deeper direction, chopping up the vocals and adding some chunky drums in proper 90's style. This is a remix packed with energy.
4 diverse and well produced remixes give this EP a very well rounded feel which will see it fly of the shelfs.
Grab it from https://www.juno.co.uk/products/matt-early-lee-love-is-growing-deeper/809553-01
Expect very big things ahead from Lockdown records!
For more info please check:
Matt Early Instagram: https://www.instagram.com/mattearly_music
Opolopo Facebook: www.facebook.com/opoloposweden
Opolopo Soundcloud: www.soundcloud.com/opolopo
Opolopo Instagram: www.instagram.com/opoloposweden
Opolopo Twitter: https://twitter.com/opoloposweden
Lockdown Records Web: www.lockdownrecords.co.uk
Lockdown Records Facebook: www.facebook.com/lockedbeats
Lockdown Records Instagram: https://www.instagram.com/lockdownrecords.co.uk
Tags:
Lee Jeffries
,
Matt Early
,
opolopo
,
soulful house