LV Premier – Night Giants – Hold On Tight (Jon Dasilva Remix) [Sprechen]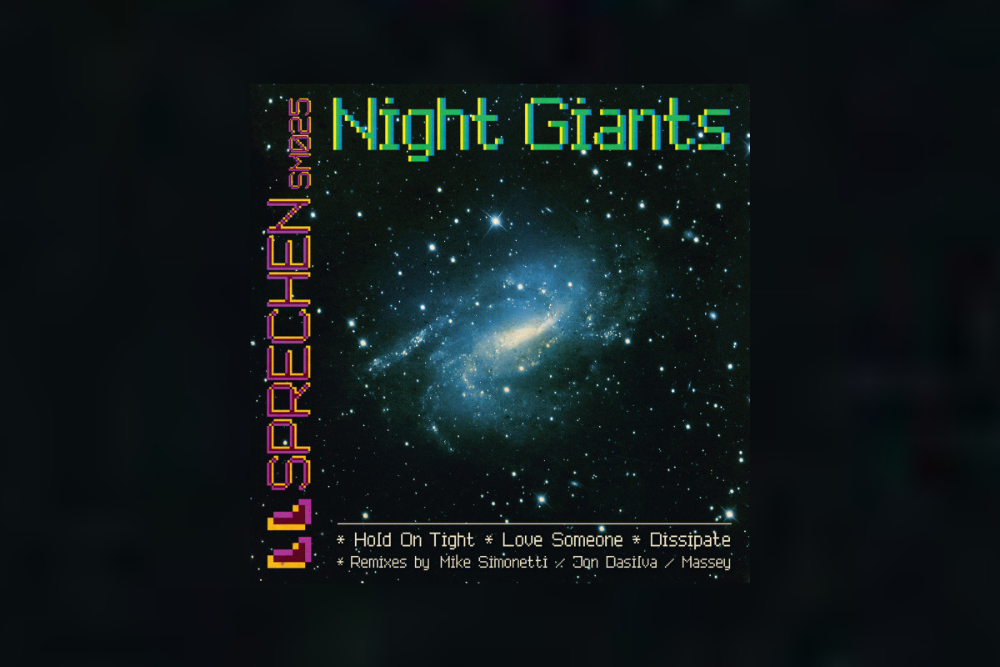 LV Premier – Night Giants – Hold On Tight (Jon Dasilva Remix) [Sprechen]
Hailing from Leeds in the UK Night Giants are an act you need to check out right now. A fusion of all that is good in electronic music by their own admission they are parts Chemical Brothers, Underworld, Bonobo & Caribou but most definitely all Night Giants. It's a melting pot of sounds but one which makes perfect sense and will likely see them playing venues of ever increasing sizes if there is any justice over the next few months.
Their latest release on Manchester label Sprechen is comprises six tracks, three originals and three remixes, one for each track, from Jon Dasilva, Mike Simonetti and label boss Massey.
The three originals cover all grounds from the bubbling effervescent warehouse acid of lead track Hold On Tight via the deep and haunting progressive overtones of Love Someone and onto powerful electronic anthem Dissipate. These are three tracks which have live arena show written all over them.
On the remix front first up is Jon Dasilva a true legend of the house scene and former Manchester Hacienda resident. You can check the premier of his mix of Hold On Tight above. Jon has taken the heavy acidic warehouse vibes of the original and turned it into a huge club track. Featuring heavy beats, drum rolls acid b-lines and some great Daft Punk esque vocals it's a track that demands to be heard on a huge sound-system. DJ's get right on this one, it's got peak time written all over it.
Next up is Sprechen label boss Massey who has got to grips with Love Someone turning it into a percussion heavy swirling dervish of a house track. Smooth vocal stabs, hypnotic synth lines and more and more percussion. Anthem!
Finally taking on Dissipate is New Jersey resident Mike Simonetti who's deep throbbing electronic house mix is a revelation. Packed with drama it's a mix that you will have on repeat for days. You have been warned.
Check out the EP and hit up the pre-orders via: https://sprechen.bandcamp.com/album/sm025-night-giants-hold-on-tight-e-p
For more info check:
Night Giants Facebook: https://www.facebook.com/nightgiants
Night Giants Soundcloud: https://soundcloud.com/nightgiants
Sprechen Facebook: https://www.facebook.com/SprechenMusic
Sprechen Soundcloud: https://soundcloud.com/sprechenmusic
Tags:
Jon Dasilva
,
LV Premier
,
Night Giants
,
Sprechen