LV Premier – Ronny Hammond – Keep On Groovin' [Daje Funk]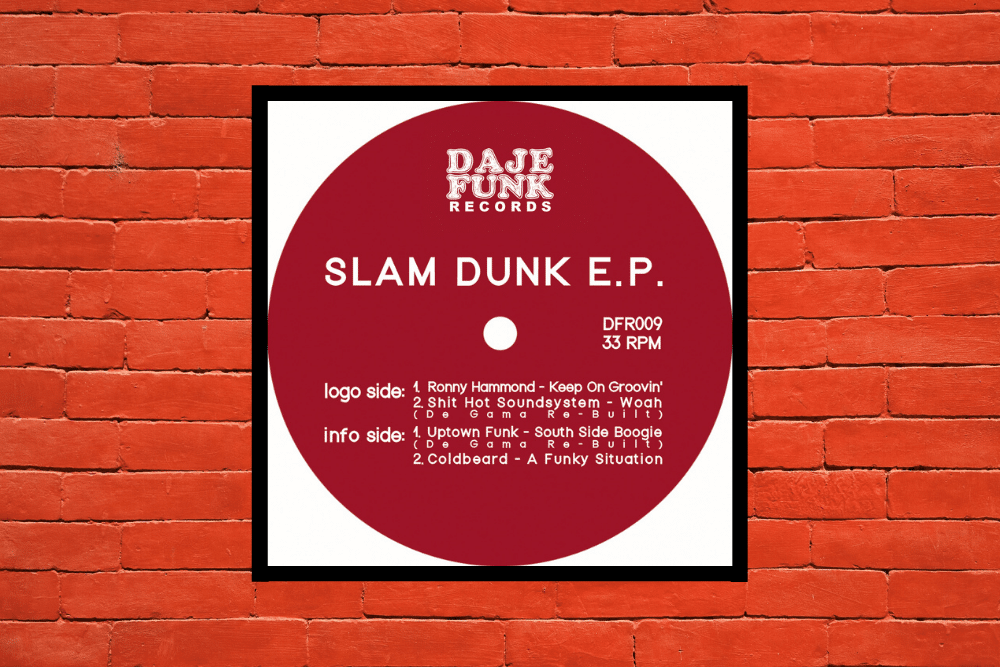 LV Premier – Ronny Hammond – Keep On Groovin' [Daje Funk]
Like what you hear? To help support LV Online buy us a coffee via Ko-FI. Click HERE
Daje Funk has become a real go to label if you love a modern take on classic funk which has been meticulously recrafted to work for today's dancefloors. There have been some real moments on the label already from De Gama, Massimo Berardi, DJ Rocca and some of the finest producers out there today working in the disco and edits scenes.
Their latest release is the Slam Dunk EP and the name hits the nail right on the head. It's most definitely a musical slam dunk with four tracks from across the funk spectrum. After a very short break Daje Funk are back with a super fresh redesign. The label is also fully embracing the move from their previous 10" format to 12" with the obvious bonus that they are now able to cram just that little bit of extra music onto their releases.
For their latest instalment they have assembled and all-star cast of producers with Dutch edits wizard, Ronny Hammond, England's Shit Hot Soundsystem and Uptown Funk and Italian producer Coldbeard all taking turns to vie for dancefloor gold.
Together they have turned in one mighty slab of black wax.
The EP opens with Ronny Hammond's 'Keep On Groovin' and it's a very serious club track. For those of you with long memories and deep collections the original used here was sampled for Screen II's Hey Mr DJ, a 90's house classic on Cleveland City and it feels just as essential right now in 2021 as it did in both the 70's when the original arrived and in the 90's. Groovin' is a proper funk bomb and Ronny has taken it to town with the addition of a powerhouse bassline, ass shakin' drums and cheeky ear worm vocal samples. Indeed there is no chance that you will be able to sit still when this one drops. Expect it to cause serious dancefloor mischief over the coming summer months.
Shit Hot Soundsystem is up next with 'Woah' with label co-boss De Gama adding some extra scalpel action. Another track with classic subject matter, this often sampled track has rarely sounded as good as on this monstrous funky outing. It still sounds as fresh and exciting as the first time you heard those vibrant and vital synths and beautifully layered vocals. 'Woah' is both immediate and essential and will be soundtracking parties for years to come.
Over on the flip Uptown Funk's 'South Side Boogie' also has De Gama on edit duty and here things head off downtown 70's funk style. Brass stabs, wah guitar, and spicy synth licks all combine for a track which has plenty of joyous zest as it combines disco edges with a funk packed groove combing to deliver serious club heat.
Seeing the EP out is Coldbeard and he takes up deeper still with a bubbling groove which captivates from the first notes of the dynamo synth bass before adding in electric guitar licks and a rhythm line to die for. A Funky Situation is a perfect example of how to build a track piece by piece until it becomes utterly essential. Once you have heard that Rhodes and the vocal stabs working together you just know that this one will need to be played religiously.
Four utterly essential tracks which perfectly bridge the gap from the 70's to 2021. Nine releases deep Daje Funk delivers yet again on its mission to make funk as utterly essential in clubs again nearly 4 decades after it's glorious genres beginnings.
Grab the EP via: https://www.juno.co.uk/products/ronny-hammond-shit-hot-slam-dunk-ep/837169-01/
For more info please check:
Ronny Hammond Facebook: https://www.facebook.com/ronny.hammond
Ronny Hammond Soundcloud: https://soundcloud.com/ronny-hammond
Ronny Hammond Instagram: https://www.instagram.com/ronny_hammond/
Ronny Hammond Twitter: https://twitter.com/Ronny_Hammond
Daje Funk Facebook: https://www.facebook.com/dajefunk/
Daje Funk Soundcloud: https://soundcloud.com/dajefunk
Daje Funk Instagram: https://www.instagram.com/dajefunk/
Tags:
Coldbeard
,
Daje Funk Records
,
Ronny Hammond
,
shit hot soundsystem
,
Uptown Funk