LV Premier – Souldynamic – Black Night [Samosa Records]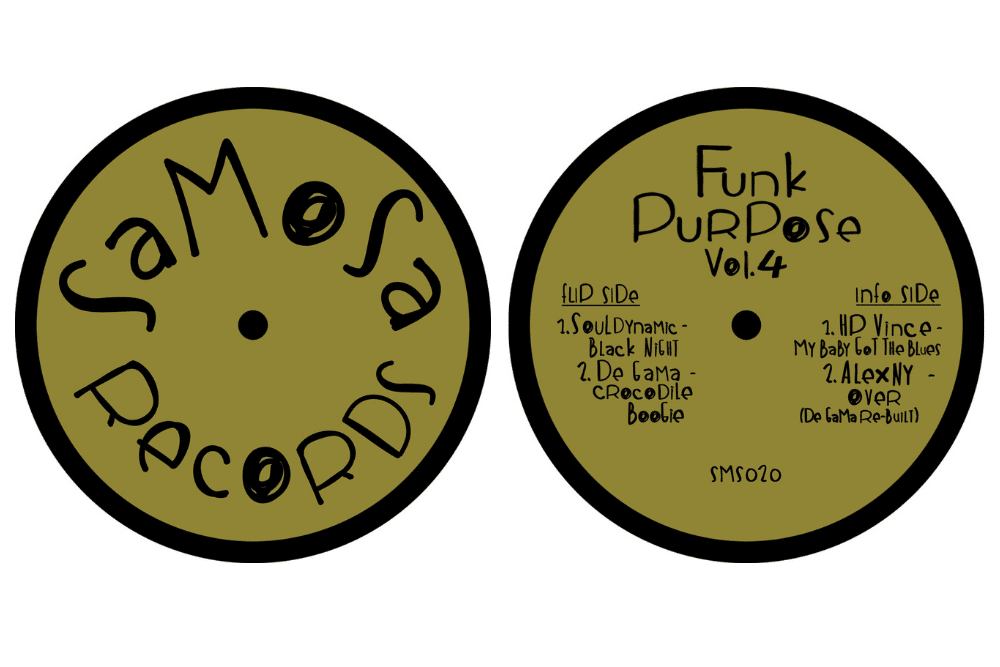 LV Premier – Souldynamic – Black Night [Samosa Records]
Like what you hear? To help support LV Online buy us a coffee via Ko-FI. Click HERE
With three dynamite editions already under their belt Samosa Records 'Funk Purpose' series is rapidly turning into one of the finest V/A compilation series available on vinyl today.
Having already topped the charts in vinyl stores across the globe the first three editions were a hard act to follow but Samosa have put together perhaps their finest edition to date in Volume 4 with masterful tracks coming from Souldynamic, De Gama, HP Vince and AlexNY.
Opening up proceedings are Italian production duo Souldynamic with the much sought after track 'Black Night' which is perhaps the perfect set opener. It's warm and dynamic but equally cool and controlled with soul drenched Philly style vocals. The wonderfully hooky string line gives it an immediate feeling whilst the funky piano and wah guitar licks will cause uncontrollable dancing and add a touch of grit.
Black Night has also had the House music royalty seal of approval with Louie Vega regularly championing it for a couple of years now in many of his sets live and streamed. You can hear him spinning it in his mixmag live appearance from legendary NYC club Output below
Also on the A side is De Gama's 'Crocodile Boogie' a monstrous slice of percussion heavy jazzy piano house. The keys give it a powerful punch and despite it's jazzy leanings it has a cool 70's theme feel which will open it up to the more clued up dancefloors out there.
Over on the flip Dutch producer HP Vince closes out his packed 2020 with 'My Baby Got The Blues' a deep blues edged house outing with a real classic feel. Rock solid drum programming gives the chilled vocal all the push that it needs for the dancefloor, it's a track of togetherness, one for those small hours in both the club and the afterparty.
Closing the EP out De Gama has re-built super hot Argentine producer AlexNY's track 'Over'. Featuring another powerful soul drenched vocal the warm bass notes draw the listener in for what is a wonderfully crafted track. Again it's got the dancefloor at its heart but is packed with more than enough class to give it long lasting appeal for home listening.
Funk Purpose Vol. 4 features four dynamite tracks all tied together by a late 60's / early 70's soulful ethos. Warm an approachable it's an EP for the club, which again will undoubtedly see huge DJ and radio support, but which will also find itself on many a favourite playlist.
Another triumph for Samosa, grab them while they're hot!
Grab the 12″ now via: https://www.juno.co.uk/products/souldynamic-de-gama-funk-purpose-vol-4/806479-01/
Love this? Check out our disco playlists HERE
For more info on the release check:
Souldynamic Facebook: https://www.facebook.com/SouldynamicOfficial
Souldynamic Soundcloud: https://soundcloud.com/souldynamic-music
Souldynamic Instagram: https://www.instagram.com/souldynamic
Souldynamic Twitter: https://twitter.com/Souldynamic
Samosa Records Facebook: https://www.facebook.com/samosa.records/
Samosa Records Soundcloud: https://soundcloud.com/samosarecords
Samosa Records Instagram: https://www.instagram.com/samosa.records
Samosa Records Twitter: https://twitter.com/samosarecords
Tags:
disco