LV Premier – The Funk District – Watcha Gonna Do [Super Spicy Records]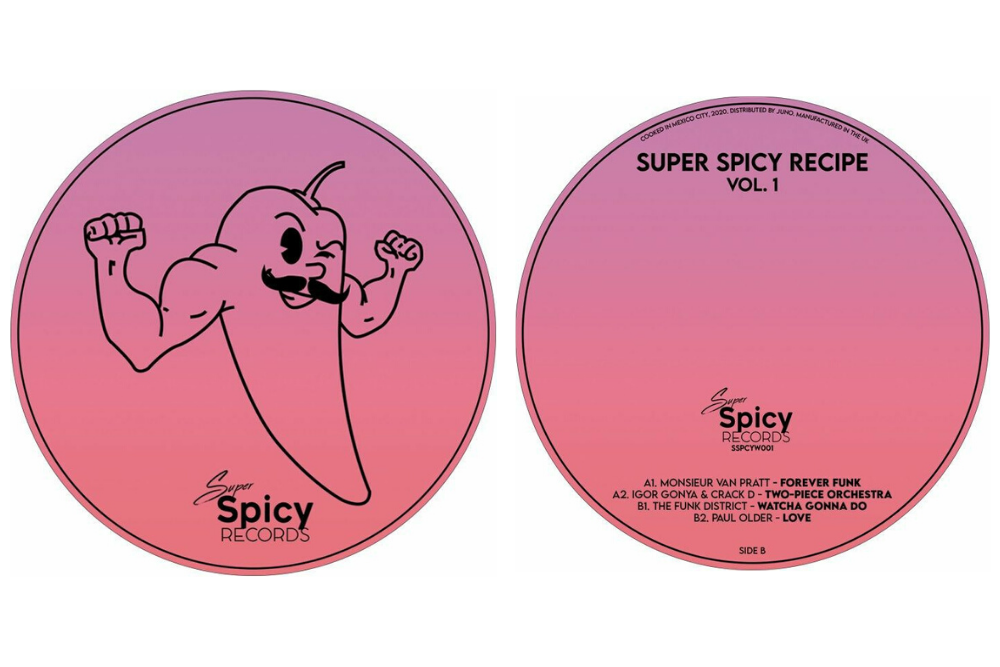 LV Premier – The Funk District – Watcha Gonna Do [Super Spicy Records]
With 10 digital releases under their belt already since launching back in February it's safe to say that Mexican imprint Super Spicy is a label in a hurry. Equally impressive is that they have already featured some of the cream of the disco world including Hotmood, C Da Afro & J.B. Boogie. Next up is their first foray into the vinyl market and what a release it is drafting in a multi-cultural selection in Igor Gonya & Crack D, The Funk District, Paul Older and of course label boss Monsieur Van Pratt for four distinct moments of disco goodness.
Monsieur Van Pratt opens proceedings with the appropriately titled Funk Forever. Coupling rock steady drums with a sparkling sax solo, which is guaranteed to get those feet moving, and a classic style house spoken vocal it's a formidable start to the EP.
Moving swiftly on Igor Gonya and Crack D's Two Piece Orchestra fills the room with yet more brass, this time of the looped up trumpet variety. It's a a multi layered track adding in extra drums and vocal harmonies and stabs and it goes. Two Piece Orchestra is a high octane track which will definitely take many a dancefloor apart when the clubs open for business again.
Over on the flip is our premier today The Funk District's Watcha Gonna Do and the answer to that is almost certainly 'dance'. Keeping the energy levels sky high it's a looped up funked up slice of disco. Ever so hooky vocals sit atop a frantic bassline and keeping the brass theme going it's looped up trumpet refrain is a super tight addition to the mix.
Closing the EP out Paul Older's Love takes things down a notch. Building a funk edged groove, it's a fun slice of vocal disco. The perfect EP and set closer for those feel good vibes.
Grab the vinyl from: https://www.juno.co.uk/products/monsieur-van-super-spicy-recipe-vol-1/773973-01/
For more info check:
The Funk District Facebook: https://www.facebook.com/thefunkdistrict
The Funk District Soundcloud: https://soundcloud.com/the-funk-district
Super Spicy Records Facebook: https://www.facebook.com/superspicyrecords/
Super Spicy Records Soundcloud: https://soundcloud.com/superspicyrecords