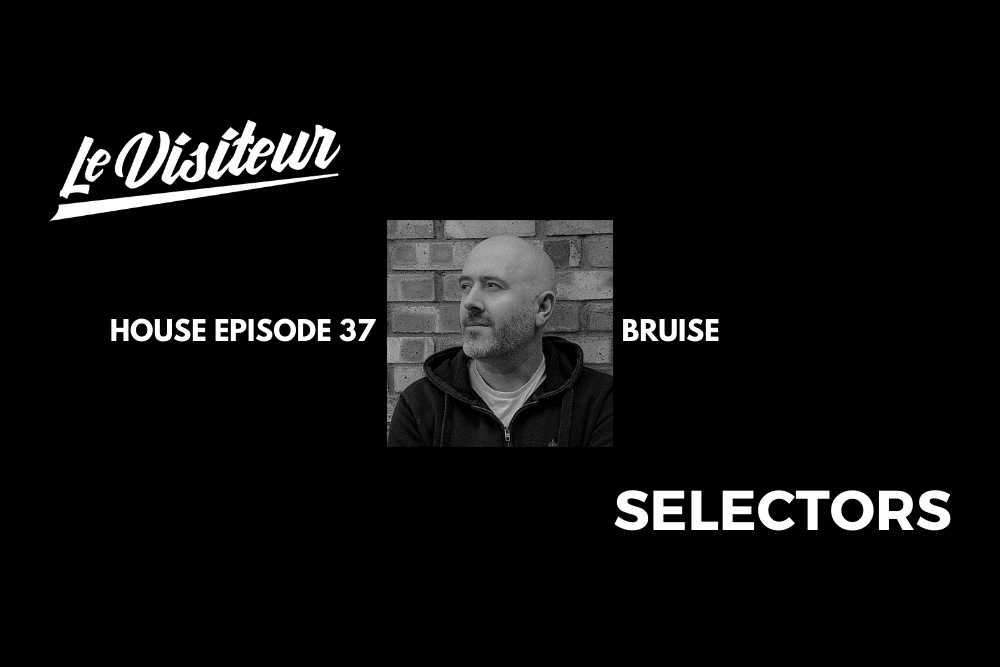 Bruise made an immediate impact on their arrival on the electronic scene in 2020 with the release of their 'Presentation EP' featuring the scintillating track 'Grand Hi' which was easily one of the house tracks of the year.
A production collective, it's headed up by Christian Campbell (Sona Vabos) and has also featured Darren House aka Diesel (Xpress-2). They have an incredible pedigree between them and that experience shone through last year as they delivered with their equally sublime remix of Lady Blackbird's Collage, which was Pete Tong's November Tune of the Month and No 2 Essential New Tune of the year.
Bruise is now back with a heavyweight double header of an EP 'Joy' / 'The Theme' which lands imminently on Foundation Music. From the uplifting spiritual keys of Joy to the deep breakbeat edged Techno of The Theme it's a wonderful release and like their previous outings has future classic written all over it.
To celebrate Bruise put together this rather brilliant mix for us. Please make sure you give it a share over on Soundcloud and you can check the tracklist below.
We also spoke to Christian about the mix.
Q1: What can you tell us about the theme of the mix you have done for us and what are some of the key tracks for you?
The mix was an opportunity to showcase some of the Bruise original material (new and old) plus some current Bruise remixes and unreleased tracks together with some music I'm into at the moment. Hard to pick when you've only got an hour, but I'm pleased with how it has turned out.
In terms of key Bruise tracks, I'm really proud of the new release 'Joy' and the Kameelah Waheed Bruise remix. Both are pretty epic in their own ways and hopefully will connect both on and off the dancefloor. Also, it was nice to put in some unreleased Bruise in there that goes in a completely different direction.
Everything else is a selection of new tracks that have made my ears prick up. All are excellent but I love the Ocsav track on Bunkball. It's not the sort of track you would expect from that label, but the hook is infectious. I also love the Mad Rey track, the original is great, but the Omar S remix worked better for this mix.
Q2: How does the style of mix here compare to how you would approach a live DJ set?
The main difference is this mix allows me to play what I want instead of reacting to how tracks are being received on the dancefloor, so it's easier to put together in that sense and you can also take a bit more time with transitions. That said, I did try to approach it in part from a live perspective and I wanted the listener to feel like they've gone on a bit of a journey, be it a bit of a short one!
Q3: Which other artists DJ mixes do you find yourself coming back to time and again and do you have a favourite that you gravitate towards?
I'm a big fan of the music that Benji B plays so I would just say check out his latest show.
https://www.bbc.co.uk/programmes/m000xjq9
Grab Bruise's brilliant new EP from: https://bruise-music.bandcamp.com/album/joy-theme
For more info please check:
Bruise Soundcloud: https://soundcloud.com/bruisemusic
Bruise Instagram: https://www.instagram.com/bruisemusic/
Bruise Twitter: https://twitter.com/bruisebeats
Foundation Music Facebook: https://www.facebook.com/foundationmusicproductions
Foundation Music Instragram: https://www.instagram.com/foundationmusicproductions/
LV Selectors 37 – Bruise – Tracklist
Kameelah Waheed – America The Beautiful (Bruise remix) – RamRoc records
Audiobooks – The Doll (Bruise Remix) – Heavenly Recordings
Bruise – Joy (Foundation)
Sona Vabos – So Good (Southern Fried Records)
Sona Vabos – Hotblade Reason (Southern Records)
Ocsav – Marcel Prosed (Bunkaball Records)
Jarren – 4U (Apron Records)
Jaden Thompson – Only One (Kitsuné Musique)
Mad Rey – Joe Da zin Feat Jwles (Omar S remix) – (Ed Banger)
Bruise – Untitled Dubplate
Diplo & Damian Lazarus – Don't Be Afraid (Higher Ground / Because Music)
Bruise – Grand Hi (Meda Fury)
Like what you hear? To help support LV Online buy us a coffee via Ko-FI. Click HERE
Tags:
Bruise
,
Deep House
,
Diesel
,
Sona Vabos
,
techno
,
Xpress-2