Mannix – Le Visiteur Featured Artist & Mixtape 070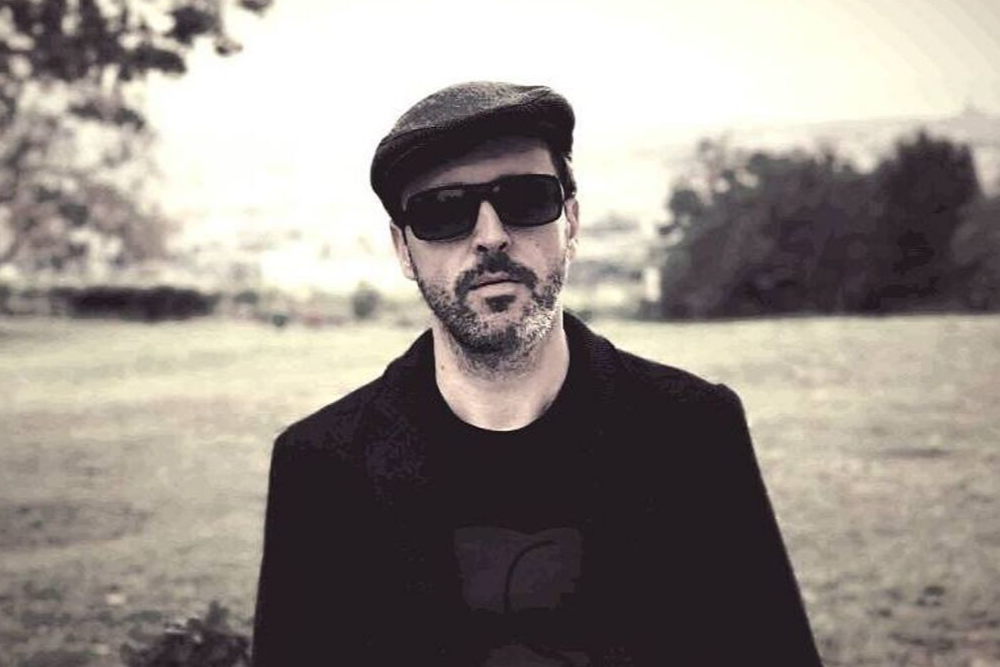 Mannix – Le Visiteur Featured Artist & Mixtape 070
Mannix is a hugely influential figure in the Austrian music industry, he's been a record collector since 1986, a DJ since 1990 and a producer since 1999. Mannix's journey is steeped in his incredible love for disco and house music and he has at some point worked in pretty much every aspect of the music industry. He has worked in record shops and was head record buyer for Austria for Virgin Megastores when the record scene was at it's strongest. He has been a music journalist for the likes of DJ Magazine, M8, Tilllate Magazine and DMC World Magazine. He is behind a hugely successful and long running radio show and he has also dj'd and released under numerous monikers with the likes of AM:PM, Purple Music, Alpaca, BBE, Ministry of Sound and many more.
We spoke to him about his upcoming remix of Bad Bambino's Hit The Road for Midnight Riot, his love of records, his radio show and his home town of Vienna. He also recorded a brilliant mix for us which you can check out below. Please give it a share on Soundcloud and help spread the love!
Hi there Mannix,
Thanks for speaking to us today.
For our readers who haven't come across your releases before how would you describe the musical style of Mannix?
Mannix has always been about House Music with loads of SOUL in it and it has also been about DISCO. Live instruments and real musicians work on my project. Other acts change when the wind direction does, for me it has always been about those two genres.
Please can you give us 3 of your own productions which are quintessentially Mannix?
Mannix ft. Dina Vass – Standing Right Here (John Morales M&M Mix) BBE Records
I have been a huge Melba Moore fan for as long as I can remember so after I started my solo project I thought about recording a one to one cover version of her essential 'Standing Right Here' record. This meant that I was able to bring in a full classic orchestra with loads of violins, brass, guitars a.s.o. We recorded everything in Zagreb/Croatia with Dina Vass from the UK on vocals. I had previously worked with Dina before around 2000 (I remixed her hit 'The Love I Have For You' and had a single 'Now I'm Free' a few years later as WHIPPED CREEM) on which she did the breathtaking vocal.
After I had mixed down the Original I brought the legendary John Morales to an event in Vienna where we DJed together. In my car I played him my Original and he instantly wanted to remix it. The result is nothing but great for me.
Mannix ft. Sheree Hicks – No Wonder (Purple Music)
This was my second single for Jamie Lewis' Purple Music label and features great R&B esque vocals from US diva Sheree Hicks. We commissioned remixes by FAM Disco from Italy and Mexico's Funk sensation Hotmood. The whole release oozes Soul, Funk and Disco.
Arnold Jarvis & Mannix – Stronger Than U Think You Are (Solid Ground)
Arnold Jarvis for me is one of the top three overall voices in House Music. So it was a great honor to work with him on this track. It will also be included on my new forthcoming first solo album.
How would you describe your latest remix of Bad Bambino "Hit The Road" which is out on September 16th on Midnight Riot and can you give us a bit of history about the release?
I have released an EP with Midnight Riot previously however this is my first remix work for them. The Original is a very nice, radio friendly boogie gem  so I tried to add some late 80s synth and Disco drums alongside a killer bass line to make it a club monster. I think it works fine, the vocals are very memorable.
You have been running a hugely successful radio Show Crystal Radio for many years now. Please can you tell us about the show, what is the ethos and where can we find it?
The show is broadcast on Austrian prime radio station 98.3 Superfly FM and can be streamed from anywhere via www.superfly.fm. It's a monthly radio show which consists of one hour of Classic Disco, and a second hour which contains Upfront House music. It is aired every third Saturday from 10 PM till midnight CET. I select, mix and moderate each show. Here you can listen to the August episode:
You started collecting records way back in 1986 and at various points have worked in record shops and as a buyer for Virgin Megastores. Do you still buy records now and how big is your own record collection?
I thankfully don't buy as many records as I used to 😉 but I still do occasionally. Nowadays with 12"s I'm quite a monk. I only buy new records when the quality is outrageous and there is only one track on each side of the record. Having said that I still buy old used Disco records in shops or at Discogs. My collection is about 9000 records, most of them being in a good condition. If the record industry hadn't changed that much, I certainly still would work within the industry itself. It was a very nice time and I know many things about the whole scene, sales, distribution, A&R and so on.
Which five records perfectly sum up the Mannix record collection and have also directly influenced your style of production over the years?
Isaac Hayes – Brand New Me
Probably one of the best records ever made. It is very en vogue to make Disco these days and in my opinion there is no other way for anybody who wants to make music influenced by Soul, than going back to its roots and listening to the Original sources and understanding what these artists were doing. Listening to tracks like this makes you understand what a huge genre Soul was and still is and it makes you understand that you have to act respectful with these sources. I have almost every record Isaac Hayes has put out and when I feel down I go home and listen to his music. After you hear those instruments and vocals, that endless intro, it makes you feel good again.
Billy Paul – Let Em In
This was released as a 7" in 1976 and it's very important for me because of two different aspects. First there is this very special, remarkable voice from Billy Paul, a voice that would stand out from thousands. Secondly the track itself has very serious lyrics which still have a meaning today and the music is somewhat of a highlight of the Philly Sound for me.
Loleatta Holloway – What Now
For me Loleatta Holoway was the best female vocalist of all time. I had the pleasure seeing her live in Miami 99 I think, she surely wasn't in her best health condition but still I had tears in my eyes when she sang the first tone. I of course could have included tons of her timeless Disco hits such as 'Love Sensation', 'Hit & Run' or 'Runaway' but for me 'What Now' is the perfect pick as on this ballad it is clear to see how much feeling and also power her voice had. Incredible.
The Sunburst Band – We Will Turn You On (Brian Tappert Edit)
I had to include this because two artists who have influenced my production in a major way are behind this. Joey Negro aka Dave Lee who has done more than maybe no one else has for establishing the sound we stand for. His Sunburst band project has been a firm favourite of mine for many years, all the albums are pure gold. On the remix Brian Tappert, who successfully runs Traxsource these days, shows his immense skills. He has influenced my sound by delivering the goods as Jazz'N'Groove, Urban Blues Project, Cleptomaniacs and many more…
Altern 8 – Everybody
I'm a very diverse guy when it comes to collecting music. I love many different styles of music and as you mentioned before I got into Electronic Music in the late 80s and was heavily influenced by the 88 Acid Revival when visiting the UK back then. I bought a lot of then current stuff by Bomb The Bass, S-Express, Prodigy, Fantasy UFO, Liquid and of course Altern 8. For me as an Austrian kid it was unbelievable that an Underground Hardcore record could sell that well to make it Top 3 in the Official UK Top 40. So I was shocked and amazed at the same time and quickly developed being one of Altern 8's biggest fans. I had all their apparel, I had EVERY record, the promos, even the masks. I was very proud of having their album plus the bonus megamix record and I still am. I think last year Mark Archer re-mastered the album and the vinyl came out one more time. Of course I ordered a copy. I included 'Everybody' here because it was the last Altern 8 single to date, released in 1993. I remember being very sad when I got to know that it was all over. Now Mark is DJing again and I haven't lost hope that new A8 material will see the light of day anytime. I would be one of the first buyers for sure…


You have an incredible history as a DJ, how do you think the club scene compares now to the early 90's when you first started to DJ and which DJ's do you think are pushing the scene forward and get you really excited at the moment?
I think we can agree that there is too much music out there these days and there are also too many people around, calling themselves a DJ. A DJ for me is someone, who understands crowds even though she/he is playing at the place the first time. This attitude hasn't changed for me. Back in the 90s when I started out we had to carry all those records and weren't as flexible music wise as we can be today. But if you could read crowds and safe parties back then, you now can for sure. What I dislike is, when a DJ plays his own music and edits the whole night with a continuous beat. I remember Danny Tenaglia dropped a Gypsy Kings Original within a pumping House set in Miami 2000, that was a great moment of surprise. I love people like him or guys like Harvey, Greg Wilson, Joey Negro & Todd Terry. Even Riva Starr or Maceo Plex grab me as they are people who have a wide range of knowledge within music and can DJ more than one genre. I also love what Spen and Karizma do when they DJ together!
Please can you describe your production set up for us and what is the one piece of equipment or plugin that you couldn't live without?
I'm still a quite analogue guy although I use more and more plugins as they make the whole process a lot easier. As you can see from the photo there are quite some gems in the studio. Sometimes it really makes sense to use analogue gear (for mastering for instance). Most important is the system of course and that is and will always be Cubase.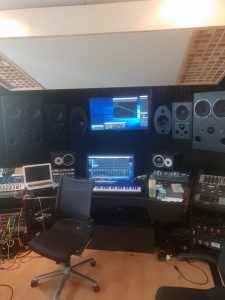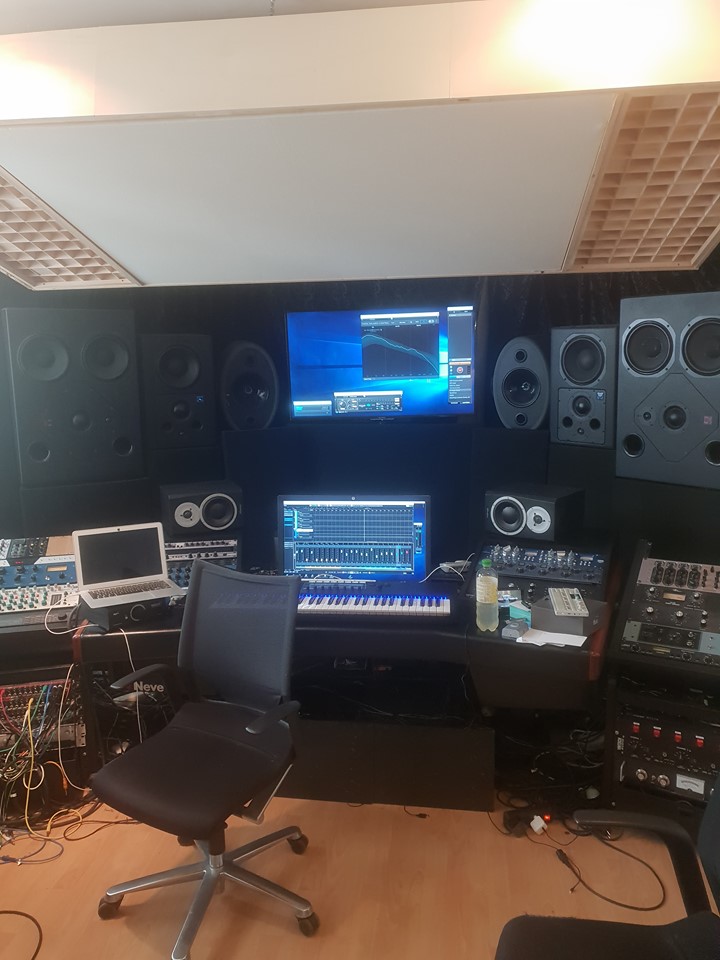 What else can we expect from Mannix in 2019?
I have my album ready with collabs with great artists like Jaidene Veda, Roldy Cezaire, Lisa Shaw, Lee Wilson, Arnold Jarvis, Andre Espeut, Fiona Barbier, Sheree Hicks, Rainy Payne, Jaques Houdek and Dina Vass to name but a few. It will be out in late fall on my own DAFIA label, which I will launch with this release. The album will also feature a limited edition remix album with exclusive remixes from Mike Maurro, FAM Disco, Richard Earnshaw, Andrea Curato, Platzdasch & Dix, H@K, Bonetti and more!
Beside that a couple of more of my own remixes will see the light of day, one more for Midnight Riot, one for the next Mousse T single, another fresh Arnold Jarvis Remix for Black Vinyl and then the remixes of my double A sider for Blacksoul music, called 'The Trumpet/Sophe' should come out.
And finally, please can you give us 4 tips for a great day out in Vienna. A place to buy records, a place to eat, a place to drink and a place to dance.
A cool place to buy records is Record Shack, especially on Thursdays when they get the new imports.
We have many great places to eat in Vienna-if you aim for traditional Viennese food there is nothing better than Lugeck in the city center. If you want something different, I can highly recommend Shanghai Tan for prime Asian food, Pancho for Mexican taste and Daily Spice for the very best Indian cuisine.
For the dancing kinda thing I recommend placed like Roxy or Sass where I can be caught playing on a regular basis!
For more info on Mannix please check:
Facebook: https://www.facebook.com/MannixVienna/
Soundcloud: https://soundcloud.com/mannixmuzik
Mannix Mixtape Tracklist
01: Get To Know ft Andre Espeut-Better Love (Babert Remix)
02: Bad Bambino-Hit The Road (Mannix 12″ Disco Vocal)
03: Mannix-Disco In The Sun
04: Reelsoul-We Are One (John Morales M&M Mix)
05: Michael Gray-Borderline (Dr.Packer Remix)
06: Mousse T ft Sharon Phillips-Maybe In May (Mannix Ain't Disco High Enough Dub)
07: S3A-Friends (Art Of Tones Southern Soul Dub)
08: Soulbridge ft Ms Onyie-Perceptions (FAM Disco Classic Disco Mix)
09: Four80East & CeCe Peniston-Are You Ready (Joey Negro Redemption Mix)
10: Roisin Murphy-Incapable (Dimitri From Paris & Aeroplane Vocal)
11: Livio Mode Feat. Shaunte Daurice-I Need You (Enrico Messina Rhodes Mix)