Marco Giannini – Le Visiteur Featured Artist & Mixtape 101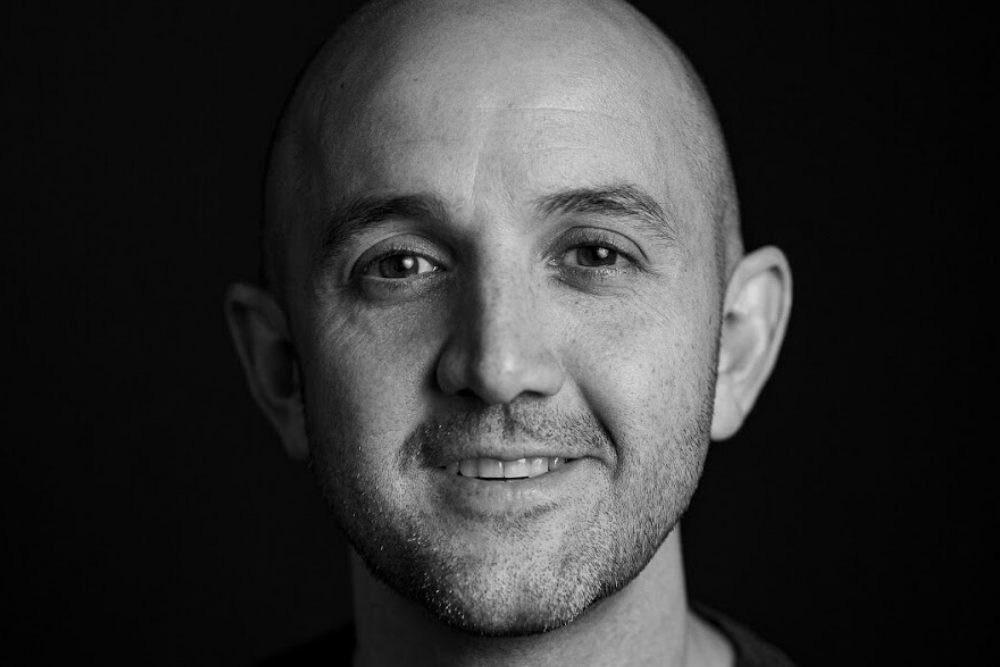 Marco Giannini – Le Visiteur Featured Artist & Mixtape 101
Hailing from Manchester Marco Giannini is a well-known figure in the city having been a DJ for twenty years playing in a wide range of styles across the city's finest venues.
A Marco Giannini DJ set is likely to be multi faceted given his love for House, Disco, Techno as well as Synth pop, New Wave, Electro and Hip Hop. You can expect to hear any of the above genres in his fluid and well constructed sets.
His reputation as a DJ of considerable skill has also led to gigs all over the globe with notable appearances at Snowbombing, Hidden Agenda and Bodytonic (Dublin), Airbound (Croatia) and closer to home at The Warehouse Project. There have also been many support slots with the cream of international DJ talent including Dimitri From Paris, Jeff Mills and DJ Yoda.
Marco has also been a well-known promoter in the city over the last couple of years. His latest project sees him step out on his own as he launches brand new club night Sticky Heat on February 1st at Gorilla which also has a very tasty pre-party at the Electrik Box. The line-ups for both are packed with Norwegian Disco legend Lindstrøm headlining the main event with the brilliant live electronic duo Night Giants and Sprechen record boss Massey in support along with Marco on the decks. The Pre-party also sees FREAKOut Collective and Supernature Disco taking over the decks.
Check out full info on that event and it's pre party on Facebook here:
https://www.facebook.com/events/687770278383764/
https://www.facebook.com/events/1141504866239995/
Marco has popped up on our radar many times over the last couple of years so we thought this was a perfect time to get him in for a chat about his career, Manchester, his new club night Sticky Heat and he also put together this brilliant mixtape for us.
Hi there Marco,
Thanks for speaking to us today.
Please can you give us 3 artists who you would say have directly influenced your style of Djing.
Lindstrøm – I Feel Space
Lindstrøm's 'I Feel Space' was a huge influence in where my sound is today. It was in 2006 when I was playing regularly for the Warehouse Project and I was playing quite tough, Tribal House and Breakbeat and I was record shopping in Fopp! One weekend and stumbled across this record and it absolutely blew my mind and changed the direction of my sound. It's still in my opinion one of the greatest electronic records ever made. It's such a simple record, but is sheer perfection, which I guess is why he is such a genius. When I've seen him play this live, the place just erupts!
Robyn – Dancing on my Own
I don't just take my influences from DJs and electronic music producers. I was brought up on a mixture of Motown and Soul from my Mum and my Dad was self-trained in the accordion, piano and guitar. I also surrounded myself with Punk, Metal, Hip-Hop, Synth-Pop, New Wave… in fact pretty much anything and everything. I hate the term 'guilty pleasures' as I feel that you either love something or you don't. You should embrace your music tastes.
My sets always veer outside of Disco, House and Techno and I'll bring in all of those influences into my sets. Robyn's 'Dancing on my Own' pretty much always features in my sets. It's probably the greatest pop record that has come out this century in my opinion, such a brilliant, synth-led pop record. Heavy nods to early 80s acts like the Human League, just brilliant, but it's really quite chuggy as well.
Cesaria Evora – Angola (Carl Craig Mix)
I absolutely love records with a heavy percussion focus (I still think Tribal House is long overdue a comeback!), Carl Craig's remix of Cesaria Evora 'Angola' is a perfect example of what I mean, it starts with the hand claps and drums and then grows into an absolute beast of a record. This is another track that still gets played fairly regularly today. When you play these sorts of records on a proper sound system with a really up for it crowd, it's just amazing.
You have been a long-time DJ in Manchester. How would you say the city's club scene has changed over the two decades that you have been playing in the city?
I took a few years out from 2009 until about 2012 and the change in the city was really noticeable. In the early to mid-00s there were some really good nights on in the city, but there wasn't as much choice and diverse parties that there are today.
People going out in Manchester now are really spoilt in the city, I don't think there is a single weekend when there isn't two or three really big parties happening and it really feels that some of the Mancunian nights and DJs are now starting to get the national and international recognition that is long overdue. It's really good to see and is very inspirational to see fellow promoters, DJs and producers who have worked really hard and done things the right way really being rewarded for it.
It's a very exciting time to be involved in the electronic scene in the city.
If you had to pick a club line up from solely Manchester based DJ's who would you choose and why?
That's a tough one as there are so many great DJs in the city, but I'd probably go with Sam Flanagan opening proceedings. Sam is an incredibly technical, open format DJ, who like myself plays right across the genres, he's Manchester's answer to DJ Yoda in my opinion (I don't think he lives in the city, but he plays weekly, so he makes the line-up).
Next on the bill would be DJ Paulette, who is an absolutely fantastic DJ and a legend on the scene. Paulette can shift effortlessly between genres and I've never seen her play a bad set.
Massey would absolutely have to feature on the bill. Chris and I go back a good number of years and he's an incredible DJ and producer. What he doesn't know about music probably isn't worth knowing. His sets have a real energy to them. I last saw him play at the Electric Chair End of Year Riot and as soon as he took to the decks the energy in the room noticeably changed gear. He's a brilliant DJ.
Closing proceedings would be Lucy Ironmonger from Meat Free. Lucy is a fantastic Techno DJ and would be perfect to close proceedings off.
I'd be happy with that line up, starting off very eclectic and finishing pretty full on.
You are well known for your open-minded style of Djing often cramming in many different genres. Was this something that you made a conscious decision to do or was it a gradual evolution of your djing style?
Looking back to the early 00s, I've always tried incorporating curve balls and different genres into my sets, I remember playing NYE at the Warehouse Project in 2006 in the main room and in the same 90-minute set dropping Dolly Parton, The Clash and Kate Bush into my set.
However, in the 1210 and CDJ days my sound definitely wasn't quite what is today. The introduction of Rekordbox has been an absolute game changer and really helped open format, genre hopping DJs like myself to be more creative.
To now be able to sort my music by BPM and key is brilliant and has helped me to find music that on paper shouldn't fit perfectly together, but it really does in practice.
You are just about to launch your brand-new club night Sticky Heat on the 1st of February. What was it that made you decide to go out on your own as a promoter? What is the ethos of the night and what can we expect from the first event?
I've always wanted to launch my own night, which is formed in my own vision for what I think a good party should look like, but it has taken me a good while to build the confidence to go and do it. I'm quite cautious by nature, so I have had many conversations with myself where I've talked myself into it and then five minutes later have talked myself back out of it again. Last summer, I just felt that the time was right and once I got started it all kind of snowballed.
The idea behind the night was inspired by a night I was involved in in 2018 when we brought Lindstrøm over to Joshua Brooks. His set was just incredible (very much a you had to be there moment), but it was the reaction of the crowd that night that really got me thinking, when we looked back on the photos of the night, we noticed that absolutely no one had phones out. The place was absolutely rammed with everyone really going for it on the dancefloor, in this age of Instagram culture, it was really refreshing and took me back to how it used to be at nights like Bugged Out! and Tribal Sessions.
With there being so many great nights in Manchester, I really feel that to launch something successfully you need to have a very clear vision that is unique. I certainly take inspiration from fellow promoters and DJs, but I wanted to have this open format music policy, which is based on what I feel works in a club but doesn't emulate or copy any other nights. I guess Sticky Heat is a night that I don't want to be easily pigeonholed as any one type of night (hence the pigeon in our branding), so you might see a House, Disco or Techno headliner, but then you will also see an emphasis on live music and live electronic acts. The music policy will be very eclectic, I definitely don't want my parties to become predictable. So, expect to see headliners who either don't play in the city often, or haven't played at all.
In addition to Lindstrøm I'm bringing over a really exciting live electronic duo from Leeds called Night Giants who signed to Sprechen last year. When I heard their first track 'Love Someone', well before Sticky Heat had formulated, I felt that they would really compliment him on a line up… so I made it happen.
Massey closes proceedings. He closed when Lindstrøm last played in Manchester, so the crowd are in good hands from start to finish on the 1st February.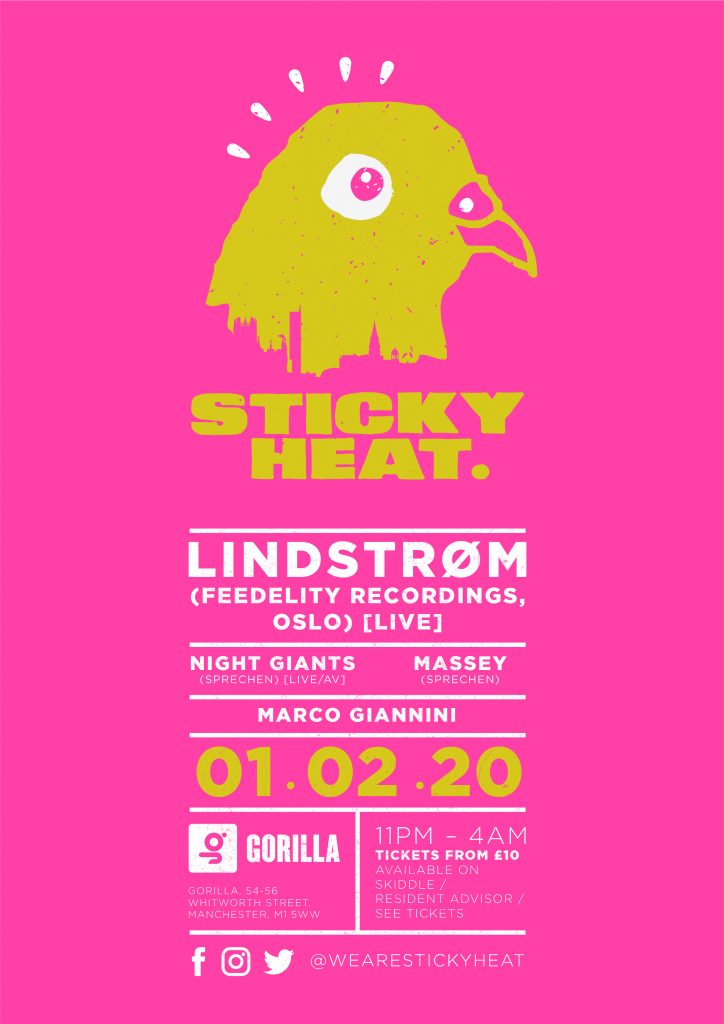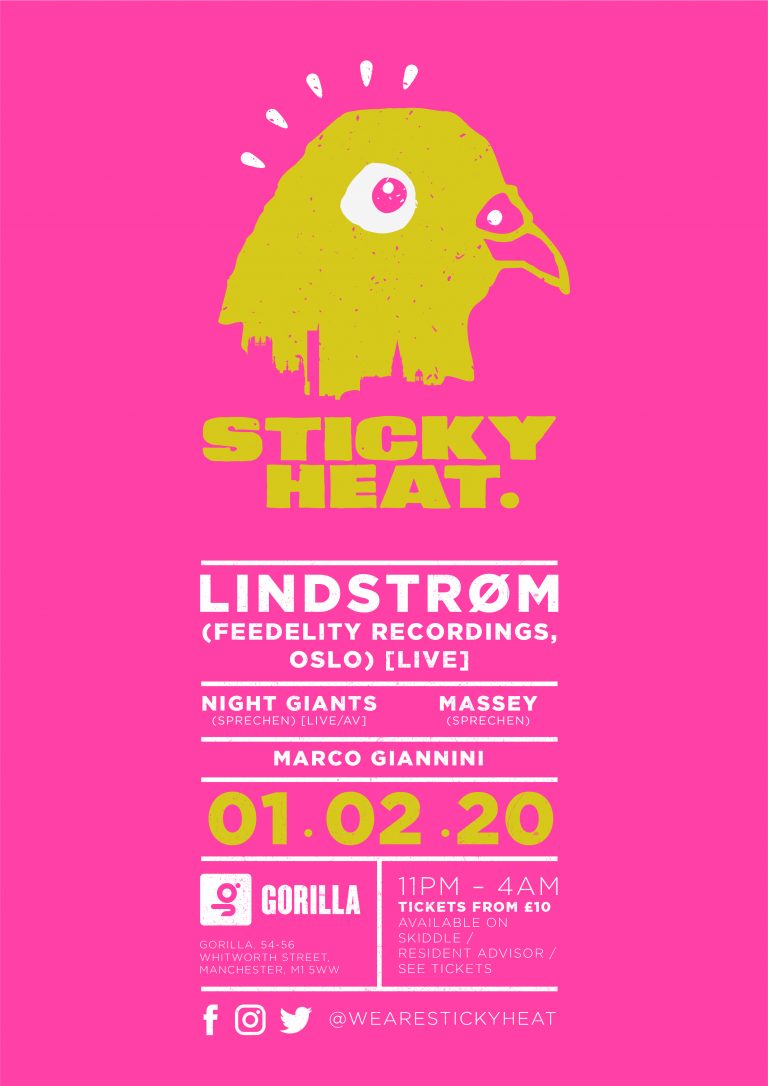 What was it that made you choose Lindstrøm for you first event?
He was incredible when he played for me back in 2018 so I always wanted to bring him back, but not only that but his music has had such a huge impact in my musical style, plus he plays live as opposed to DJing so he fits with the whole ethos of the night.
Plus, people absolutely love him, which is always a bonus! We've got people travelling from right across the country for this show.
Sticky Heat is at Gorilla, what can you tell us about the venue and what do you think it will bring to the events?
Gorilla is the complete venue. I absolute adore it. The club is a fantastic space, which is perfect for both lives acts and DJs, their attention to detail with sound and lighting is unrivaled and it's a great multi-room venue, with a brilliant bar connected to the club.
I'm really excited to launch Sticky Heat there. Hopefully the first of many parties there.
What advice do you have for anyone who is thinking about getting into promoting for the first time that you have learned over the course of putting Sticky Heat #1 together?
Have a real clear vision for your night, don't copy other parties. If you want to build something you need to stand out from the rest. For clubbers it's brilliant in Manchester as there is so much choice right now, but this makes it hard for promoters as you're always up against plenty of other brilliant parties on any given weekend.
If you're not bringing something new, or different, then you're just making up the numbers.
What can we expect from future Sticky Heat events?
The plan is for four Sticky Heat parties in 2020 and Sticky Heat #2 is just about confirmed and will be launched shortly, with a third party scheduled for the summer and I'm working on one more party in the Autumn.
I'm speaking to live acts as well as DJs for this year, and each of my parties is going to be different to the last, I've a very clear vision for 2020 and I already have a great idea for the first party in 2021.
What else can we expect from Marco Gianinni the DJ in 2020.
I've got some exciting festival gigs coming up in the summer that haven't yet been announced so I need to keep them under my hat for now. I'm also looking forward to playing outside of Manchester more as well in 2020.
Within the city you can catch me regularly at my residencies at The Refuge, Electrik, Electrik Box and Flight Club.
And finally, please can you give us 4 tips for a great day out in Manchester. A place to buy records, a place to eat, a place to drink and a place to dance.
For records you need to head straight to the Northern Quarter, starting with some crate digging at Clampdown before heading to Eastern Bloc and Piccadilly Records.
Then head over to the Refuge for something to eat at one of the city's most stunning venues. The food there is incredible and has been inspired by the Unabombers travels across the globe.
A hop down the road to Hatch and Electrik Box for some alfresco drinks under the archways on Oxford Road before finishing off the night at Gorilla or Joshua Brooks.
For more info on Marco Giannini and Sticky Heat please check:
Facebook: https://www.facebook.com/djmarcogiannini
Soundcloud: https://soundcloud.com/marcogianninidj
Sticky Heat Facebook: https://www.facebook.com/wearestickyheat/
Tags:
Chris Massey
,
DJ Paulette
,
Lindstrom
,
Lucy Ironmonger
,
manchester
,
Marco Giannini
,
Sam Flanagan
,
Sticky Heat