Mighty Mouse Worship Mix – Mixed by Le Visiteur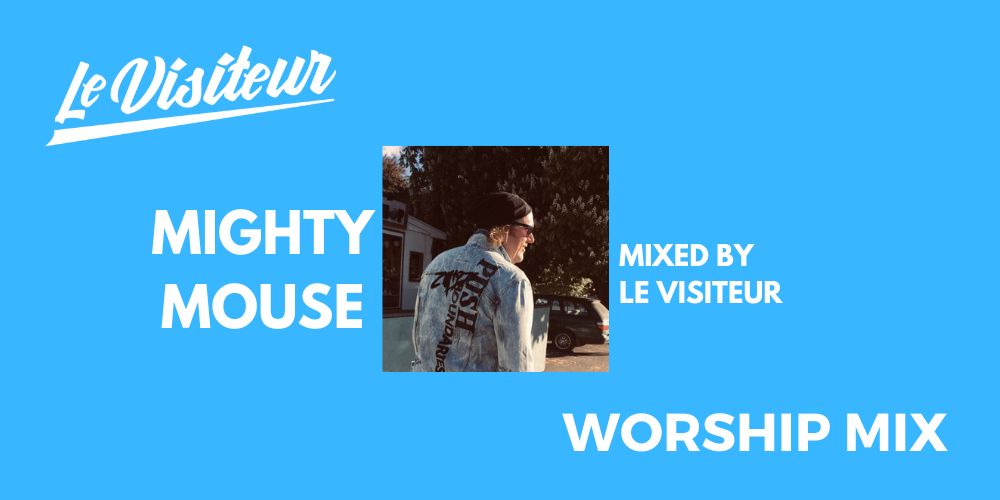 I first met Mighty Mouse (Matthew) when I booked him to play at the opening night of a club night I was running in Edinburgh way back in 2011 called Edit. The booking came along off the back of hearing his first couple of Disco Circus mix albums. They were both outstanding albums, indeed from memory both were Mixmag compilations of the year. They perfectly captured the building excitement around the Nu Disco scene at that moment in time.
The gig was a huge success, Mighty Mouse was as good behind the decks as he was at creating mix albums and judging by the excited crowd he was clearly already building a following. We hit it off so well that night with Matthew and his partner Ellen, that he gave my whole family, including my baby daughter, a dedication in his upcoming Disco Circus 3 mix album. That was Matthew through and through, a gentleman who always went out of his way to make you feel good about yourself.
Over the next few years we became firm friends and played together many times, running club nights together in London and Edinburgh across the boom of Nu Disco. It was a scene in which Matthew would become one of the leading lights alongside artists like the Magician (Aeroplane), Todd Terje, Lindstrom, Drop Out Orchestra, Kraak & Smaak and Yuksek.
We had many brilliant, and very messy nights at our club Nightfilm booking Horse Meat Disco, Mylo, Yuksek, Alex Metrix, Xinobi, Moullinex, Marcus Marr, Grum and many more. All being told though my favourite nights were the ones when we played B2B all night, often taking the music all over the Disco and House universe. To quote the Magician, from an interview around then, Nu disco was "everything that no one can quite categorise yet" and that perfectly fitted our ethos. We played whatever we were feeling at the time and whatever the crowd was vibing to from feel-good disco to deep dirty house music. We had a some great residents as well with Natasha Kitty Katt, who has gone onto great things, holding down the backroom with Edinburgh dons Kipp$ and Lee Marvin.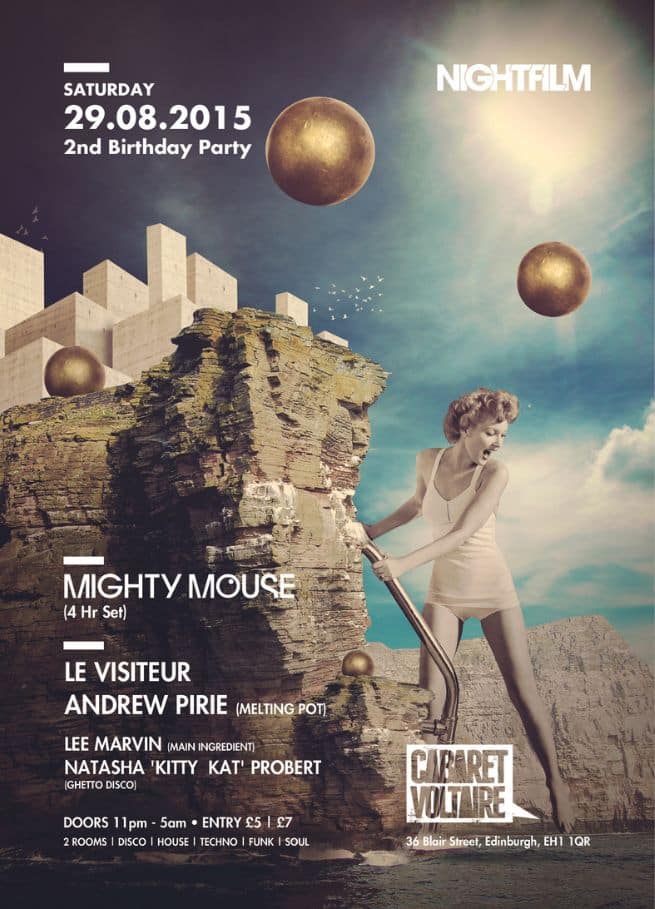 Matthew also supported my releases at the time via his Nightfilm label, releasing a couple of EP's and a Le Visiteur remix of his Du Tonc project that he had with Matt Van Schie. You can check that in the mix.
The nights often ended with us taking home a substantial carry-out putting the world to rights and talking music for hours on end. Even after we called it a day on the club nights when Matthew moved to Spain we kept in touch, often meeting up in Ibiza or at a random club night he was djing at if we were in town.
I last spoke to him ahead of a gig he had earlier this year when we penciled in a quick 40 minutes for an interview for LV. We ended up pis*ing ourselves laughing for 2 hours, it's a great memory. Sadly our plans to meet up in the summer didn't come to fruition
Safe to say, his untimely loss this year left us all devastated.
Featuring 32 tracks across just shy of 2hrs 20, this mix is my tribute to his music and energy. I've tried to incorporate tunes from across his career, from his early Nu Disco cuts to his well loved disco edits and his more recent house edged productions. There are a few unreleased edits that he gave me when we DJ'd together, side-by-side with his huge underground hits The Spirit and Midnight Mouse. The latter being a track which in no small part kick started the Abba revival when Folamour dropped it on a Boiler Room live set in 2019.
The full tracklist is below and many of the tracks are still available to buy, I'd like the think that the $ will make it's way to his nearest and dearest. If you have loved his music across the years please give this mix a share on Soundcloud and wherever you can on social media and let's get this one as far and wide as possible and keep his music where it should be, in the clubs.
I know that there was plenty of Mighty Mouse music in the pipeline so fingers crossed that it sees the light of day eventually as he was really proud of what was to come this year.
Thanks for sharing. Love Le Visiteur x
Mighty Mouse Worshop Mix – Mixed by Le Visiteur – Tracklist
Mighty Mouse – In Front Of Our Friends feat. Monarchy (Disco Mix) [Nightfilm]
Steely Dan – Time out Of Mind (Mighty Mouse Edit) [Space Native]
Yuksek feat Confidence Man – Gorgeous (Mighty Mouse Remix) [Sweat It Out]
Mighty Mouse – Ice Beer (Bootleg Version) [White]
Yello – The Race (Mighty Mouse Edit) [Unreleased]
Hervé – Night Turns into Day (Mighty Mouse Remix) [Cheap Thrills]
Mighty Mouse – Song for Ellen [Bears Eat Fish]
Mighty Mouse – That Piano Track (Original) [Toolroom]
Mighty Mouse – Love Is Gonna Lift. You up (Sunset Mix) [Cheap Thrills]
Otis Clay – The Only Way Is Up (Mighty Mouse Edit) [Space Native]
Don Ray – Got To Have Nothing (Mighty Mouse Dub Edit) [Space Native]
Mighty Mouse – Midnight Mouse (Revised) [Space Native]
Decibels – Regulator_Moderator (Mighty Mouse Remix) [Nein Records.]
Satin Jackets – Shine On You (Mighty Mouse Remix) [Eskimo Records]
Seasfire – How Do You Sleep (Mighty Mouse Remix) [Cheap Thrills]
Du Tonc – Surging Memories (Le Visiteur Remix) [Nightfilm]
Kate Bush – Cloudbusting (Mighty Mouse Re Work) [White]
Prince – Controversy (Mighty Mouse's Revised Edit) [Space Native]
Mighty Mouse – Feel Alright (Original) [White]
Fiorious – Future Romance (Mighty Mouse Extended Remix) [Glitterbox Recordings]
Double Exposure – My Love Is Free (Extended Rework Free Love Mighty Mouse Edit) [Space Native]
Gill Scott Heron – I'll Take Care Of You (Mighty Mouse's Not So Official Edit TYpe Thingy) [White]
Trio – Da Da Da (Mighty Mouse Edit) [Unreleased]
Smokey Robinson – Mickeys Monkey (Mighty Mouse Edit) [Unreleased]
Qwestlife – Hit It Off (Mighty Mouse Extended Remix) [Glitterbox Recordings]
Mind Electric – Party People (Mighty Mouse Extended Remix) [Vicious]
Mighty Mouse – The Spirit (Extended Mix) [Glitterbox Recordings]
Inaya Day & Ridney – Like you (Mighty Mouse Remix) [Paharas Musica]
Ridney, Angie Brown, Richard Earnshaw – Believe (Mighty Mouse Remix) [Let There Be House Records]
Mighty Mouse – The Get Down [Mighty Wonky Disco]
M&S – Salsoul Nugget (If You Wanna) (Mighty Mouse Dub Mix) [Tinted Records]
Fleetwood Mac – Big Love (Mighty Mouse DJ Edit) [Space Native]
For more info on Mighty Mouse Check:
Facebook: https://www.facebook.com/mightymousemusic/
Soundcloud: https://soundcloud.com/mightymouse-1
Instagram: https://www.instagram.com/mightymousehq/
Bandcamp: https://mightymousemusic.bandcamp.com/
Like this? Check out more on Mighty Mouse HERE
Tags:
le visiteur
,
mighty mouse
,
nu disco