Moplen – Talks about Disco,  Creating Edits, Record Digging & House Music Inspirations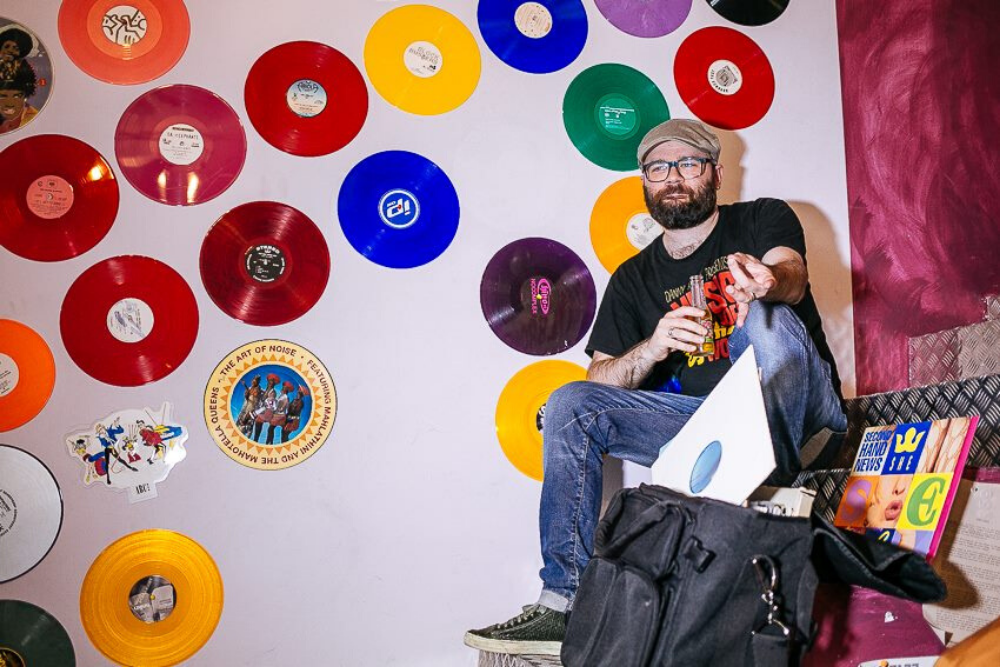 Moplen – Talks about Disco, Creating Edits, Record Digging & House Music Inspirations
Italian producer Moplen is very much a producers producer. He is hugely revered in the scene for both the quality of his work and his exquisite taste in tracks to work with. You can tell a mile away that this is man you has a huge passion for digging and great ear for tracks which he can work with to create something very special.
A self confessed vinyl junkie Moplen has released on the finest labels around including GAMM, BBE, Lumberjacks In Hell and seminal house music labels including Henry Street Music and Soulfuric. He has also released with iconic disco label Salsoul.
Moplen is also a DJ in much demand for his remix skills having in the past crafted mixes for some of the true scene legends including Candi Staton, Frankie Knuckles, First Choice, and Salsoul Orchestra
His list of DJ and radio supporters will literally leave you breathless and includes Giles Peterson, Craig Charles, Little Louie Vega, Danny Krivit, Dj Harvey, Kon, Ashley Beedle, Rahaan, Jazzy Jeff, Glenn Underground, Eli Escobar, Jamie 3:26 and many others
As a DJ he is also in huge demand with a long list of residencies in Italy and regular high profile gigs across the globe including playing the iconic Le Bain In NYC and DJ Reverend P's influential Motown party in Paris.
His remixes are very distinctive; there is most certainly an identifiable Moplen sound.
Moplen's latest release sees him drop a superb track via Samosa records fantastic Funk Purpose 3 EP which you can check here: https://www.juno.co.uk/products/moplen-soulbrigada-funk-purpose-vol-3-part/765060-01/
As one of our long-time favourite producers we thought this was the perfect time to speak to Moplen about his impressive career. He also put together this fantastic mix for us. Please jump over to soundcloud and give it a share and help speed the love.
Hi there Luca,
Thanks for speaking to us today.
How would you describe the musical style of Moplen in 10 words or less?
Classic sound with a modern twist ( 6 🙂 )
Please can you give us three tracks from your discography which you would say are quintessentially Moplen?
Sinnamon – I need you now (Moplen edit)
This is the first "rework" that exposed me to big names like Dimitri form Paris (he included it in his BBC Essential mix) and a good example on updating classics without having the multitrack.
Candi Staton – Hallelujah Anyway (Moplen's classic club vibe)
I loved the original version of this gospel/R&B tune and I used to love the M1 sound included as well. Even though to many people this sound just brings back (not so positive) memories of massive hits from mid 90's I think it's a perfect addiction to the feel adn good mood of the song. It will be a future classic IMHO.
T-Connection – Do What You Wanna Do (Moplen rollercoaster dub)
I've always played the 12" on TK of this track since I got it in the 90's, often from the percussion breakdown. When I had the chance to put my hands on it, I wanted to create a version focusing on that part but with a proper spacey intro which there was not in the original. I'm so glad a lot of people loved it.
Can you remember what it was that sparked your love of disco and underground music in particular?
1995, I was a kid, no clubs yet for me, so my approach to club music was a radio show aired every Friday night on Radio Deejay; the show was called "0 – 2", it was on air from midnight to 2 AM. The djs were Joe T Vannelli and Ralf, two big names from the Italian club scene, no words, just music, house music. I remember staying up till the end of the show (even though I had school on a Saturday morning) and recording it on tape. I used to keep listening to that tape all week long, checking all the transitions, blends, mixing skills, and then I used to go to the local records shop with that tape in my hands and ask the guys for some specific tracks of the show.
In the shop I also found this monthly Italian magazine called "Discoid" where top Italian and international DJ's reviewed their favorite tracks of the moment. I started reading it avidly and it became my bible each month.
What was the first disco record that you bought?
Good question, I think it was War "Galaxy".
You have been djing since the 90's what was it that made you want to get into production as well?
I started spinning in 1998, but I actually started thinking about putting my hands on tracks around 2007/2008. I felt the need to make some simple cut and paste edits of tracks I used to play with two copies at my gigs. For example I used to make a "live" edit of the B side with the A side of The Clash "Rock The Casbah" until I made my own version.
What parties were you attending in the 90's which really cemented your love of disco and house?
I used to (and still) live in a small town close to Milan and I knew there were clubs where that kind of music was played, but I was too young to attend the nightlife, so I was aware of this world only through radio shows and magazines. A few years later I started attending parties and it was great to finally see DJ's playing "live" that I used to read about in magazines. I clearly remember when I first saw one of those DJs, Luca Colombo, I love the records he reviewed and my personal taste was influenced a lot by himself. During one of those parties at Rebecca (a defunct venue now) I still remember him spinning Kerri Chandler "rain" and Ashley Beedle rmx of MJ Cole "sincere".
When you were staring out who were the producers who really inspired you to focus on your own productions and what did you learn from their work that you have put into play on your own productions?
I would say Shep Pettibone, his Salsoul mixes are masterpieces (just think about "Let no man put asunder" or "Such a feeling"), Francois Kevorkian for his Prelude instrumental/dubs, John Luongo, Walter Gibbons for his raw takes.
My current favs are Dimitri from Paris, Joey Negro, Kon, they all are masters for updating classics keeping the focus on the dancefloor. Of course I have to mention which were my heroes from the 90's like MAW, Mood II Swing, JohNick, Frankie Knuckles and Tommy Musto to name a few.
With regards to your own production sound you have developed a very identifiable sound. As Kon described on his RBMA Headphone Highlights: "I really like his style … I really like that, when you can identify someone's sound … the same way one could hear a Pete Rock beat or a Premo beat or a Dilla beat … each one of his remixes has his style , so this guy…he does something really unique with the drums". What from your point of view is the essence of that sound?
I'm glad of course that people think I have my style. What I can say is that I actually care a lot about drums, after all we are talking about dance music… and drums are what make you dance first.
How would you describe your latest track Ain't no dub about it which is out now on Samosa Records and please can you give us a bit of history about the track?
It's a (not so secret) weapon of mine based on a classic disco track I used to spin (again) from the middle to the end and back to the middle; basically I wanted to create a dj tool cutting and pasting the breakdown of the track.
What pieces of studio equipment or plug ins do you find yourself coming back to regularly for your work?
According to my experience, for what I do in terms of remixing, less is more so once you have a DAW and good basic equipment you have done 50% of the job, all the rest is creativity.
Who would you say are the three most influential producers working today that you think are really pushing thing forward?
Louie Vega, Joe Claussell, The Vision.
You are also in huge demand as a remixer with remixes for some of the all time great labels and artists already under your belt. Would you approach a full remix project any differently to say an edit project?
I think that making a remix from a multitrack is a completely different approach. You have the chance to put your hands on others' work, the parts give you more freedom but the risk of destroying the core of a track is high so my aim is to act respectfully, for the composer and the track itself.
You are also a huge vinyl junkie and renowned vinyl digger. When did you start collecting, how big is your collection and what are some of your favourite finds when you have been out digging?
I started buying records in 1995 as a kid and "seriously collecting" in early 2000s; my collection is not so big (around 9000 records), maybe because I'm focused on a few genres only, but as every collector knows digging never stops…
Usually what mostly satisfies me is finding some jamms that are not necessarily very rare or expensive but that are important and meaningful for myself. Having said that I was pretty happy when I found for example the 12" promo of Brian Briggs "AEO" or the 12" promo of Whitney "Love will save the day" with Jellybean/Morales remixes.
Do you have any favourite record shops / spots for record digging?
For sure Vinylbrokers in Milan and recently during my trip to NYC I was very impressed by Human Head in Brooklyn.
How has the changeover from analogue to digital changed your buying habits over the years. Do you still seek out the vinyl first or are you happy if you can grab a good digital copy of a track?
I always look for the vinyl copy (if it ever exists) otherwise I'm ok with a digital copy. It frequently happens for me to buy the digital and later the vinyl once released.
When you are hunting for tracks to give the Moplen treatment, what qualities are are you looking for specifically in a track?
It's not a matter of genres, mainly it has to be a track I have a special feeling with. I need to love it otherwise it does not make sense imho. If I love it I have to be sure to do a good job, something that makes people think that the remix is at least as good as the original.
You have a new EP soon to drop on the legendary and newly reinvigorated Soulfuric records. What does the label mean to you as a producer and DJ and what can you tell us about that release?
Actually it's an EP by various remixers, my rework of Hardsoul "Back together" will be featured along with Dr Packer and Michael Gray versions.
Of course I'm honored to be part of it, great records were released on that label, Urban Blues Project, Soulsearcher, Michael Proctor (RIP)…
You also have your own club night in Tropicalismi what can you tell us about the ethos of then night, where and when can find you.
Tropicalismi is a monthly night that my partner in crime Jopparelli and I have been running for over 6 years now; it's a party in our hometown, Bergamo, in the north of Italy and it takes places each month on the 1st or 2nd Friday.
It all started as a joint venture between me and him, we are both DJs and music lovers, my partner is a great connoisseur of afro beat, hip hop and UK garage, I know something about disco and house. He was looking for a partner to spin and that's how it all started; we play all night long from 11 pm to 5 am, mostly vinyl. The crowd is a mixture of youngsters and 40 years old clubbers that used to attend parties in the 90's; we play everything we like from Blaze to Prince, from T-Connection to Armand Van Helden, from Joe Claussell to The Flirts and it's the place where I road test my remixes.
Check Tropicalismi on FB here: https://www.facebook.com/Tropicalismi/
What else can we expect from Moplen in 2020?
I have some releases already scheduled for the first half of 2020 and there's a big project ongoing about starting my own label, keep your eyes open!
For more info on Moplen please check:
Facebook: https://www.facebook.com/moplenluca
Soundcloud: https://soundcloud.com/moplen
Tags:
Dimitri From Paris
,
François K
,
Joe Claussell
,
Joey Negro
,
kon
,
Louie Vega
,
Moplen
,
salsoul
,
The Vision
,
Tropicalismi