Night Giants – Le Visiteur Featured Artist and Mixtape 043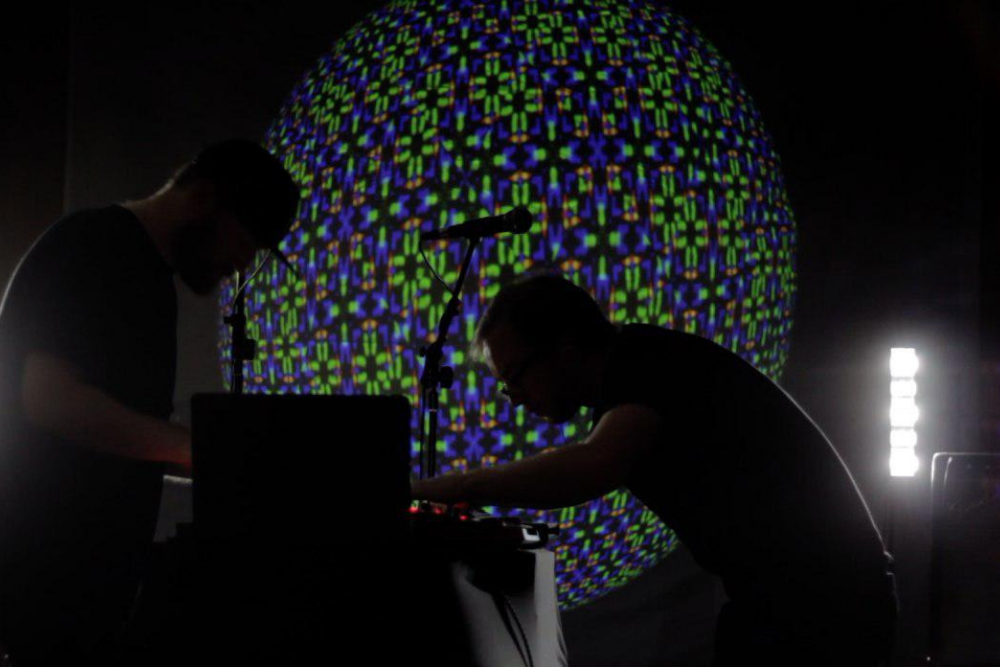 Night Giants – Le Visiteur Featured Artist and Mixtape 043
Hailing from Leeds Night Giants are a relatively new act on the scene but they are one who have already won over some serious support for both their exciting music and their energetic live show. Fusing all that is good with electronic music they are by their own admission a melting pot of " The Chemical Brothers, Underworld, Bonobo & Caribou" and if that doesn't get you excited nothing will.
They have just released a screamer of an EP with Manchester's excellent Sprechen Music with some heavyweight remixes from Jon Dasilva, Mike Simonetti and label boss Massey covering all bases.
We caught with them to discuss the EP, their live show, those remixes and to get some tips for a night out in Leeds. They also recorded this excellent mix for us check it out as you are reading the feature and please give it a share on Soundcloud and help spread the love!
For our readers who haven't come across your releases before how would you describe the musical style of Night Giants?
We started NG for the sole purpose of wanting to make a racket while making people dance. When we started working on tracks we found we were writing real big four-to-the-floor beats, decent melodies and arp'd chord sequences, so there were a few Chemical Brothers/Underworld comparisons, but as we've continued there's a lot more acid squelch and syncopation coming in. So, think Underworld updated with some glugs of Caribou, a bit of Bonobo, Four Tet and some Apparat style harmonies.
Night Giants is also a full live show please can you tell us a little about that, how you came to put it together and what the live show entails for people who are planning on coming down to check it out?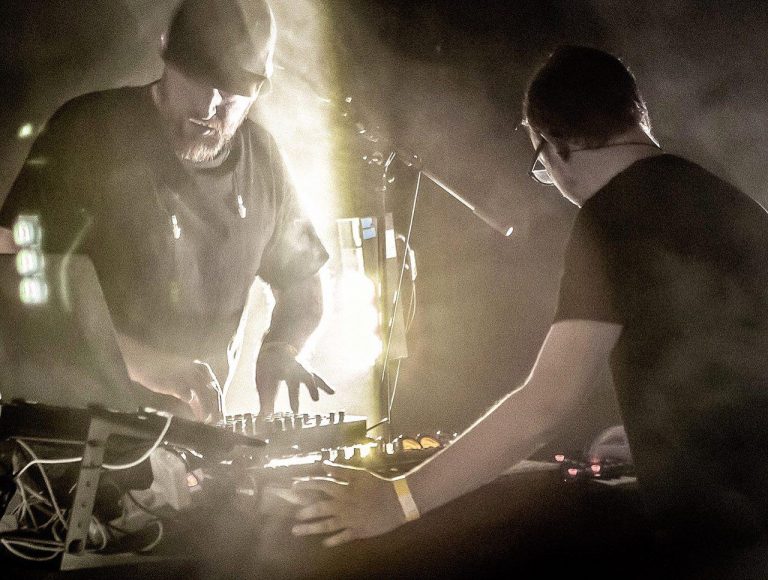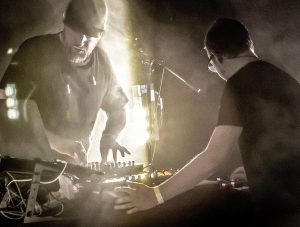 We always thought that if we were going to play live shows in a classic gig sense, it was going to be fairly boring for an audience to watch two guys behind a desk twiddling synths and keyboards so we wanted to have something visual to engage with. We thought about setting up like a Boiler Room set, in the middle of the audience, but the logistics of setting that up at different venues was going to be tricky. A couple of friends were keen to start working on live projections and visuals so we teamed up to try and get a show together, our next show on 19/06 at Oporto in Leeds is going to be based around the planets.
There is a relative scarcity of live electronic acts at the moment. Why do you think that is and who is pushing the scene forward for you at the moment?
It's probably quite cyclical, at the moment we're seeing a lot of great guitar bands coming through and back in 2011/12 people were saying there were no guitar bands and what a shame it was. I think Vessels have been pushing things – especially with their live set up – alongside other bigger acts like Rival Consoles, Ben Bohmer, Max Cooper .. but all these guys are very established. If smaller acts want to do the live thing it's very tricky, as we've found, as you don't usually fit on a standard gig line up and it takes some convincing getting on a club night line up. Nick Simcock and the guys at Oporto in Leeds have been really supportive of us and we've been trying to get something done together that can work for other electronic acts to come through.
Please can you give us 3 tracks which have inspired your sound as Night Giants?
Vessels – Are You Trending
Their absolute best track, and a real inspiration for NG starting up. The drop is one of our favourites of all time, has accompanied many a party.
Underworld – Two Months Off
Can't help but dance with a massive smile on your face when this track comes on. Huge beats, riffs and simple catchy vox.
Chvrches – Leave A Trace (Four Tet Remix)
The marriage of that classic Four Tet beat, the Chvrches melody and that glorious build is a thing of beauty.
How would you describe your latest release the 'Hold On Tight EP' which is out now on Sprechen Music and can you give us a bit of history about the release?
When we were first talking about the release with Sprechen, about this time last year, we had 7 tracks on the long list. We wanted to have 3 tracks that had different vibes but were still clearly Night Giants tracks. So we had a banger in Hold On Tight, the hands in the air sing-a-long Love Someone and Dissipate a track that has everything we could possibly throw into it – riffs, melody, harmonies, big beats, chord sequences and spacey sounds! I think that's a format that works well for us and our style. Working with Chris, from Sprechen, has been awesome. He's been such a support. Exactly what you want from a label.
The release has 3 great remixes of your tracks from Jon Dasilva, Mike Simonetti and label boss Chris Massey. What do you think they brought to the table for you tracks and what do you think makes a great remix?
We're so happy with these remixes, and they all have completely different interpretations of the tracks. The Chris Massey and Jon Dasilva remix make the tracks instantly more club friendly, Chris has been dropping it in his set recently and it's been going down really well. Jon's remix has such a classic vibe to it, there's a real New Order feel to the middle section. The Simonetti Remix has really inspired us when we've been writing recently, stripping back the drums has exposed and focussed on the melody and it really works. And the drop at the end is just banging!
A great remix, for us, would be to pick two or three of the main identifiable elements of a track, be it the melody, chord sequence or even a drum fill, and start working on a brand new track with those elements in your own style or interpretation. It can be a really awesome creative experience .. but obviously it can be a head-on-wall smackingly frustrating experience too.
Going forward if you could get anyone to remix one of your tracks who would it be and why?
Someone from a bit of a different genre from us would be excellent. Rival Consoles maybe, big fan of the Fryhide label, too, so Groj or HOSH would be sweet.
Please can you describe your production set up for us and what is the one piece of equipment or plugin that you couldn't live without?
Currently we work a lot with midi in the studio, so we've got 4 midi keyboards, a couple of 88 key stage pianos, Roland synths, Tim has his Telecaster and our little SM microphones as drenched in reverb and delay as we can possibly manage. And then the all important Roland TR8S, which is definitely the most important piece.
When you are djing what is your 'if all else fails track'?
Right now it's delving into the classics, Marshall Jefferson – Move Your Body.
What else can we expect from Night Giants in 2019?
Well, we're currently working on the follow up to Hold On Tight and getting some shows sorted for the Autumn, so more news about all that coming soon.
And finally, please can you give us 4 tips for a great day out in Leeds. A place to buy records, a place to eat, a place to drink and a place to dance.
It's a pleasure to talk about these places –
Records from Jumbo Records
Eat at Bundobust
Drink at Whitelocks
and
Dance at Wire, Distrikt or any of the parties the Brudenell Groove boys put on.
For more info on Night Giants please check:
Facebook: https://www.facebook.com/nightgiants
Soundcloud: https://soundcloud.com/nightgiants
Tags:
Electronic
,
Leeds
,
Night Giants
,
Sprechen Music