Underground System [Soul Clap Records] – Le Visiteur Featured Artist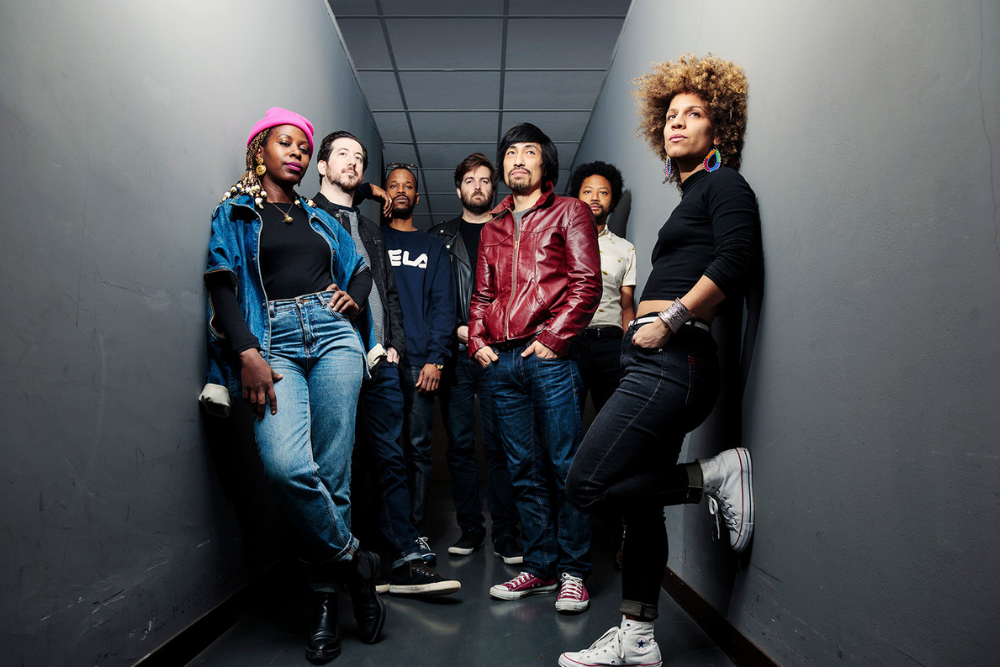 Underground System [Soul Clap Records] – Le Visiteur Featured Artist
Brooklyn's Underground System have just released a brilliant remix EP for the track 'Just A Place' on one of our favourite labels Soul Clap Records. Taken from their album What Are You which dropped in late 2018 it was one of the stand out and most DJ friendly tracks on the long player. You can check the brilliant premier below of the Soul Clap and Midnight Magic remix that we shared a few days ago.
Underground System are hugely lauded as one of the most exciting live bands around today and are just about to embark on a lengthy European tour. Originally heavily influenced by Afrobeat hence the name which derives from a Fela Kuti song they have since fused many more genres from across the globe into their melting pot of a sound. You can now expect to hear diverse flavours including world music, electronic, disco & house. It's an electric mix and one which has been wowing their live audiences.
Their remix EP literally blew the LV speakers apart last week so we thought we would track them down and get the inside gossip on their live show, their Soul Clap releases, their upcoming tour and to get some tips for a day out in New York.
Check out the premier below while you are reading the interview and please give it a share on Soundcloud and help spread the love.
You can also check out our review of the EP HERE
Hi there Underground System,
Thanks for speaking to us today.
For our readers who haven't come across your releases before how would you describe your musical style?
We've been cultivating our own style for a while now which is a combination of lots of our influences. For the uninitiated the music often can feel in the realm of Fela Kuti meeting a downtown NYC style dance band. Lots of organic elements and diverse cultural references from our band members varied upbringings, but also incorporating live sequencing of electronics and producing the music in a very aesthetically focused way that is able to glue it all together.
Please can you tell us a little about the band, how many people are involved and what is your live set-up?
The group is led and produced by us (Peter Matson and Domenica Fossati). We met back in 2010 working at a music publishing company in NYC, and the rest is history (haha)! The current iteration of the live band is 7 players deep on stage, and we write music to reflect that. When we first started and were playing more straight up afrobeat sounding tunes, we'd approach that classic larger ensemble instrumentation with a full horn section, 10-11 people on stage at times.
We love the formation we have right now. The band has a ton of individual personality and a very familial dynamic. Most everyone has been playing with us for five years or more, a crew that's grown together….
Summer 2019 touring lineup:
Domenica Fossati: Lead Vox, Flute, Percussion
Peter Matson: Guitar, Synthesizers, Drum Machine
Yoshio Kobayashi: Drums
Jonathan Granoff: Bass
Lollise Mbi: Vox and Percussion
Olatunji Ojore: Percussion
Carter Yusatake: Trumpet, Synthesizer, Vox
How would you describe your latest release the 'Just A Place Remix EP' which is out now on Soul Clap Records and can you give us a bit of history about the release?
The original tune, 'Just A Place,' is from our debut LP 'What Are You' which came out last September (2018) on Soul Clap Records. It's one of our favorite live cuts to play; the tune starts with a bit of a no wave feel and opens up into an afro disco groove for the back half. It also became the album cut that DJs gravitated towards. After realizing this was the tune most people wanted to mess with, it didn't take much longer to collect all 6 remixes from an amazing roster of people….
What was it like working with Eli & Charles at Soul Clap to release this record?
We're all family now! We love the Soul Clap crew and had a great time getting to know them over the past couple years. We all toured together last fall around when the LP came out, and are glad we got this 12" release together just in time for all our summer action.
Your name derives from a Fela Kuti song, what one Fela Kuti track do you think sums up the passion that he instilled in his music?
One of our absolute favorites to listen to and play for years (and the only one we still bring into our live sets) is Fela's classic 'No Buredi'
This is a total show stopper of a tune played live, and fits Domenica's wild side so perfectly (she really gets going on stage towards the end of our shows). Of course with Fela the lyrical content is extremely charged. The spirit of the tune here relates in a way that is very punk rock and anti-establishment, a point that's important to highlight and often lost in contemporary instrumental interpretations of his style.
The remix package on this release is brilliant covering virtually all bases. What do you think makes a great remix and if you could get anyone to remix one of your tracks who would it be and why?
Thanks!! We think the intersection of the multiple styles contained within our music leads to a more challenging and open format in terms of how our tunes can be reworked. It's fun to see all the varied results from some amazing artists we've gotten mixes from so far. It's hard to pinpoint exactly one thing that makes a great remix for us, but there's usually a feeling like someone has interpreted a core element of one of our tunes in a really clever way. We're always searching for a great disco mix, would be awesome to work with Todd Terje someday, we also love the way a lot of Detroit artists re-work afrobeat tunes: Carl Craig would be on top of our list.
What is the bands favourite accomplishment to date?
Outside from the obvious answer of getting records out! Our recent involvement with the European touring circuit has been a great moment for the band. After the release of our LP, we were invited to perform in Rennes, France at the Trans Musicales Festival (now on its 40th year!!) in front of thousands and thousands of people inside an airplane hangar who all knew exactly what it was we were trying to do musically. The response was amazing, and now we get to tour Europe this summer. It all feels right. Stateside we've had some really great moments too. Sharing the bill in NYC's SummerStage with Seun Kuti and Roy Ayers was an unforgettable experience, and there have been some shows with the SCR family over the past year that really stuck out. I guess that's a lot of favorite accomplishments haha….
Are there any gigs coming up that you are really looking forward to?
Yes, this summer we're really excited to play European festivals in June and July. Mostly in France. Some really big ones, might be hard to pick a favorite out of them but here are most of the dates:
https://www.undergroundsystembk.com/blog/2019/4/11/european-summer-tour-2019
Then, we'll come back and DJ Afropunk fest in BK at the end of the summer; which we're sure will be quite the hang.
Which 3 tracks you have released to date are quintessentially Underground System?
Go
This track embodies our current goals of synthesizing all our influences, and is also one of the first songs we wrote with a real verse and chorus structure. Some afrobeat, some downtown NYC, high energy but coming from a vulnerable perspective lyrically.
Bella Ciao
This was one of the first songs that we ever recorded, and the one where we felt like we had broken off in the direction of finding our original voice. 'Bella Ciao' is a classic Italian anti-fascist anthem, and one that Domenica knew from childhood as she is of African-American/Italian heritage. The way in which we reworked everything about the music feels unique to Underground System. We also rarely play a live set without touching this tune.
Just A Place
Because you should listen to the original before the remixes! hahaha . Seriously though, we have a music video we just did for the original we're super excited about. It will drop around the same time as the 12", stay tuned…..
Your previous release with Soul clap was your album 'What Are You' do you have any plans for a follow up album and if so when can we expect it to land?
We'll start writing lots after we get through with all this summer touring, but who knows what's gonna happen. We'll have to wait and watch it unfold…..
Now that you have been through the whole release cycle what was the most fun aspect of releasing 'What Are You' and what was the most difficult.
Almost there, lol! We're about to bring the album on tour to a ton of people who haven't heard it this summer, so we're still in the cycle. It's been a rollercoaster process the whole way. It's a challenge to break original music that is cared for and organically produced, especially band related material, competing against the pace that media and entertainment moves at currently. But we've seen some great results and beautiful moments come out of our work over the past year, the progression is something looking back…. Hard to pinpoint one specific event. We're excited to keep pushing and refining, and for everyone who's doing this sort of work from scratch like ourselves, know the commitment to that process always shines through.
What else can we expect from Underground System in 2019?
The to do list keeps expanding, let's see!! If we miss you on tour in Europe or back in the States, we will certainly be up to more fun things this fall… and we're definitely looking forward to hitting the studio hard again.
And finally, please can you give us 4 tips for a great day out in New York. A place to buy records, a place to eat, a place to drink and a place to dance.
The kind of question we can get behind (hahaha)
Records: Have to shout out Turntable Lab for being one of the OG spots catering to the DJ community and also carrying our records in town. Superior Elevation and Human Head in Brooklyn are a couple of our favorite used record spots as well.
Eat: Cerveceria Havemeyer is a hub for DJ's in Williamsburg seeking a proper Mexico City vibe, and the owner Felipe also oversees the speakeasy next door. Also, recently opened Ponyboy in Greenpoint. Delicious tapas style dishes and great events in the back room. Thursdays is the Ilegal Mezcal Presents series, with great DJ's and live music until late.
Drink: Summertime during the days grabbing beer or wine outdoors while DJ's play on air at The Lot Radio in Williamsburg is the move. Especially on weekdays when it's less crowded. Good coffee too. Soul Clap Records have a show every Tuesday at noon!
Dance: Black Flamingo has got to be one of our favorite small clubs to hang. We're regulars there (plus Peter DJ's there lots), but unbiasedly it's just really well done. The basement club room does get crowded on the weekends so come prepared. For a live music and great DJ hang, Sundays at Bembe in Williamsburg is also a great place to check out. You'll always catch one of the band members DJing, dancing or chillin at the bar. For a bit more dance floor space and straight up New York late-night club vibes, head to Good Room in Greenpoint. We are Brooklyn kids hahaah.
For more info please check:
Facebook: https://www.facebook.com/undergroundsystembk
Instagram: https://www.instagram.com/undergroundsystem/
Soundcloud: https://soundcloud.com/undergroundsystem
Tags:
new york
,
soul clap
,
Soul Clap records
,
Underground System