Nu Disco – The Hot List Vol. 1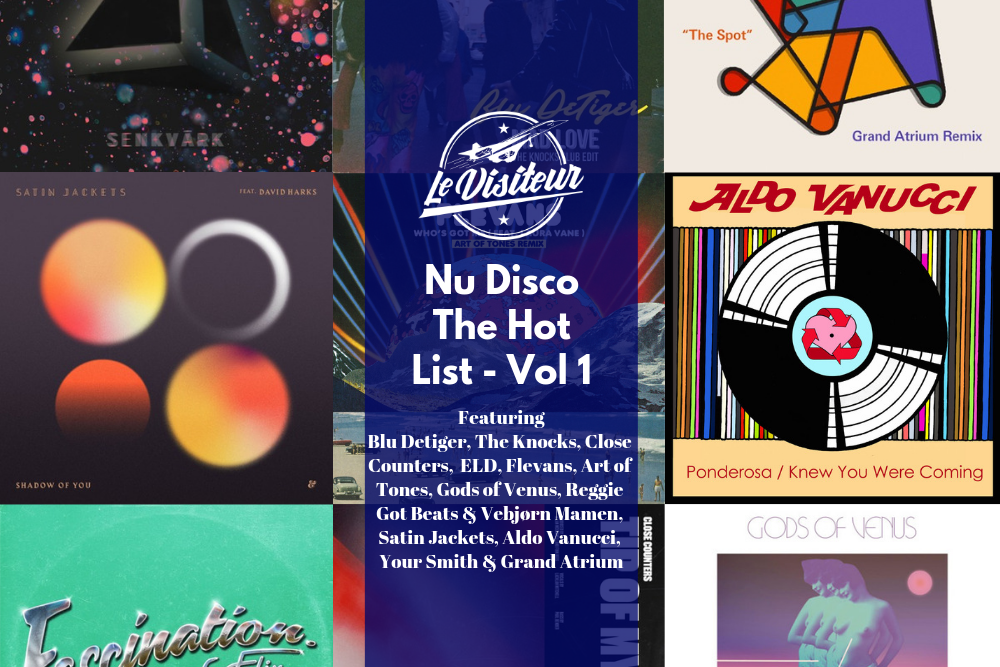 Nu Disco – The Hot List Vol. 1
Today we round up some of the hottest Nu Disco which has graced our speakers over the last couple of weeks. From hot new comers to scene heavy hitters here are 9 of the best tracks hitting the Nu Disco airwaves right now.
Love this? Check out our Nu Disco playlist on Soundcloud HERE
Blu DeTiger – Mad Love (The Knocks Club Edit)
NYC's The Knocks have gone to work on Blu DeTiger's Mad Love giving in the once over for the dancefloor. Bigger beats and looped up vocal hooks all come in to compliment the already super catchy vocal. A multitalented artist Blu Detiger is a songwriter, DJ and supremely talented bass player.
For More info check:
Blu DeTiger Facebook: https://www.facebook.com/bludetiger
The Knocks Facebook: https://www.facebook.com/theknocksnyc/
Close Counters ft. Laneous – Tip of my Tongue
Hailing from Tazmania which I'm pretty certain is a first for Le Visiteur Online Close Counters is the production duo Allan McConnell and Finn Rees. A duo equally at home in the studio and behind the decks as they are with multi-instrument  live setups with featuring vocalists. This is an act which has been getting some serious attention in their part of the world of late and on the strength of this track it's only a matter of time before they start to do so worldwide.
Brand new track Tip of my Tongue will definitely help turn a few more heads their way. Funky as a mosquitos tweeter the drum programming is powerful, multiple key layers and guitar riffs all back up some superb vocal harmonies. Ace track with a uniquely Close Counters sound. It's out now on Exist Recordings.
For more info on Close Counters check
Facebook: https://www.facebook.com/closecounters/
ELD – Senkvärk
Hailing from Sweden the band ELD is another Scandinavian production team on the rise, seriously what are they putting in the water up there just now? The third single taken from their instrumental collection GOLV Senkvärk sees a bubbling bassline combining perfectly with some great synth lines to create a hypnotic slo mo groove. All original sounds and not a sample in sight on this one too, nice work!
For more info on ELD check
Facebook: https://www.facebook.com/ELDmusik
Flevans – Who's Got Me​ ​(Art Of Tones Extended Remix)
The first of 2 superb entries from Jalapeno Records on this list comes from Brighton based producer and band leader Flevans with a little help from one of our favourite producers Art of Tones. Building on the feel good boogie of the original Art of Tones has dropped in a super funky synth bassline alongside a foot tapper of a funk fuelled top line synth which combine to provide the perfect surroundings to unleash Laura Vanes ever so soulful vocal. A summer track through and through!
For more info Flevans and Art of Tones check
Flevans Facebook: https://www.facebook.com/flevansuk
Art Of Tones Facebook: https://www.facebook.com/artoftones/
Gods Of Venus feat Jay Jay Johanson – Destiny
This great track from the very mysterious Gods Of Venus features on the brand new Destiny EP which has just dropped on the French Enchante Records label. Featuring legendary Swedish crooner Jay-Jay Johanson it's party Nu Disco part orchestral pop and part cosmic disco. Heavy guitar licks joust with a monstrous bassline and spacey synths to create a proper ear worm of a track.
For more info check:
Gods of Venus Facebook: https://www.facebook.com/godsofvenus
Jay Jay Johanson Facebook: https://www.facebook.com/jayjayjohanson/
Reggie Got Beats & Vebjørn Mamen – Fascination (La Felix Remix)
We already featured the Sparxx remix of this track which you can check HERE but we thought this one was well worth revisiting so we are back with the incredibly funky remix from La Felix. Live sounds are the order of the day here with a great bassline, guitar licks and some nice percussion hits all creating a superbly danceable backline for the smooth and playful vocal. This one definitely has more than a lick of 80's boogie about it and it's a badge it wears front and centre.
For more info on Reggie Got Beats, Vebjørn Mamen and La Felix check:
Reggie Got Beats Facebook: https://www.facebook.com/reggie2k/
Vebjørn Mamen Facebook: https://www.facebook.com/vebjornmamenmusic/
La Felix Facebook: https://www.facebook.com/LaFelixMusic
Satin Jackets feat. David Harks – Shadow Of You
Satin Jackets has been on a ridiculously rich run of form of late making some incredible music and Shadow Of You is another seriously hot track as he ups the pace ahead of the release of his eagerly awaited 2nd album 'Solar Nights' next month.
Featuring a beautifully smooth vocal from long time collaborator David Harks this is a track which will make perfect sense on the beach as the dusk starts to move in with a cocktail in hand. Evocative vibes and beautiful production throughout as we have come to expect from Satin Jackets. It's out now on Eskimo.
For more info on Satin Jackets check:
Facebook: https://www.facebook.com/satinjackets/
Aldo Vanucci – Knew You Were Coming
Released as a limited 7″ via the Jalapeno Records bandcamp HERE Aldo Vanucci has reworked and ever so familiar Mass Production – People Get Up vocal refrain, as sampled memorably by Julio Bashmore on Battle for Middle You, into something of a boogie masterpiece. The funky bassline is front and centre moving the feet from the get go, the vocal is soulful and passionate. Add in guitar licks and a brilliant live kit and this is a gem of a track. The flip side Ponderosea is also very tasty so make sure you grab that 7″ quick as this one will fly.
For more info on Aldo Vanucci check
Facebook: https://www.facebook.com/AldoVanucciMusic/
Your Smith – The Spot (Grand Atrium Remix)
Brooklyn-based producer/DJ Grand Atrium has gone to work on Minneapolis artist Your Smith's excellent The Spot giving it a little extra bounce for the club. He's kept the super vocal and a the fun feel of the original intact adding in some percussion and a steel drum top line all of which adds to the swing of the track. 2 super artists well worth checking out.
For more info check:
Your Smith Facebook: https://www.facebook.com/yoursmithforever/
Grand Atrium Facebook: https://www.facebook.com/grandatrium
Tags:
Aldo Vanucci
,
Artof Tones
,
Blu Detiger
,
Close Counters
,
David Harks
,
ELD
,
Enchante Records
,
eskimo recordings
,
Exist Recordings
,
Flevans
,
Gods of Venus
,
Grand Atrium
,
Jalapeno Records
,
Jay Jay Johanson
,
La Felix
,
nu disco
,
Reggie Got Beats
,
satin jackets
,
Sidekick Music
,
the Knocks
,
Vebjørn Mamen
,
Your Smith