Patawawa – On The Road Playlist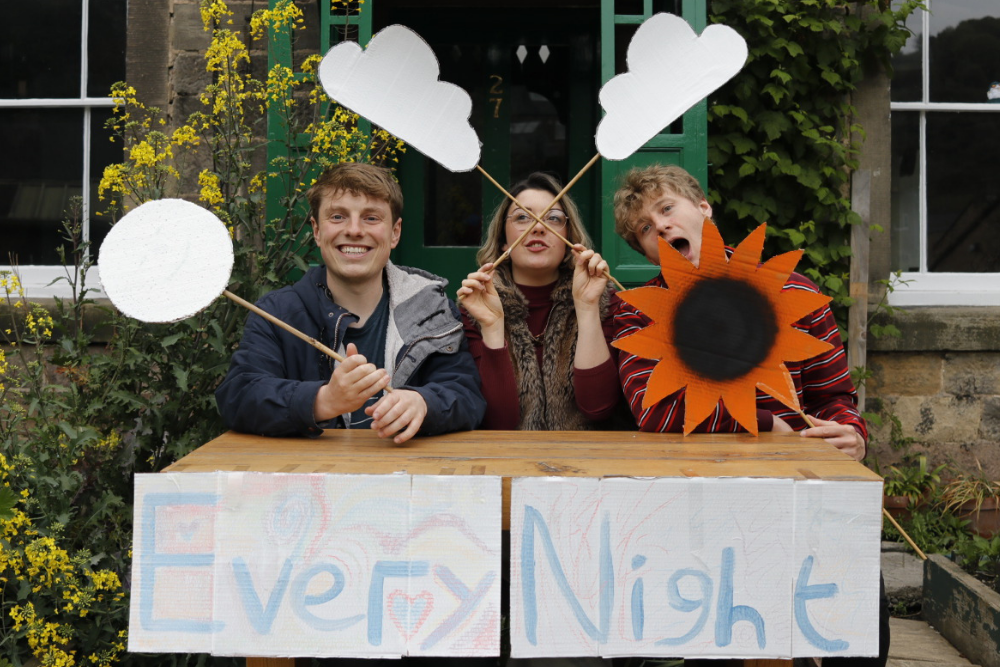 Patawawa – On The Road Playlist
Patawawa are one of the most exciting young bands out there at the moment. Fusing Nu disco and indie dance they have been turning heads across the UK and Europe with their energetic live show and a string of fantastic singles. We have been following them for the last year as they have picked up a mountain of new followers and it's great to see them playing progressively bigger and bigger shows. Check out some of our reviews of their singles and a mid tour interview HERE.
They have just released a brand new EP 'LONDON, PARIS, NEW YORK, MATLOCK', a fantastic statement of where they are musically right now packing in shimmering guitars, warm harmonies, and earworm vocals. It's an exciting blend, as cool as it is accessible. Check out a couple of the tracks below and the whole EP HERE
We asked them to put together playlist for us of tracks that we might hear on the Patawawa tour bus and the resultant list packs in everything from longtime influences to current favourites. It's a brilliant insight into what makes the band tick musically. Check it out below.
For more info on Patawawa check:
Facebook: https://www.facebook.com/patawawa
Soundcloud: https://soundcloud.com/patawawa
SAM'S SELECTION
Maribou State – Kingdom
It's got such a cool groove and tone throughout and feels so powerful when I listen to it, I absolutely love the guitar in this, a very good tune indeed.
Crazy P – SOS
They bought out their brand new album a couple of weeks ago and this was the first single, I love the synth and guitar together in this track, it's such a stereotypical Crazy P song and for me one of their best! Good for a bit of exercise too!
Courage – Long Way Up
I have been listening to this a lot on my hols recently in Devon, I love the lyrics and melody in this, it's got a really cool vibe that runs all the way through it with that catchy hook on the guitar with a wicked effect on it, big tune!
Mark Ronson – Late Night Feelings (Official Video) ft. Lykke Li
This instantly caught my attention when I heard it last week and I've had it on repeat quite regularly since. I've been a massive Mark Ronson fan for a long time and this song has introduced me to Lykke Li as she has a fantastic voice! Again I love the lyrics and production on this, really excited for Mark Ronson's new album!
Still Woozy – Lava
I started listening to Still Woozy after I shazamed his tune 'Goodie Bag' last year and have been a massive fan ever since, every tune he's released I've put on my playlist 'PATAWAWA'S PARTY' (shameless plug) and this tune has been no exception, absolutely buzzing he is playing at The Great Escape (as are we 😉) so I can't wait to see him!
BETH'S SELECTION
Alicia Myers – I Want To Thank You
This is the kind of song that I just want to sing along to over and over again, it never gets old. It's such a groove and the vocals are stunning. It's my go-to sing-along song.
Kornél Kovács – Pantalón
Rory played me this song 6 months ago and I'm still listening to it on repeat. It's turning into quite the addiction. On my long unemployed days home alone I whack this bad boy on and dance around, and even though the words are all sped up and in a different language I still do my best to sing along.
Duran Duran – The Reflex
This is my oldest favourite song. I'm not very good at favourite songs because I change my mind so often but this has been a firm favourite from before I can remember. Its got a kind of 80's brashness to it, and it's so catchy, 100% pop and I bloody love it.
RORY'S SELECTION
Betty Wright – Clean Up Woman
This song is an old favourite of mine buts it's crept back onto my playlist recently and it's just a pure banger.
Terence Parker – Deuteronomy
Those piano chords, you just know it's gonna be a tune as soon as you hear them.
BHW – Stop
This is my fave italo disco song ever, in a club setting its pretty much perfect.
Hush Moss – Clear
Missed these guys by about 10 minutes at a festival last year which wasn't great, but this song is so nice, hopefully I'll get to catch it live soon!!
Willis Jackson — Nuther'N Like Thuther'N
Dem horns though…
Tags:
alicia myers
,
Betty wright
,
BHW
,
Courage
,
Crazy P
,
Duran Duran
,
Hush Moss
,
Kornél Kovács
,
Lykke Li
,
Maribou State
,
Mark Ronson
,
Patawawa
,
Still Woozy
,
Terence Parker
,
Willis JAckson