Paul Older – Le Visiteur Featured Artist & Mixtape 108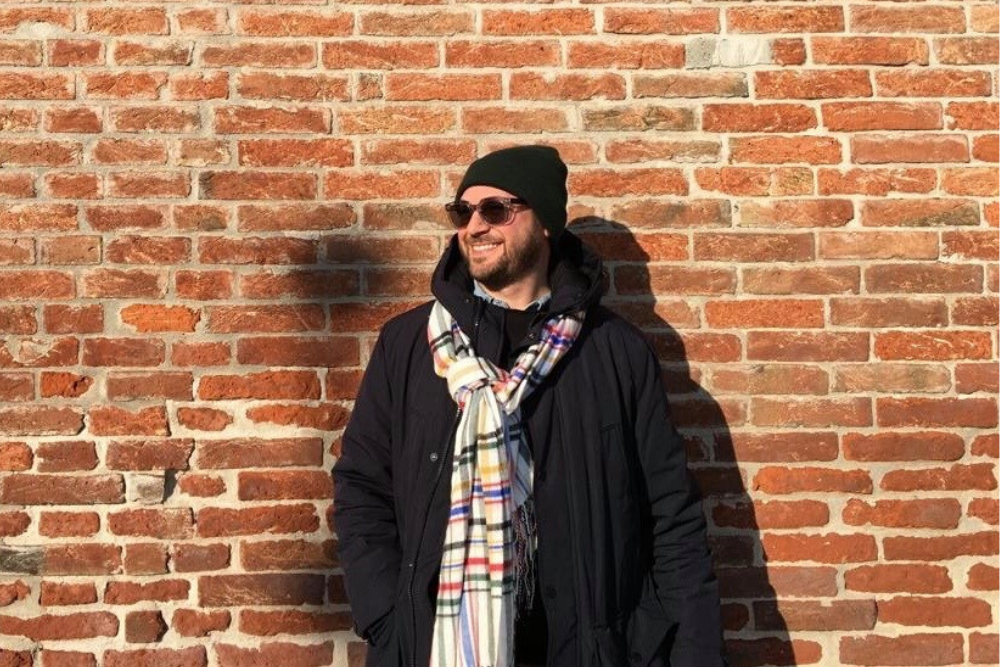 Paul Older – Le Visiteur Featured Artist & Mixtape 108
Paul Older is part of the huge musical renaissance which is happening in Italy at the moment where the recent flourishing of disco has more than caught the imagination.
A longtime DJ Paul has been fascinated by the disco sound since receiving his first vinyl Kool and the Gang's 'Ladies night'. It was this musical passion which would see him start his DJ career at the young age of 15. Now 20+ years into that career Paul has been making his name as a producer of some note with releases on some great labels including Ocean Trax, Slightly Transformed, Samosa Records and Tropical Disco Records.
His recent track on the Italian Disco Machine release with Samosa perfectly encapsulates everything that is great about his production style. It was an EP packed full of brilliant groove heavy dancefloor moments and Daboom was the stand out and has featured in many  a Le Visiteur DJ set over the last couple of months.
We caught up with Paul to discuss his productions, the scene in Italy and his plans for 2020. He also put together this very hot mix for us. Check it out and please give us it a Soundcloud share and help spread the love. The full mix tracklist is at the bottom of this interview.
Hi there Paul,
Thanks for speaking to us today.
For our readers who haven't come across your releases before how would you describe the musical style of Paul Older?
Firstly, thank you so much to having me today!
My musical style is focused on the disco feeling but I like to include different sounds and genres including house music, funky, slo-mo disco and tropical vibes.
I like to define my music as "happy disco" and my personal goal is if you get a smile on your face and to make you shake your booty when your hear it.
Please can you give us three tracks from your discography which you would say are quintessentially Paul Older?
Paul Older – DaBoom (De Gama Re-Groove) [Samosa Records]
This is my first vinyl release, so it must be on this list!:-)
Paul Older – Never [Slightly Transformed]
Actually this is my favourite track , the groove and the vocal are huge. I NEVER tire listening to it
Bill Withers – Soul Shadows (Paul Older Edit)
I love the original track and last year I decided to edit it for my personal DJ use. I put it on soundcloud as free download and it was an unexpected success. It was also supported by Craig Charles on BBC radio.
How would you describe your latest track Daboom on the Italian Disco Machine EP which is out now on Samosa Records and please can you give us a bit of history about track?
The history behind DaBoom is funny; originally I sent it to the Samosa's crew for a different project based on old Italian disco edits but later the project changed and finally we decided to release it, with a huge groove re-touch by De Gama, on another EP which features three other Italians artists. The original track is from an old obscure Italian funky gem and the final result is a perfect and model slo.mo disco tune!
I really enjoyed doing it!
You have been DJing now for 20+ years. What are your thoughts on how the scene has changed in that time and have you been surprised at just how big the disco resurgence has been recently?
During the last 20 years the scene changed a lot. I remember when I started to spin records that house tunes were the coolest thing you would hear. Later the scene moved toward more electronic and techno styles and finally it has come back in full circle to disco!
Here in Italy the disco scene is growing year by year, it's still underground but I think it's better to keep it that way in order to maintain the origin of the disco vibes.
How would you say that your own musical taste has developed since you started DJing?
It's changed during the years but my heart has always been attracted to the groove. I don't care too much about the kind of music is it is as long as the vibes are great!
Please can you give us one production tip that every producer starting out must know right now.
Just a very simple tip: do what you love! Don't follow the moods or change your style just to release with a specific label. Keep in tune with your soul and find your own personal way. Be keen to learn and always be curious and listen to many different kinds of music!
The scene in Italy just now is really booming. What do you think is behind the huge boom in disco coming out of the country from artists like Moplen, DJ Rocca and of course the team at Samosa Records?
The main secret is the musical culture. We have several disco masters here in Italy; Gino Woody Bianchi, Beppe Loda & Daniele Baldelli to name just a few. They have helped built a base for the disco scene here since the 70's & 80's.
Please can you give us 3 tracks which you would say have directly influenced your style of production.
Sandy B – Make the world go round (Deep Dish Vocal mix)
Simply…the groove!
The Funk District – Out of time
I selected this tune but I really could have picked any of the tracks created by this Mexican genius!
His style and production quality is always an inspiration for me! I was very happy when I started to cooperate on music with him since last year
Javi Frias – Discotizer
Another great Spanish edit maestro. I love his style and the way he keeps the original disco feeling on his productions
What else can we expect from Paul Older in 2020?
It will be a busy year. I started by releasing a track with one of my favourite labels Tropical Disco Records and in the coming months I have already started to work on some new EPS with some great labels. No spoilers right now ;).. so, stay tuned!
And finally, please can you give us 4 tips for a great day out in Padova. A place to buy records, a place to eat, a place to drink and a place to dance.
For the record store, we should move to Verona (another wonderful town close by in Italy) to visit Le Disque Records Store. It's a really nice store with many brand new disco 12's every week.
To eat I would suggest Polati Caffe, Vino e Cibo. It's a lovely restaurant situated just in front of an amazing 16th Century Villa with the best burgers in town!
To drink a good natural wine you should go to Alle Erbe – Cantina del Tormento which is located in Vicenza downtown. It's a cozy wine bar with a huge wine selection
Lastly, to dance there are no doubts that you should go to one of the hidden parties managed by The Obscure Disco Club, a Treviso's guys crew. Those will transport you directly to the 70's disco era
For more info on Paul Older please check:
Facebook: https://www.facebook.com/PaulOlderDJ/
Soundcloud: https://soundcloud.com/paulolder
LV Mixtape 108 – Paul Older Tracklist
1 Fingerman – Brass Monkey
2 The Funk District – Anywhere you like
3 Paul Older – Sax Francisco
4 Shaka Loves You – Disco Weapon 2
5 Javi Frias – Party Music
6 Woody Bianchi & Pietro Nicosia – Holding on
7 Sunner Soul – Universal Disco
8 Saint Paul – Fancy Rhythm
9 De Gama – Groove On
10 Moodena – No more sushi
11 Barry & Gibbs – Hanging at the disco
Tags:
disco
,
Paul Older
,
Samosa Records
,
Tropical Disco Records