Phonk D – Le Visiteur Featured Artist and Mixtape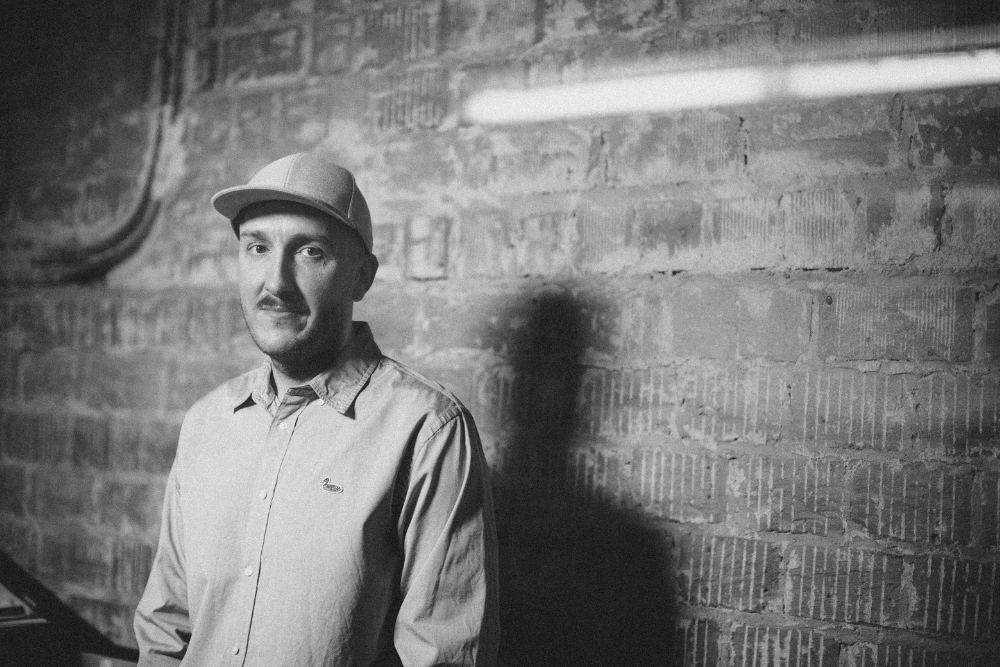 Phonk D – Le Visiteur Featured Artist and Mixtape
Based in Darmstadt in Germany Phonk D has a colourful musical background. Falling in love with house and techno in 1995 he was a regular at legendary Frankfurt clubs Dorian Gray and Omen, closely studying how their DJ's built an electric atmosphere. This crash course in Djing lead to him to become a huge vinyl enthusiast which in turn would lead to him organising his own parties and a job working in a record store.
Over the next few years he would become develop a heavy interest in hip-hop and the technical side of Djing which lead to an urban production career where he would develop a strong relationship with the producer Iron going on to produce as "Kollege Schnürschuh" a series of albums and EP's for some of Germany's best rappers including Mädness and Döll.
All along he would keep feeding his love of disco and funk, constantly adding to his burgeoning record collection. Fast forward to 2014 and this love of electronic music would come to the fore again and Phonk D would found his own Footjob label which would allow him to release his own tracks and those of like minded individuals.
As well as his own label Phonk D has had a series of classy releases on some of the best labels out there including Glitterbox, Nite Grooves and NDYD. His First Choice remix for Salsoul last year was one of our tracks of the year.
We spoke to Dirk (Phonk D) about his latest release with Sascha Ciminiera on Footjob, his upcoming remixes, his label and it's upcoming 5th birthday. He also put together a top class mix for us which you can check below.
Hi there Dirk,
Thanks for speaking to us today.
For our readers who haven't come across your releases before how would you describe the musical style of Phonk D?
I think for an artist like me it is usually a bit difficult to describe his own sound because i'm musically very versatile. I started with house and techno in the 90's and then produced a lot of hiphop during the 2000's. Today, everything blends in with me, influences certainly come from the urban world as well as from the old techno times. I'm also very affine with disco, funk, rare grooves etc… I've tried a lot for years, have bought a lot of synths, drum machines etc, but I ended up sampling again and again, Somehow I like this sound aesthetic the most. The typical Phonk D sound is probably a disco or funk sample, looped through filters with a crisp drumming and straight arranged for the dancefloor.
Please can you give us 3 of your own tracks which are quintessentially Phonk D.
First Choice – I Can Show You (Better Than I Can Tell You) (Phonk D Edit)
Maybe this track is my most successful so far. I found the vocals on a Salsoul vinylbox that I bought a few weeks earlier. Actually, I was working on a different production with Sascha Ciminiera and was looking for a little sample and came across these vocals. I immediately realized that they have something special. Sascha already felt tired so I started a new session with the MPC. I sent the first finished version to Marcel Vogel. He liked the track immediately and wanted to put it on his BBE compilation, so he contacted Salsoul. They were so excited that they wanted to release the edit by themselves.
Phonk D, Ise Jr. & Sascha Ciminiera – Another Love
This track will always be special because it was the first electronic track I released and started my label with. It was very exciting to see for the first time that what we produced in the studio was working in the clubs. We also got the first feedback from DJs, I got videos sent to me with people abroad dancing on it. I still like this track today just like before.
Phonk D – Darlin' Playa
Kris from NDYD records contacted me and asked if we wanted to do a release on his label. So far I had released all my tracks by myself so this was my first release on a different label. I chose four suitable tracks for him from my backstock and suggested to him that he made this his first vinyl release. The release was a complete success and it took me for the first time onto much bigger events.
You have a background in urban music having produced multiple hip hop albums and EP's. How would you say this has influenced the way you produce house and disco?
My time making Hip Hop had a big impact on my current production style. I learned many techniques such as sampling and how to mix vocals etc. Hip hop productions also had to deal with classic song arrangements, there were verses, bridges, refrains, etc. In the electronic world songs are usually built differently, but nevertheless, this classic education helped me a lot to find my way around tracks today.
How would you describe your latest release Tribes Of Shiloh which is out now on Footjob and can you give us a bit of history about the release?
Some time ago we moved into a new studio space in our hometown Darmstadt. This location was previously used by a religious community which found its purpose in the worship of Shiloh. We have somehow absorbed their spirit and created this EP as if by magic. Generally we sampled less and recorded more this time and there is a slower cosmic feel on it. When we were planning the EP we asked Johannes Albert for his support. He was immediately hooked, threw a few herbs together and brewed us a tasty remix.
Have you been surprised at just how huge the disco and house scene has become in the last decade and where do you see it going as we continue to move forwards?
As you know, music moves in cycles. In the seventies disco was born, twenty years later in the nineties a lot of disco was used, now twenty years later it's experiencing another boom. I think the genre has been the first genre that you can see in the club and dance context. This era has shaped everything which came into the clubs afterwards. Immortal music was created during this time, just too strong to be forgotten.
Which other producers in the scene do you think are driving it forwards at the moment?
I don't really concentrate on the current scene very much. I also hear a lot of old music and the stuff from my environment, Sascha Ciminiera, Lukas Lehmann, Shan and Le Rubrique… Otherwise the last Soundstream release was the strongest for me. There's no one who can get that much out of a few little loops, that's great art for me.
As well as producing your own tracks you are also in heavy demand as a remixer with classy remixes for Hi Fi Sean, Hemi, Guri and many more. What is your favourite remix that you have done to date, what remixes do you have upcoming and do you approach your remixes any differently to how you approach your own productions?
I usually like the latest remix best, so that would be the Hifi Sean remix right now. I think this work is really well done, considering that it was almost completely produced with an old Korq M1. I have just finished a new remix for Alan Dixon. A hard Gospel Banger that will also be released on Glitterbox. Then it was a great honor for me to remix a new Hans Nieswandt song. It contains vocals by Eric D Clark and will be released on my label Footjob.
Please can you give us 3 tracks which sum up your label Footjob.
Lukas Lehmann – Q & H (Lorenz Rhode Remix)
This is definitely the most successful track that has appeared on my label so far. Lukas had previously invited Lorenz to a live gig in our city. Some time later we planned his debut ep on Footjob and Lukas asked Lorenz for a remix. It didn't take much time until we had this monster in the mailbox, an absolute dancfloor killer.
Shan – On & On
For me personally this is one of the strongest tracks on the label. That was just the original idea of Footjob, awesome sample, fat drumming and off you go. I just made a remix of it for the jubilee sampler.
Pallaspeople – Airotic
The most underrated hit on the label. A spontaneous session by Glance, Sascha and me without knowing before-hand what we would do. Gerd Janson wanted to get this track out on Running Back, but that did not work out so I decided to release it by myself and asked the legendary DJ Duke for a remix. Unfortunately, the release was a little undercut at that time, although it has great potential in my opinion. Maybe people will pay attention again when a Gerd Janson remix of it appears for the 5th Footjob anniversary sampler.
This year is the 5th anniversary of the label, what do you have planned to celebrate this landmark?
The concept is a sampler that contains only remixes of previously released Footjob songs. The Footjob artists have all remixed each other and the whole thing will be released as a double 12″. Of course, there will be a big party here in Darmstadt with all artists.
What are your plans for Phonk D and Footjob for the rest of 2019?
The Hans Nieswandt feat Eric D Clark EP comes next on my label, two great tracks with remixes by Marcel Vogel and myself. After that the jubilee sampler arrives and later on I'm planning a little label break. I've also got a few releases on other labels in pipeline: a solo EP on Liztomania with some deeper stuff, as well as a collaboration EP with Siggatunez on Tilly Jam. Otherwise I'm looking forward to upcoming gigs, Defected invited me to their festival in Croatia, that will be great fun!
When you are djing what is your 'if all else fails track'?
I've been playing for over twenty years now and luckily I don't often get into such a situation. So if all else fails then I'm probably at the wrong party. Then it doesn't matter anyway and I would make a joke of it and maybe play "Straight Up Menace" of MC Eight or something from DJ Deeon. I think there should be at least one Dance Mania song at each party.
And finally, please can you give us 4 tips for a great day out in Darmstadt. A place to buy records, a place to eat, a place to drink, A place to see the sunset and a place to dance.
Unfortunately, the best record shop closed several years ago (RIP Pentagon). Right now we have a fancy little store called "Music als Hilfe". There you will find some very obscure sample material, nice second hand stuff and beyond that all  the Footjob releases.
As for the food, I think it is simple. The best "Frikadelle"(german meatball) are at 'Take It Easy Snack', the best butcher is the "Wurstlädchen" and the best Döner you will find at 'Hassom'.
The next three points can all be summed up. The best drink and the best sunset you can see in the Weststadtcafé in Darmstadt, where you can also dance, preferably on a "Diggin in the Crates" evening.
For more info please check:
Soundcloud: https://soundcloud.com/phonk-d
Instagram: https://www.instagram.com/phonk_d/
Facebook: https://www.facebook.com/phonkd/
Tags:
Footjob
,
Phonk D
,
salsoul