LV Premier – Processman & Cady – Sou Baiana (Dicky Trisco Remix) [File Under Disco]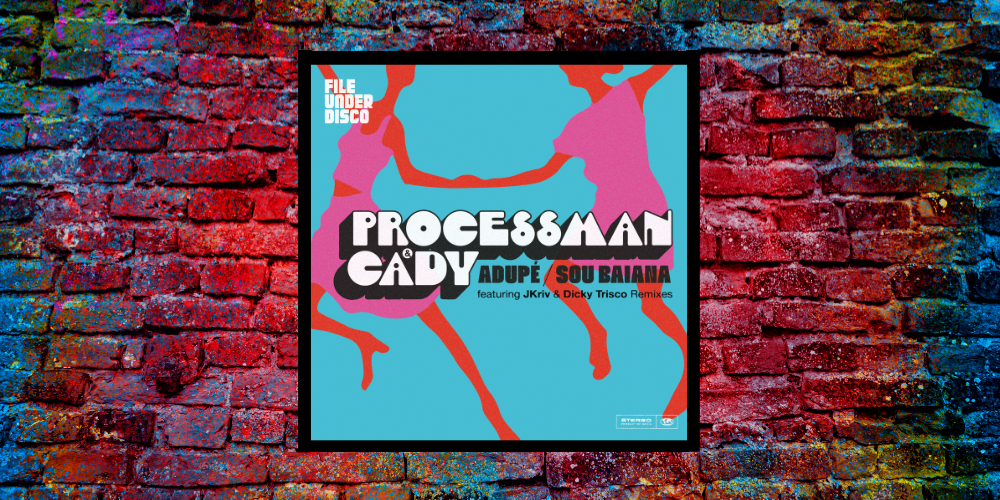 File Under Disco open the door to the modern Brazilian discothèque with a fabulous double header of a release Adupé /Sou Baiana from Processman and Cady. After an introduction via a mutual friend DJ and producer Processman and solo artist Cady hit it off immediately and started making music the same day.
The final piece in this exciting puzzle came when Dicky Trisco was passing through Salvador after playing the magnificent Mareh festival in Bahia. Processman was driving Dicky to a local hot spot in Pelourinho, and the first track he played in the car that night was 'Adupé'. Dicky was immediately blown away by the track. The second track Processman played was 'Sou Baiana', another scintillating musical moment, and a record deal was already in the offing and they hadn't even made it to the party yet.
A year later and this divine release is now about to land on File Under Disco with remixes from Dicky, Joutro Mundo, Processman and Razor-N-Tape's JKriv. It's an all round fabulous package.
Our premier today is Dicky's immense electro disco remix of Sou Baiana. Taking all the elements that make the original so exciting it fuses super sexy percussion with a bubbler of an electro bassline, which Dicky has rightfully pulled front and center here. Add in the the loopy vocal chorus chants, hand raising string stabs and euphoric keys and it's got that Dicky Trisco energy through and through whilst staying hugely reverent of the brilliant original.
Make sure you track down this package and sharpish via: https://www.juno.co.uk/products/processman-cady-adupe/929415-01/
For more info on Processman, Dicky Trisco and File Under Disco check:
Processman Soundcloud: https://soundcloud.com/processman
Processman Instagram: https://www.instagram.com/_processman/
Dicky Trisco Facebook: https://www.facebook.com/profile.php?id=100063574778776
Dicky Trisco Soundcloud: https://soundcloud.com/dicky-trisco
Dicky Trisco Instagram: https://www.instagram.com/dickytrisco/
Dicky Trisco Twitter: https://twitter.com/dicky_trisco
File Under Disco Facebook: https://www.facebook.com/FileUnderDisco
File Under Disco Soundcloud: https://soundcloud.com/fileunderdisco
File Under Disco Instagram: https://www.instagram.com/fileunderdisco/
Like what you hear? To help support LV Online buy us a coffee via Ko-FI. Click HERE
Love this? Check out more from Dicky Trisco here. 
Tags:
Cady
,
dicky Trisco
,
File Under Disco
,
Processman