Shaka – Le Visiteur Featured Artist & Mixtape 095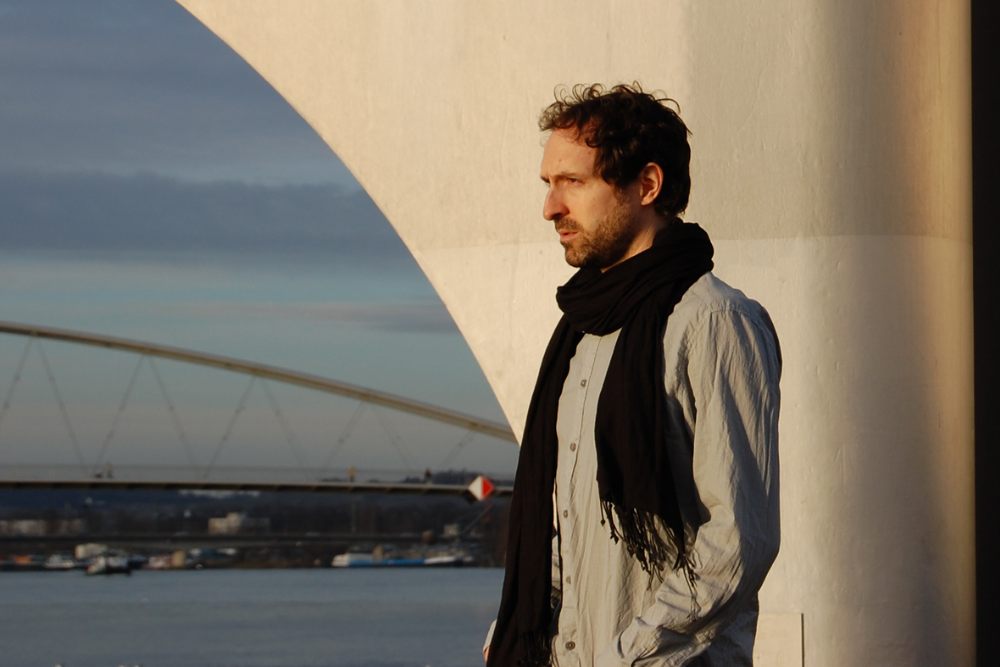 Shaka – Le Visiteur Featured Artist & Mixtape 095
Shaka is the pseudonym for Swiss DJ and producer Kurt Spichiger, a long time pillar of the Swiss Electronic community. Beginning his DJ career in 1989 he would mix together Hip-hop, Reggae and Funk before being heavily influenced by Acid House and the genre breaking sounds coming out of Chicago and Detroit.
As the 90's progressed Shaka would move from DJ'ing at intimate local parties to playing bigger clubs and events all over Switzerland and further afield.
He would begin his production career in 1995 releasing an EP on D3 a well respected Swiss label. In the following two and a half decades Shaka has built an enviable career with a long discography releasing dozens of brilliant 12's and EP's on some of the finest labels around.
Now in 2019 Shaka has launched his own Vibes and Grooves label, his latest release on the label is the classy three track Resist EP. We spoke to him about his extensive career, his label and his latest release. He also put together this brilliant mix for us, check it out and please give it a share on Soundcloud and help us spread the love.
Hi there Kurt,
Thanks for speaking to us today.
For our readers who haven't come across your releases before how would you describe the musical style of Shaka?
Many thanks to having me John! I don't really like categorizing music and I find it difficult to categorize and describe my music, but I'd say in general House music. Danceable, but rather deep, often organic and laid-back. As a DJ and music lover I play and hear a wide range of styles. From Afro-Cuban, early Soul, Jazz, Highlife, Cumbia to Funk, Disco, House, Boogie, Afrobeat and back again. And of course many of these styles certainly also influence the music I produce.
Please can you give us three tracks from your discography which are quintessentially Shaka?
Many of my tracks often have a slightly different touch, but I'll try to answer this as well as I possibly can here.
A typical sound from my work is certainly the track Resist on my last Vibes and Grooves EP. It represents the jazzy side of my productions and will be heard often.
4056 was a track that I did on an EP for the label Traxx Underground in 2016. It shows how the influence of the 90's which have shaped me a lot. However, I don't try to reproduce the sound of that time but rather put it into new and less ostentatious clothing. Sorry that it's just a snippet.
Disco is also a part of me and has a big influence on me. I'm not an edit producer, others do this much better than me. I rarely work with samples, but the track Urbanatural that I released on my beloved label Kolour LTD, is rather an exception. It's not really an edit, but I used some samples from the Disco track Coconut Groove by Rice & Beans.
As well as your own production and DJ career you have also just set up the Vibes and Grooves label. What can you tell us about the ethos of the label and what led you on the journey to setting up your own label?
Well, I've been thinking for a while about starting my own label. One of the main reasons is to have the creative freedom to release the music I like. I would say basically it is a House label with all its facets, but I do not want to restrict myself there.
The subtitle of the label description is: 'from classic vibes to modern grooves'. I think that describes it pretty well. It's not supposed to copy the 80s or 90s sound, but sometimes that influence can be heard with a modern twist. The main focus is on a jazzy and soulful side, smooth but suitable for dance floors. The first few releases will be released by me, but releases from other artists are planned.
How would you describe your latest EP which is out now on Vibes and Grooves and can you please you give us a bit of history about the EP?
The tracks were made between the end of last year and spring this year. I wanted to show the more jazzy face of my work, which, as I said, is also the focus of the label. That's how the choice of tracks fell. They have different directions, but they all combine that jazzy mood.
Please can you describe your production set up for us, what is the one piece of equipment or plugin that you couldn't live without and what is next on the studio shopping list?
In the 90's I started to produce with pure analog equipment, I had a lot of the classic hardware from Roland, Korg etc. In the meantime I have to admit that I unfortunately sold most of it. Unfortunately, because I wouldn't sell it these days, but at the turn of the millennium I had the feeling that it would be more comfortable to produce digitally. Oh well, I was never a collector of gear, it was just a means to an end.
Meanwhile I concentrate on working together with other musicians and recording things live. I have some microphones for that, as a master keyboard I use a Clavia Nord-Electro. I also have a Tascam digital mixer which is also my external sound card which goes directly into my mac and a few good plugins.
And maybe it's a bit rare these days, but I work with Cubase. I started with Cubase in the late nineties and I have stayed with it. I also have Ableton Live on my computer, but I rarely use it. I think it's not so important which program you work with, but that you know it well and have a fast workflow and can implement ideas quickly.
At the moment on my shopping list for the studio are a few percussion instruments.
How would you say your production style has changed since you started producing in the 90's?
I did some Techno and Electro stuff in the '90s, I don't do that anymore. I moved in different directions during this time. Good examples for this are the releases on my former label Sub Mode (unfortunately hard to find since I only pressed 150 copies each), where it is easy to hear where I moved as a producer, from Downbeat to House to Techno.
What has changed since then is also my mix. It hurts my ears when I hear my old stuff, lol. Back then I really did not pay much attention to the frequencies etc. I was only busy with the creative work. That the mixing is also an important part, I had to learn first.
What 3 tips can you give to artists who are starting out on how to create their sound, get their tracks signed and on how to enjoy a long career?
The most important is do what you love. It makes no sense to copy someone or just follow the trends. Everyone has their life and musical influences, but make your own sound out of it.
If you have some tracks together behind which you can stand 100% and in which you see yourself, then look for a label that best suits your music. Do not send haphazard demos around, be careful when choosing.
I think the first point is crucial for a longer-lasting career. Not everyone will like your music, and you might rejected a lot, or not get any answer at all, but don't let that get you down. If you stick to your line it pays off in the longer term.
The house scene is at its most buoyant now since it's previous heyday in the 90's with some incredible artists, events and venues continuing to pop up across the globe. Have you been surprised at just how strong the scene has become again and which artists do you think are pushing it forwards at the moment?
I do not analyze the house scene too much. But yes, the scene has become bigger again and House is not to be excluded from the club landscape. I am not really surprised, there are certainly several reasons for this. On the one hand, it is much easier today to get music through the internet, which in the past you could only find in hours of searching through specific record shops, which mostly only the DJ's did.
Then there are many great blogs like Le Visiteur and many others who spread the good vibes with love and effort and make it accessible to a large audience.
And not to forget, many House productions today are on a very high musical level, which also reaches and touches people who otherwise can't do much with more monotonous electronic music. Also the revival of disco has come about at the same time. Some genres come cyclically, and these days I think in an often stressed and cold world, people are looking for some peace and warmth, in music, as well. The focus for big events has lost its shine and in smaller clubs it's just better to celebrate music with funk and soul.
And yeah, there are so many artists and labels who push the scene with their fantastic music and DJ set's that it's hard for me to pick out a few.
What would you say is your proudest moment in your music career so far?
I don't know if proud is the right word, but maybe the release on Balance in 2012 was a great honor. I have followed, played and loved the releases of Chez Damier and Ron Trent over all these years so releasing on their label was just crazy.
Please can you give us 3 tracks which you would say have directly influenced your style of production.
Wow, there is so much that it is very hard to break this down in only 3 tracks. But ok, I'm limiting myself to the influences of dance music here.
Full House – Communicate
This was the very first Chicago House track I have heard. At that time I heard Kurtis Blow, Grandmaster Flash, Jungle Brothers, Eric B & Rakim etc. and a lot of Funk and also Reggae and I had just started recording my first mix tapes for myself. I knew Kraftwerk and found this exciting and futuristic, but with this fresh sound from Chicago I first heard groove and soul in the electronic music that I knew and loved from funk. That infected me and was the start for my love of House until today.
Instant Funk – Bodyshine
This was the first Disco track that blew me away. I knew only a few Disco hits from the mainstream radio stations until then and as a Funk lover this sounded a bit cheesy to me. This track had this groove I loved on the Funk and was the entry to Disco for me.
Chez Damier – Can You Feel It
This track was one of my anthems in 1992/1993. It was the time when I bought weekly the newest Strictly Rhythm releases. This track was not released on Strictly Rhythm (it came out on KMS), but for me it was so exemplary for the House sound at that time.
What can we expect from Shaka over the next 12 months?
The last few months I have spent lots of time in my studio and finished a few things. There are two more releases on Vibes and Grooves planned, an EP on the Russian label Minor Notes, single tracks on a couple of VA EP's on different labels like Quintessentials, T.H. Pressings, Karussell, and some more releases of which I can not say anything yet.
And finally, please can you give us 4 tips for a great day out in Basel. A place to buy records, a place to eat, a place to drink and a place to dance.
Plattfon Records is the place to be for grabbing records in Basel.
When visiting for a dinner check out the local guys from Squadra VIOLI, you will certainly not be disappointed. Made with love, creative and very tasty. And during the winter you can enjoy a fondue at Hafechäs, probably the most cosy place to eat in the whole city.
For a drink the Renee bar is certainly worth a visit. A well equipped bar, open into the morning hours and mostly accompanied by live band's and DJ's.
At the bigger club venues, Elysia has certainly established itself. But we also have many smaller and more intimate places, such as Kaschemme, where I like to hang out. There it can happen that you hear a concert of someone like Highlife/Afrobeat legend Ebo Taylor playing in front of an audience of 120 people. Very intimate.
For more info on Shaka please check:
Facebook: https://www.facebook.com/swissshaka
Soundcloud: https://soundcloud.com/shaka
Tags:
Deep House
,
Shaka
,
Vibes & Grooves