Siggatunez talks about new EP 'Live Cutz' and drops a sublime mix for us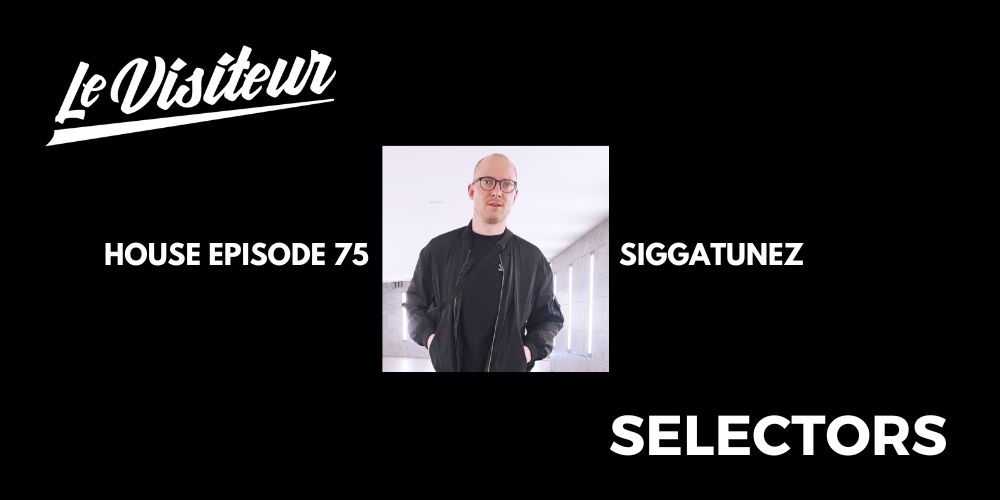 With a brand new EP landing this week we asked Berlin's Siggatunez to step up to the LV Selectors decks and as expected from this excellent artist he knocked the mix straight out of the park delivering a combination of deep and very cool house, funk fueled disco edged house, loopy MPC gems and euphoric breakbeat.
Featuring a couple of tracks from his aforementioned excellent 'Live Cutz EP' this is a very classy mix indeed. You can check the full tracklist below.
We premiered Trust Me From the EP a couple of days ago which you can check HERE
Featuring four pulsating house tracks Getting Love, Movin, By Your Side and Trust Me the Live Cutz EP showcases four tracks from Siggatunez live show. Recorded live at the Gwen Torino studio in Berlin they both capture Siggatunez energy and also the dynamics of the show, packed with depth they are at once raw yet cultured for the dancefloor. From the vibrant hues of Getting Love right through to the breakbeat of Trust Me they capture the essence of an artist who had found his sound and is reveling in that hard earned discovery.
Grab the EP via: https://gooeyeditz.bandcamp.com/album/live-cutz &
https://www.junodownload.com/products/siggatunez-live-cutz/6104495-02/
We also dispatched the Insider to have a chat to Siggatunez so we could get a little deeper on the path that has led him to Live Cutz and the live show.
Please can you introduce yourself to our readers?
I am Siggatunez, a DJ, producer, and live artist for contemporary House Music hailing from Berlin. With a profound connection to the rich tapestry of American Funk and Soul music from the 1960s and 1970s, as well as a deep appreciation for the vibrant sounds of the US Golden Age Hip-Hop era of the 1990s, my musical repertoire draws inspiration from these influential genres.
Where are you from and where are you based these days?
I hail from Görlitz, a quaint town located in eastern Germany, in close proximity to the Polish border. Since the year 2012, I have been residing in Berlin.
If you had to describe the sound of Siggatunez in four words, what would you choose?
Deep, Groovy, Rhythmical, Harmonious
Who are the artists from the past that inspire the music that you make?
I draw considerable inspiration from the esteemed American Funk and Soul music of the 1960s and 1970s, as well as the talented artists who thrived during that era, including Aretha Franklin, Stevie Wonder, Marvin Gaye, James Brown, Randy Crawford and The Crusaders. Additionally, my profound affinity for the Hip Hop music of the 1990s Golden Era in the United States resonates deeply with me. Influential artists such as Gang Starr, Wu-Tang Clan, Jeru The Damaja, Nas, Mobb Deep, Masta Ace, Rakim, and Show & A.G. contributed to shaping the genre during this time. It is noteworthy that Hip Hop, as an art form, ingeniously repurposed and sampled music from the 1960s and 1970s, an approach that I frequently employ in my own productions.
What was the first record you ever put out?
My inaugural vinyl release marked a collaborative effort with my friend Le Rubrique, titled "Spliff Politics." This milestone occurred in 2008 under the Erfurt-based record label, Polyfon. Subsequently, in 2014, I achieved another significant personal accomplishment with the release of my debut solo EP, aptly titled "Metropole Traveller," which was self-released under my own imprint, Tieffrequent.
What do you feel has been your most notable release to date?
In my personal assessment, the EP titled "Urban Camouflage," released in 2019 under the esteemed Rawax/Housewax imprint based in Frankfurt, stands out as a pivotal milestone in my creative journey. It appears to have ushered in a new echelon of artistic growth and development. Another notable release would be the 3rd instalment of the Gooey Editz series, which surfaced in 2021. Remarkably, the compilation of tracks I curated and the meticulous editing techniques employed have proven to be exceptionally fruitful, yielding a highly accomplished outcome for me.
Give us the lowdown on your new EP?
The tracks featured on the "Live Cutz" EP consist of selected excerpts from my ongoing live set, embodying a raw and unadulterated sound that authentically captures the dynamic energy and impromptu nature of real-time performances.
Tell us a little about your live set up?
My live set exclusively relies on hardware components, eliminating the need for a computer. The core of my setup comprises two samplers, namely the Akai MPC 1000 and the recently introduced Roland Sp404mk2. The MPC 1000 handles all percussion and bassline elements, while the SP404 takes charge of samples, melodies, and harmonies, allowing me to generate various patterns within it. These two devices establish synchronization through a MIDI connection, enabling seamless coordination.
During my performances, I possess real-time control over every element, granting me the freedom to engage in highly spontaneous compositions. To enhance the overall sonic experience and merge disparate sounds, I incorporate a compact analog synthesizer, the DSI Tetra, which interfaces with a reverberation and delay effect unit. This synthesizer contributes textural depth and unifies the different sonic elements.
To consolidate the signal flow, all devices are connected to a diminutive analog mixer. To ensure a robust and consistent audio output, I employ two analog stereo compressors. One compressor is dedicated to subcompressing the kick and bass frequencies, while the other operates on the primary stereo signal. This setup grants me precise control over frequency manipulation, enabling me to tailor the sound to each specific venue or performance space.
What are you working on next?
I am genuinely interested in embarking on the development of the GOOEY TRAXX Series, encompassing not only my own musical endeavors but also showcasing the exceptional talents of other esteemed artists within my network. In the present year, a close associate and I initiated a modest event series here in the thriving city of Berlin, focused on organizing complimentary Open Airs for the community. We would like to develop that more.
Tell us a about the mix you've made for us?
This is a mix that I recorded in my Berlin-based studio, featuring a fusion of disco-infused and deeper house tracks. With the exception of one song, the majority of the tracks are contemporary and reflect my current musical preferences. Notably, I have also incorporated three tracks from my upcoming "Live Cutz EP". The mix showcases a combination of personal favorites, works by friends, and related artists. I must express my enthusiasm for the release of a new EP by 6th Borough Project, as I deliberately opened the mix with their latest single. Additionally, the compilation features tracks from Session Victim, Moodena, Phil Weeks, Phonk D & Le Rubrique, Moonee, Laurence Guy, and Fouk.
For more info on Siggatunez check:
Siggatunez Facebook: https://www.facebook.com/Siggatunez
Siggatunez Instagram: https://www.instagram.com/siggatunez
Siggatunez Soundcloud: https://soundcloud.com/siggatunez
Gooey Soundcloud: https://soundcloud.com/gooeytraxx
Like what you hear? To help support LV Online buy us a coffee via Ko-FI. Click HERE
LV Selectors 75 – Siggatunez – Tracklist
1 6th Borough Project | 'Truth' | Delusions Of Grandeur
2 Fouk | 'Next Summer' | Shall Not Fade
3 Moodena & Soul Central | 'A Glass Of Kool Aid' | Tropical
Disco
4 Phil Weeks | 'Live At Palladium' | Robsoul
5 Siggatunez | 'Gettin' Love' | Gooey Traxx
6 Moonee | 'Shishingo' | Slothboogie
7 Laurence Guy | 'Do Your Best To Hide The Best Parts Of
Yourself' | Shall Not Fade
8 Siggatunez | 'Trust Me' | Gooey Traxx
9 Phonk D & Le Rubrique | 'Tribute To Miami' | Footjob
10 Siggatunez | 'Movin' On' | Gooey Traxx
11 Session Victim | 'Dromedary Twist' | Delusions Of Grandeur
Tags:
Siggatunez Gooey