Sonar Kollektiv – LV Label of the Month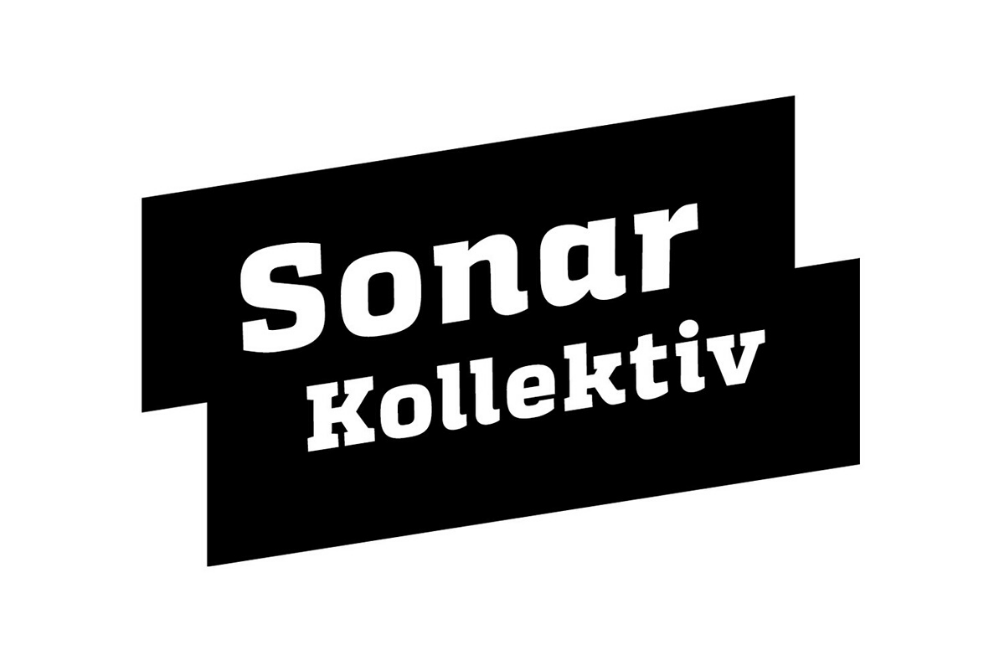 Sonar Kollektiv – LV Label of the Month
Launched in 1997 by Jazzanova 'Sonar Kollektiv' is a label synonymous with both incredible quality and creative freedom. Clocking up more than 400 releases since it's inception it's a label which prides itself in putting the artists at the forefront. It is also a label with a wide ranging musical output releasing everything from electronica and house to reggae, techno, folk, funk, calypso, dream pop, chillwave and jazz. To list the stand-out artists here would take an eternity but safe to say that when you can count artists as diverse as Fat Freddy's Drop, Ulrich Schnauss, Ben Klock, Henrik Schwarz, and Motor City Drum among your alumni that you are doing ok.
After a packed release schedule last year they put their 21st celebrations briefly on hold and are now bringing their plans to fruition with not one but two 30 track compilations just about to land. Both compilations are packed with classic Sonar Kollektiv tracks next to unreleased gems. You can expect to see tracks from the likes of Isoul8, Mieke Miami, Jah Wobble, Recloose, Chopstick & Johnjon, Max Graef, Pete Josef and of course the irrepressible Jazzanova.
We caught up with label manager Oliver Glage to talk about the label, their history, their 21st birthday and their plans for the future.
You can also grab their releases and a whole lot more via: https://sonarkollektiv.bandcamp.com/
Hi there Oliver.
Congratulations on hitting 21 years with the label, that's a major achievement in what has been a hugely turbulent couple of decades for the music industry.
Firstly please can you tell us a little about the ethos of Sonar Kollektiv as it stands in 2020?
I think our ethos can best be described with "From Music Lovers – For Music Lovers". From the early days, we've always followed our own taste and tried to work with the artists instead of just with the product. That has remained the same, up to the moment.
What would you say have been the key attributes of the label which have allowed it to weather the huge changes that the music industry has seen over the last couple decades?
Persistence. Even though we have faced heavy problems, we have kept on following our path and doing what we love: Working with music. Luckily in 2011, we found an amazing partner for our digital and physical distribution, !K7, who helped us transition our label into the digital era. Having the streaming income from a huge back catalogue definitely helps us to survive.
Please can you give us four tracks which you would say are quintessentially Sonar Kollektiv?
You are the label manager, what does a day in the life of Oliver Glage at Sonar Kollektiv look like?
I'm usually the first one to arrive and the last one to leave 🙂 One of the first things I do every morning is open iTunes and listen to the latest demos and new products – for me, this is the best time of day for this because my ears are still fresh and no one else is in the office. The rest of my day is divided into 3 parts: answering e-mails, taking meetings and handling A&R duties and product management.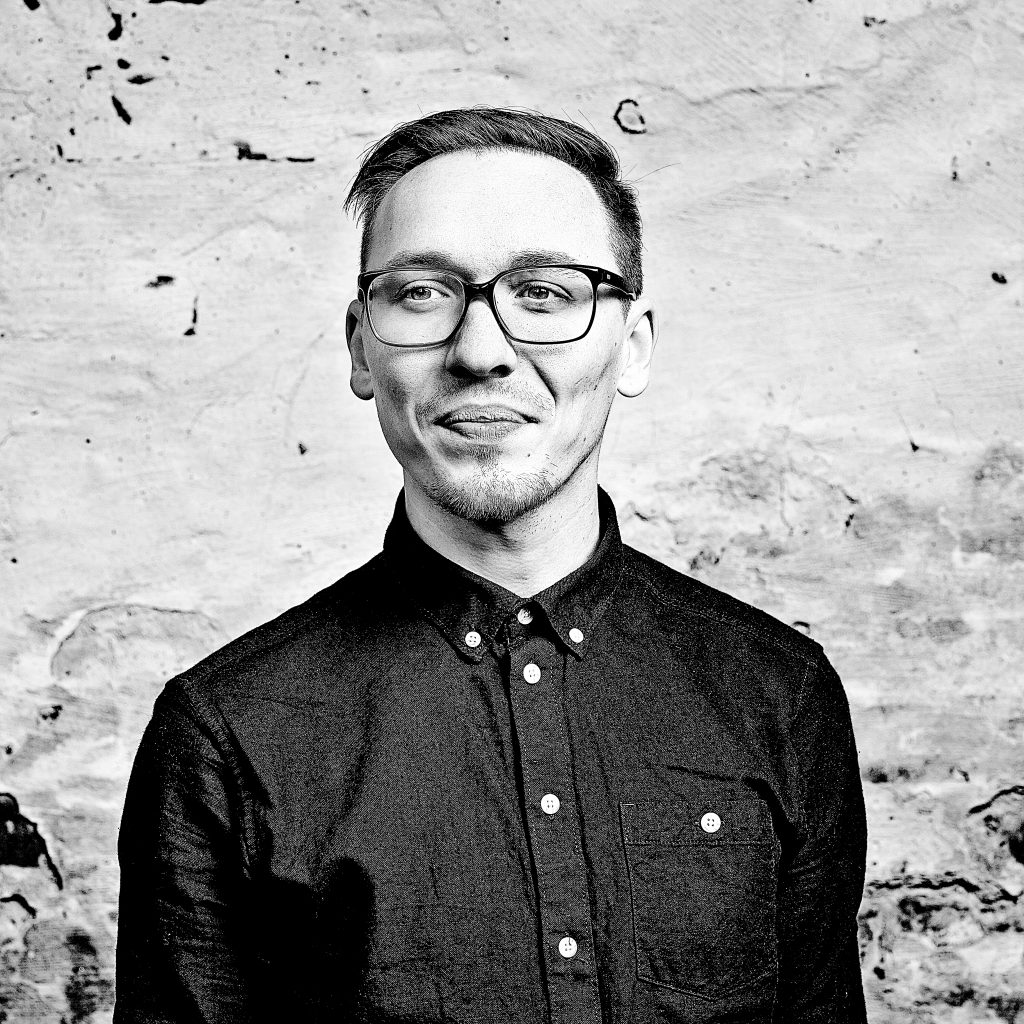 Oliver Glage
Which releases are you most proud off that you have been involved with personally at the label?
Honestly, I'm proud of every single release from the over 150 that I have done with Sonar Kollektiv. But to highlight some of them, I would say:
Pete Josef's debut album "Colours"
Jazzanova's first studio album for Sonar Kollektiv "The Pool"
Jazzanova's live album "Funkhaus Studio Sessions"
Mooryc's folk album "Wiped Out"
From what you have learned from running a label during your time with Sonar Kollektiv what 3 tips would you give to anyone looking to start up their own label?
1. Be fair and loyal to your artists. You know, young artists and producers nowadays don't need to sign with a label – everything can be done directly. They only need a partner if there is a benefit for them – either the label is a recognizable brand, has a strong network or can financially invest in the marketing or production.
2. Look for your trademark or niche. It can be either musically or by territory. Focus on what makes you special.
3. Be brave.
Don't get discouraged if your music is not cutting through the noise. Go your own way, and if you're really passionate about what you do, your audience will eventually find you.
You are just about to release two huge compilations to celebrate the 21st birthday. What can you tell us about those and are there any tracks which you think are absolute stand-outs that we should be looking out for?
When the idea came up to do an anniversary compilation, we sat together with everyone presenting their favorites from the catalogue. In the end, there were so many that we just couldn't shrink it down to less than 60 tracks. 21 years of music is simply too long for just pick 20 tracks. Especially when you consider that SK always has two sides, one for the club-oriented music and one more for home-listening. That´s why we divided the compilation into "Feel" & "Vergnügen" – we wanted to show all aspects of the label, far away from genre boundaries.
Absolute stand-outs are:
The Black 80s, Jazzanova & Fetsum – Walk With Me
Chopstick & Johnjon, Paskal & Urban Absolutes, Mieke Miami – Sparkling Lights
Wahoo – Make Em Shake It
Fetsum – Tiger
Dimlite – Byrdshot And Bye
Key Elements – Orchestra Mode
Do you have any plans for any club events to celebrate the birthday and if so what can you tell us about them?
On Jan 18th, we're doing a party in Berlin (Kesselhaus) with live performances by Key Elements, Micatone & Jazzanova as well as a club night afterwards with DJs such as Jazzanova, Delfonic, Eddy Ramich, Markus Tone & Eva Be. It will be a jam-packed night of amazing artists and DJs and we're really looking forward to it.
Check the Facebook event here: https://www.facebook.com/events/399701284272647/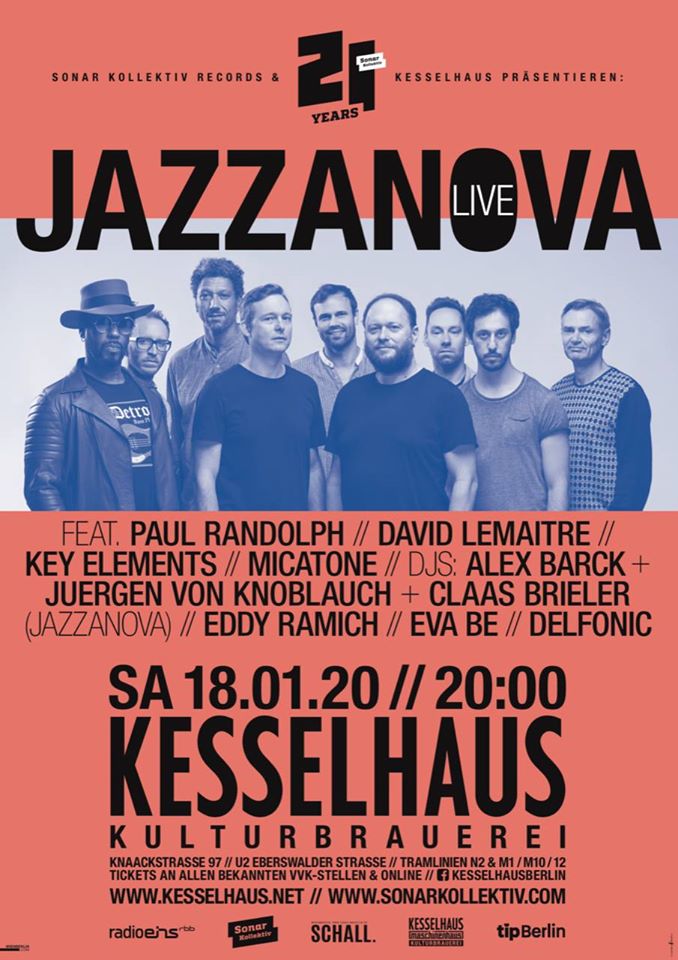 For artists looking to get signed to Sonar Kollektiv what tips would you give them to help them get their submissions into the right hands and listened to?
That's easy. Just send it. The only thing I would recommend is not sending your demos to an obvious mailing list, really check that the music fits the label & include "A&R" in the subject line 🙂
Following on from the 21st Anniversary compilations what else can we expect from Sonar Kollektiv in 2020 and beyond?
2020 will be a great year for the label. Pete Josef is releasing his second album, we will have new music from Feiertag and Lucifour M, as well as releases by new artists such as Key Elements, Inkswel & Pugs Atomz and Roos Jonker & Dean Tippet. On top of all of that, we are even working on at least two more compilations.
And finally, please can you give us 4 tips for a great day out in Berlin as recommended by the Sonar Kollektiv team. A place to buy records, a place to eat, a place to drink and a place to dance?
Oye Records is always our place to go when you're looking for records and when you get hungry you should go down the same street to the Italian pizza place "Il Giradischi". After that, you can have some drinks at the Rhinoçéros bar with some great music and nice atmosphere. From that, you directly go dancing at Club Gretchen.
To buy the compilations check:
https://SonarKollektiv.lnk.to/21YearsFeel
https://SonarKollektiv.lnk.to/21YearsVergnugen
For more info check:
Sonar Kollektiv Facebook: https://www.facebook.com/sonarkollektiv
Sonar Kollektiv Soundcloud: https://soundcloud.com/sonar-kollektiv
Tags:
Jazzanova
,
Label of The Month
,
Sonar Kollektiv