Tech House – The Hot List Vol. 1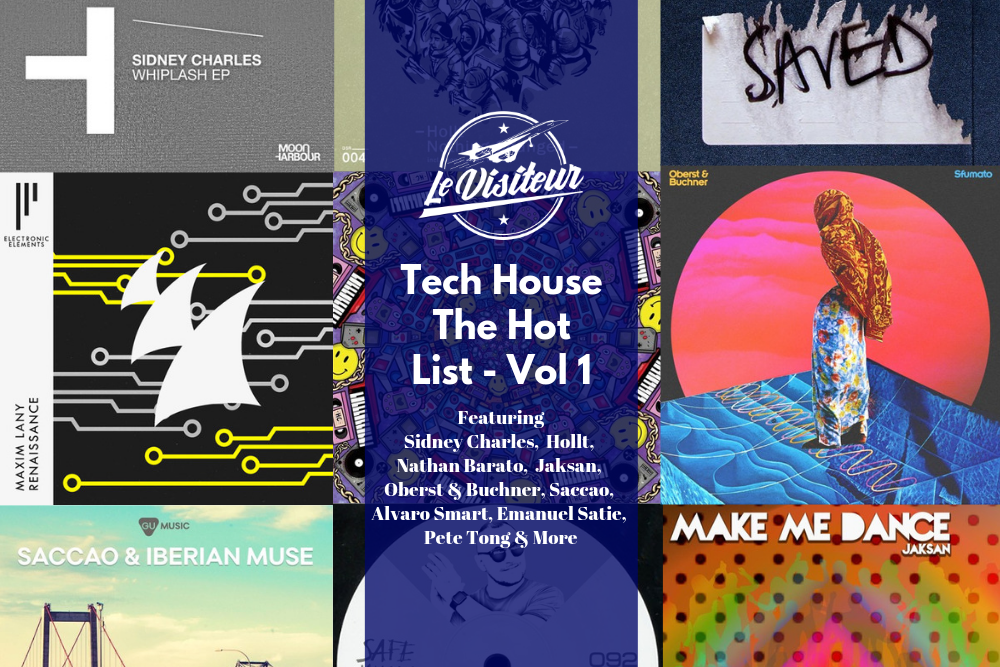 Tech House – The Hot List Vol. 1
For the debut of our Tech House Hot List we have rounded up some great tracks from across the globe. We receive a landslide of tech house at LV HQ. These are some of the tracks which have stood out recently from deep synth groovers to peak time heavy hitters from scene newcomers to true legends of the scene.
Love this? Check out our Tech House Playlist on Soundcloud HERE
Nathan Barato feat. Kid Enigma – In Ya Soul – Hot Creations
Huge combination as Nathan Barato teams up with the heads over at Hot Creations to bring us a superb slice of club focussed tech. A heavy bassline combines perfectly with in your face vocals, synth stabs and some great hi hats for a track which is all about the peak time.
For more info on Nathan Barato check: https://www.facebook.com/nathan.barato.fanpage/
For more info on Kid Enigma check: https://www.facebook.com/kidenigma/
Sidney Charles – Whiplash (Original Mix)
Wonderful track from one of the most consistent artists out there Sidney Charles via the Moon Harbour label. Heavy club groove on this one as frenetic percussion links up with a brilliant rolling bassline, great keys, some proper ear worm vocal cuts and those crazy drum samples.
For more info on Sidney Charles check Facebook: https://www.facebook.com/SidneyCharlesMusic/
Hollt – Inception
Taken from his latest EP on die stube records Hollt's Inception is a deep moody hypnotic groover which combines Vangelis esque soundscapes with a bubbling acidic bassline and a well cast vocal. Strong track for those messier moments.
For more info on Hollt check: https://www.facebook.com/Holltmusic
Jaksan – Make Me Dance (Original Mix)
The wobbling heavy bassline on this one creates a brilliant harness for some crazy off kilter synth lines and looped up vocals all underpinned by some very heavy speaker shaking drums. A rather bonkers track, we like it.
For more info on Jaksan check: https://www.facebook.com/JaksanOfficial/
Maxim Lany – Renaissance
Armada continue a solid string of releases with this huge synth led track from Belgian producer Maxim Laney. The monstrous lead synth is the hook point on this track, it glides through the speakers with the reverence of a new alien species arriving on your planet, add in some huge white noise and a powerful bassline and this will literally take your speakers apart.
For more info on Maxim Lany check: https://www.facebook.com/maxim.lany/
Oberst & Buchner – Blank Follows Blank
Taken from their brand new album Sfumato which has just dropped via Hold Your Ground Austrian artists Oberst & Buchner's Blank Follows Blank is an absolutely sublime slice of tech. It's deep melodic, powerful and sounds utterly amazing. The synths are warm and powerful, the kick rumbles beautifully, the hats and cymbols sound alive and exciting. A truly wonderful track we will definitely be checking out the album in full.
For more info on Oberst & Buchner check: https://www.facebook.com/OberstBuchner/
Saccao, Iberian Muse – Hades Feat. Jinadu (Olivier Giacomotto Remix)
Out now via the mighty Global Underground Hades is a huge slice of vocal tech with a sublime remix from Oliver Giacomotto. A devastating bassline, wonderful key flourishes and a powerful vocal and all come together perfectly for one very serious track. Expect this to be getting hammered across the rest of the year and beyond.
For more info on Saccao check: https://www.facebook.com/Saccao-179432072149247/
For more info on Iberian Muse check: https://www.facebook.com/iberianmuse/
For more info on Oliver Giacomotto check: https://www.facebook.com/oliviergiacomotto/
Alvaro Smart – Off The Ground (Original Mix)
The brilliant Safe label is back with a bit of a monster 3 track EP from one of their main artists Alvaro Smart. Pick of the bunch for us is Off The Ground with it's fusion of multiple vocal samples including some cheeky cuts from Missy Elliot, huge drums and powerful and punchy bassline. This one has it all. DJ's get on it!
For more info on Alvaro Smart check: https://www.facebook.com/AlvaroSmartOfficial/
Pete Tong & Emanuel Satie – Time For Love
One of the true legends of electronic music Pete Tong is back with Emanuel Satie for this seriously hot track via Saved Records. Brilliant drums, bubbling bassline, hypnotic pianos and a really cool hook vocal this one has summer anthem written all over it.
For more info on Pete Tong check: https://www.facebook.com/petetong/
For more info on Emanuel Satie check: https://www.facebook.com/emanuel.satie/
Tags:
Alvaro Smart
,
Emanuel Satie
,
Hollt
,
Iberian Muse
,
Jaksan
,
Maxim Lany
,
Nathan Barato
,
Oberst & Buchner
,
Oliver Giacomotto
,
Pete Tong
,
Saccao
,
Sidney Charles
,
tech house