The Quick 6 – Masters at Work with C Da. Afro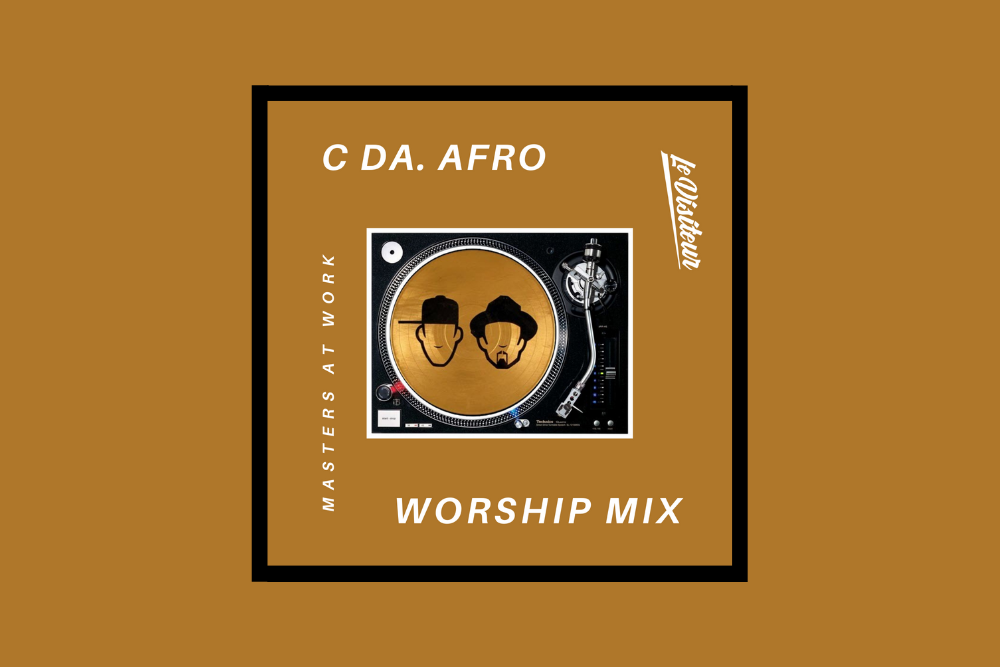 The Quick 6 – Masters at Work with C Da. Afro
With a classy new EP out now on Samosa Records which we reviewed HERE we asked Greek Disco don C Da Afro to step up to the decks to record a Worship Mix for us. He has picked perhaps the most important duo in the history of House music in Masters At Work.
Packed with their classics and some lesser known gems it's a brilliant mix. We also spoke to him about their impact on his career as well as a few questions about the EP. Check it out!
Q1: Please can you tell us a little about your love affair with Masters at Work. What are your first memories of discovering the duo? What was the first record of theirs that you bought? And have you seen them live and if so where and when? 
I remember browsing selves in a record store back in the day and one of the guys who worked there gave me some sealed records to listen to. One of them was Masters At Work Feat India – I Can't Get No Sleep. I placed the record on the turntable and when the bass kicked in I just wanted to dance. It was a track that I had already listened to in a club but back then almost every DJ kept the titles to themselves. That was the first MAW vinyl I ever bought. I was lucky enough to see them live several times. I saw them playing together in Mykonos and I have also seen Little Louie Vega in Athens a while back and then again last year.
2) If you had to pick 3 all time favourite Masters at Work originals what would they be and why?
The truth is that is really hard to choose only 3 vinyl from the Master duo! I'll try.
Kenlou III – What A Sensation
One of the records that I always play in my sets and keep permanently in my bag is What A Sensation. I love the percussion. It's the ultimate tool in my opinion.
Masters at Work Featuring India – To Be in love
A huge summertime tune. The ultimate classic and another track that is always in my bag.
River Ocean feat. India – Love & happiness
A dancefloor anthem with so many memories and again always in my bag. I have also made an edit of this this which I have played as an intro for my radio show since 2005.
3) How would you say that their music has made an impact on your own personal career and how you approach your own productions?
By listening to all these great productions and all the great records that they have release you are opening doors to many sub genres and a trove of samples. They have been a great impact not only in my personal taste as a collector and DJ but as a producer too.
4) What is your all time favourite Master at Work remix and why?
Another difficult question. They have so many great remixes to choose from. I'll go with:
James Ingram – Lean On Me (Maw Mix)
From 2001 this is a track that brings back many great summertime memories.
5) Your latest release is a brand new EP with the super hot Samosa Records. What can you tell us about the EP and where and when can we buy it?
Yes Afro-Disiac EP is my second personal EP on Samosa records and my 3rd release in total with the label. It's a 3 track EP full of grooves, percussion and latin/jazzy sounds. It's perfect for the summer time and also has a great remix of my previous track Brazilian Groove by my good friend De Gama.
Grab C Da Afro's Afro Disiac EP from: https://www.juno.co.uk/products/c-da-afro-afro-disiac-ep/775810-01/
6) And finally what else can we expect from C Da. Afro in the next 12 months?
I have signed a lot of digital tracks which will be coming out regularly. I also have about around 10 vinyl releases coming between now and the end of the year. That includes my first vinyl release on my own label SpinCat music which is coming in June.
For more info please check:
C Da Afro Facebook: https://www.facebook.com/cdaafro
C Da Afro Soundcloud: https://soundcloud.com/christosda-afro
Samosa Records Facebook: https://www.facebook.com/samosa.records/
Samosa Records Soundcloud: https://soundcloud.com/samosarecords
C Da Afro Worship Mix – Tracklist
1. I Can't Get No Sleep
2. What A Sensation Beats
3. Work (Original Mix)
4. Everybody Be Somebody
5. What A Sensation Beats
6. Beautiful People (Underground Network Mix)
7. What A Sensation Beats
8. Can't Play Around (Dub)
9. To Be In Love
10. What A Sensation Beats
11. Show Me (Maw Wild Dub)
12. Deep Inside
13. The Ha Dance
14. The Bounce
15. Sume Sigh Sey
16. Backfired
17. What A Sensation Beats
18. The Boss (Maw Mix)
19. Life Is But A Dream
20. What A Sensation Beats
21. Bangin
22. Diamond Life (Maw Mix)
23. Let Me Love You (EOL Mix)
24. What A Sensation Beats
25. Children Of The World (Maw Rmx-Edit)
26. Sindae (Maw Dub)
27. What A Sensation Beats
28. Voices Inside My Mind (Maw Mix)
Tags:
C.Da Afro
,
masters at work
,
Samosa Records