The Showfa And Re-Inventing Gospel for 2020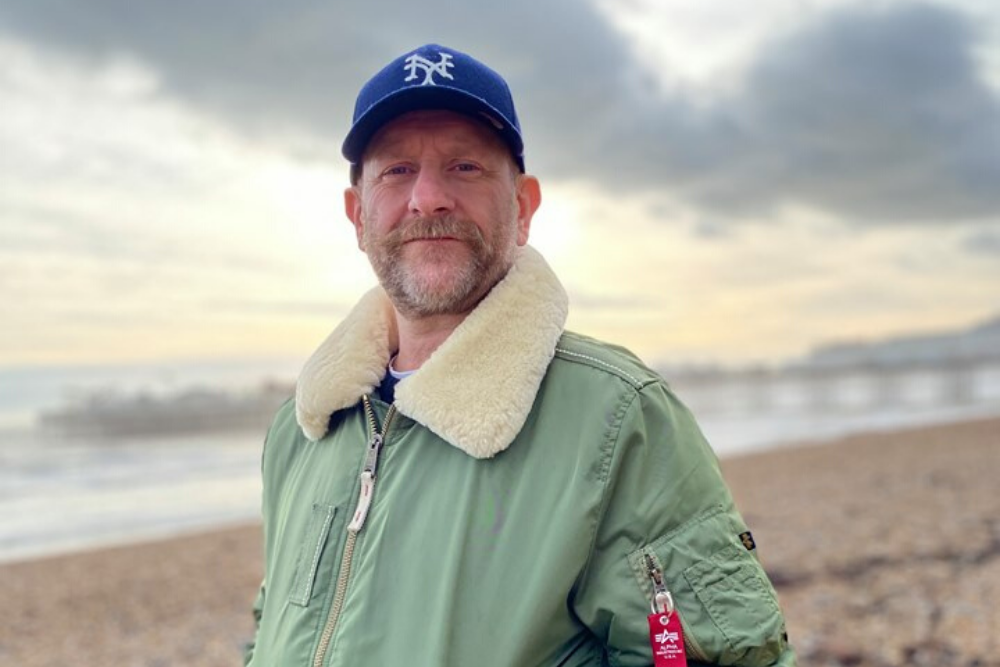 The Showfa – Le Visiteur Featured Artist & Mixtape 116
Hailing from London The Showfa aka Toni Rossano is a very serious digger in the proper old school sense. You can tell from his releases to date that there have been some long hours put in with dusty record collections to bring us some of the finest most uplifting Gospel and disco tracks around.
An artist who is definitely revered by other producers for his ability to re-imagine lost gems he has built up a great working relationship with London's Midnight Riot and features yet again on their latest release Take It to Church Vol. 3 which has been dominating the download charts on Traxsource since release a week ago. Indeed he has two tracks on there with a Showfa release and another track under his Mass Connection pseudonym on which he collaborates with label boss Yam Who?
The Showfa also has a brilliant couple of vinyl releases which you can still pick up 'A Gospel Excursion Vol 1 & 2' which no serious gospel aficionado should be without. You can can check them on his bandcamp via: https://theshowfa.bandcamp.com/
We caught up with The Showfa to talk all things digging and Gospel. He has also just released this divine mix. Check it out as you are reading the interview.
Hi there Toni,
Thanks for speaking to us today.
For our readers who haven't come across your releases before how would you describe the musical style of The Showfa?
My musical style comes from re-editing undiscovered musical gems from predominantly Gospel music with a heavy influence from Soul, Funk, Jazz Funk, Disco, Boogie, R'n'B and AOR.
Please can you give us three tracks from your own discography which you would say are quintessentially The Showfa?
Emmanuel
This was my first gospel re-edit outing. With most of my re-editing I just chop and readjust the original groove of the track but with Emmanuel I added extra beats to make it work on club sound systems.
Thankful
A disco banger, I loved how the groove just builds and builds with a backing piano motif and a set of handclaps that don't come in until three quarters the way through. Uplifting dance-floor ready gospel!
Joy
This was the second re-edit I did for Midnight Riot's 'Take It To Church' series. Andy from Midnight Riot wanted a follow up track but it was very last minute as 'Take It To Church Vol 2' had already been compiled. I did it in a bit of a rush but was glad it ended up on the album. As in its title this track gives me 'Joy' with its uplifting feel!
You are renowned for your Gospel edits. When did you first become interested in that particular genre and what was your journey to producing gospel edits and remixes?
I really started to get into the collecting side of gospel around 8 years ago. You could say I had a gospel epiphany, as whilst I was djing at a friend's barbecue playing 7" vinyl, I dropped Edwin Hawkins Singers' 'O Happy Day' and everyone in the garden started singing to it as it's such a recognisable anthem. The positivity I got back from playing it got me thinking that Gospel was a music genre that I had never really fully discovered.
Also at the time I had been given a promo copy of 'Over Dose Of The Holy Ghost' (The Sound of Gospel Through Disco and Boogie Eras) from one of the biggest gospel diggers in the UK, David Hill, who formerly ran Nuphonic records. This was really the first Gospel Disco rarity compilation that launched my love affair with the genre.
The irony of it was I had already had been promoting House and Garage music in the mid to late 90's to the press and some of the tracks I promoted would lean towards Gospel House. I promoted tunes like The Black Saints' 'The First Day' and at that time D.J's like New York's Timmy Regisford, Tony Humphries & Chicago's Frankie Knuckles were feeding Gospel House and Garage into their sets. I was lucky enough to be at some of those nights, not only here in the U.K, but in places like Club Shelter in New York.
At the beginning of the noughties I worked at Strut Records and whilst on a research trip for Strut I accidentally met Danny Krivit at a Nicky Siano club night in Manhattan. I introduced myself to Danny as he was a big influence on me as he was one of the founding fathers of the re-edit genre. At the same time I had started dabbling in re-edits along with producer Dominic DJD Dawson and we started Ransom records, re-editing mainly left field Disco tunes. There were other re-editeers at the time and we joined the likes of the Idjut Boys with Noid, D.J Harvey and his Black Cock re-edits label and also Dave Lee aka Joey Negro.
Danny would go on to release his edits officially through Strut Records and one of the tunes that stuck with me all those years was his edit of L.T.D 'Love To The World', another gospel infused disco track. After my spell at Strut Records, in the mid noughties I set up a new project with Gordon Smith (one time member of Andy Yam Who's original artist project 'Fuzz Against Junk') under the guise of 'Blackbeard' . We started re-editing and reworking New Soul and R'N'B accapellas into new compositions. This led to us remixing the likes of Jamiroquai & Jill Scott officially. Blackbeard and Yam Who? kick started a club night called Uptown Safari so we could all road test our re-edits and reworks on the crowd. One of the anthems from those times was a white label we discovered which was an R'n'B Soul Gospel ballad by Tye Tribett & G.A – 'A Mighty Long Way'. It was such a big record for me that I guess the Gospel music seed from all those previous years had been well and truly planted into my music sub-conscious, leading me to now have a passion for all things, as I call it, 'Old School' Gospel.
What are your favourite places do you go digging to help you find good tracks for you to put the Showfa touch to?
It's hard to really dig for Gospel in the U.K. unless you go down the Discogs route, as until recently there were only a few shops selling the genre in and around London, and even if they do sell it, the sections are never really that big. Normally, if it's not Discogs you may find a dealer, but generally buyers & sellers up until now have been shying away from the genre as I guess the religious connotation does not attract some music fans, and it is more specialist. The best places I find to buy are when I make trips over the pond to the US with record shops like A1 Records – New York, Out Of The Past – Chicago and Peoples Records – Detroit. Plus some thrift stores still sell wax and they are always a good starting point. For me, the States is the best hunting ground as they did invent the genre after all.
What is your favourite album that you have found when you have been our digging recently?
<u>Elbertina 'Twinkie' Clark – 'Ye Shall Receive Power'.<u>
Found it out in Detroit and I got it for the meagre some of $2.00. Believe me, this is one of those rare digging moments when you strike gold! A hard to find modern soul masterpiece that usually goes for over £150.00 or more!
Which other artists out there do you think are making the best contribution to keeping the sound of gospel alive for DJ's in 2020?
Kirk Franklin, William Kurk, Kanye West – Sunday Service Choir, Little Louie Vega's Elements of Life Project, DJ Spen, Karizma, Josh Milan, DJ Rahaan, Divine Situation, Theo Parrish, Robert Hood, Budgie, Joe Claussell, Al Tone, Tony Troffa and of course Yam Who?
You have a great relationship with one of LV online's favourite labels Midnight Riot. As well as releasing on the label you also collaborate with label boss Yam Who as Mass Connection. How did you two first meet and what led to the creation of Mass Connection?
Haha yeah! We've known each other since around 1997. I first met Andy (Yam Who?) when I was working doing PR for Phuture Trax promotions. A journalist invited me to his club night called 'Happiness Stans', which was at a venue called The Jazz Bistro just around the corner from Fabric. I only decided to pop in on the way home as the other party I remember that night was not too hot! I popped in for maybe an hour or so without any expectations and I really liked what the DJ was playing at the time, which was obscure Disco, and I felt a real connection with the music. When I left the club I asked the promoter who the DJ was and I said he'd been playing great stuff. The following Monday I got a call from that D.J (Andy Yam Who?) and the rest is history, we have been in cahoots ever since!
Please can you give us your three favourite dance-floor Gospel tracks by other artists that you play in your own DJ sets?
The Truthettes 'Who Can I Turn Too'
I love this gospel girl group! They are nearly up there with The Clark Sisters for me. They have released a few albums and there are tracks from each of those albums I'm fond of but this is probably my favourite standout one.
Sharon Johnson 'A Better Day'
When I first heard this I just had to re-edit it for the dance floor. My edited version never came out but Antal from Rush Hour Amsterdam has been championing it. I'd really like to see this released on wax!
The Evangelist Temple C.O.G.I.C Choir 'Runnin For Jesus'
Odd Ball Disco! It throws you as around half way into the track it slows right down. Gotta love a curve ball at times!
What else can we expect The Showfa in 2020?
I'm looking to release more edits this year plus do more specialised D.J Gospel sets. This summer I will be playing alongside Greg Belson and Yam Who? promoting Take It To Church Vol 3.
And finally, please can you give us 4 tips for a great day out in London. A place to buy records, a place to eat, a place to drink and a place to dance.
Record Shop: There are so many places to get your vinyl in London Town! Love Vinyl, Yo Yo Records, Wanted Music & Music & Video Exchange for your second hand finds, whilst for contemporary stuff check out If Music, Sounds Of The Universe, Rye Wax – to name a few!
A Place to Eat: If you like curry and Bangladeshi & Pakistani cuisine, you'll be hard pressed to find a better place than Tayabs in Whitechapel, they make the best curried lamb chops! (Which I can no longer eat because I've become vegetarian!)
A Place to Drink: Brilliant Corners, they do good cocktails and you have one of the finest sounding Klipsch speaker systems in the capital to boot, where you can also hear very rare music.
Place to Dance: Horse Meat Disco at The Eagle. I'm probably biased here as I have been lucky enough to know the HMD boys for a long time and had the real honour of playing down there. If you do Sunday night partying and you like real Disco this is the place to be. No booth hoggin', just pure good vibes and a positive dance floor energy! It's been going for around 15 years, so that's proof of its success for you!
For more info on The Showfa please check:
Facebook: https://www.facebook.com/theshowfaedits/
Soundcloud: https://soundcloud.com/theshowfa
Tags:
gospel
,
Mass Connection
,
Midnight Riot
,
The Showfa
,
yam who