Nebraska – 7 Random Q's [Heist Records]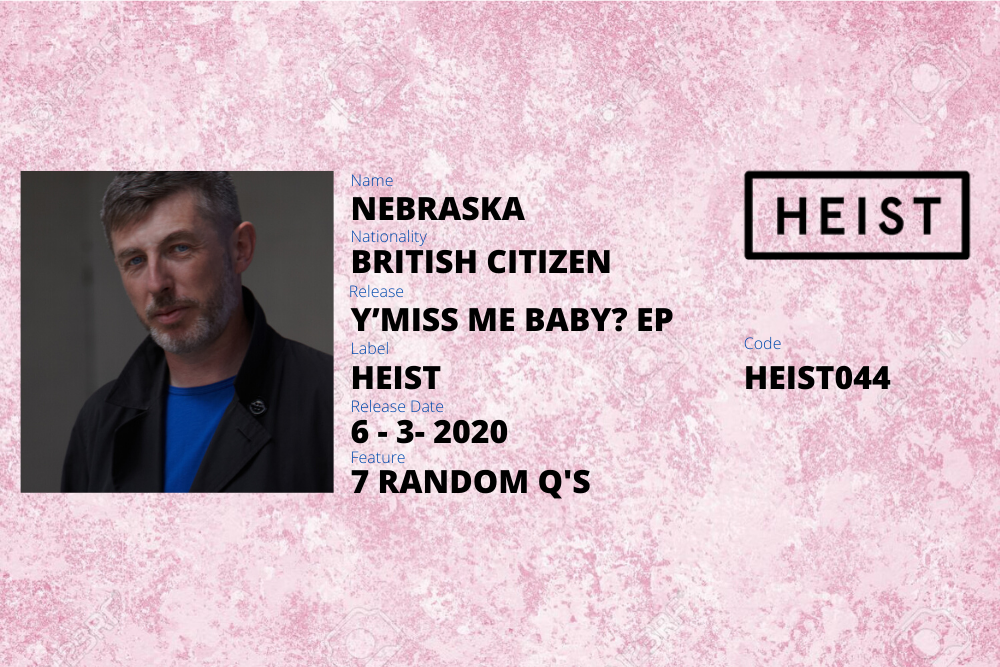 Nebraska – 7 Random Q's [Heist Records]
Back on the all conquering Heist label for his 3rd Release following Soften the Wireless EP in 2016 and Metaphor to the floor in 2017 Nebraska is in scintillating form with his Y'miss me baby? EP.
The EP features three original tracks and a classy remix from Italian producer Giovanni Damico who it's safe to say we also have a soft spot for on LV online.
It's been a busy three years for Nebraska since his last Heist release with the launch of his own label Friends and Relations which has already seen eight excellent releases from Nebraska. The label has allowed him to fully develop his own cut-and-paste disco style creating some very notable dubs which have club written all over them. Heavy basslines and ass shakin' percussion abound.
Nebraska has also written a book under his own name Alistair Gibbs Surprise Party Every Week documents off the wall street signs and bizarre street messages. It's a book through which his eye for the unusual and his sense of humour shine through.
Y'miss me baby LV Review
Title track Y'miss me baby starts the EP in fine style. Deep 80's reverential funk with a monster bassline groove it's hypnotic and engaging. Powered by some beautifully arranged drums, add in some distorted vocals and smooth keys and it's a track which is perfectly at home on the house stereo but has groove aplenty for plays out.
Dip and Flip lifts the ante up considerably. This is a peak-time track all the way. An off kilter synth line is the crux here, it's unusual sound is immediate and perfectly transfixes the dancefloor. This is a real tour-de-force of modern day disco.
Over on the flip Giovanni Damico works his magic on Y'miss me baby. It's 80's groove is an immediate feel-good balm to all the nonsense that's going on around us today. Just pop this one on sit back and enjoy it's Clinton and Zapp & Roger-esque deep funk. It's a track for the ages.
Final cut Xiao Long Bao is another synth led track with an ever so exciting groove. If you can imagine 70's Easy listening morphed into 90's left-field electronica then produced by a 2020 master and reworked for the house clubs with the aim of both providing solace from all the noise that abounds and hooking the dancefloor in for some vigorous dancing then you still can't do it justice. A once heard never forgotten ear worm through and through.
It's a masterful EP and one which will definitely be heading straight to the top of the vinyl charts before it promptly sells out.
You can grab it from: https://store.detroitswindle.com/vinyl/heist044
As an artist who has an uncanny knack of providing smiles all around we thought Nebraska was the perfect choice to kick off our new 7 Random Q's series so for some chat on interpretive dance, growing raspberries and dogs read on x
Nebraska – 7 Random Q's [Heist Records]
What's the last thing that made you laugh?
My girlfriend's unique approach to interpretive dance in the kitchen.
What do you do when you need some downtime?
Sometimes I swim, sometimes I do yoga, but generally as little as possible.
Are you able to keep plants alive?
Yep. Rhubarb, raspberries and grapes all thriving here in Peckham. Mud on the hands is good for the mind.
What is your secret weapon recipe in the kitchen?
1 x can cherry tomatoes; 1 x can borlotti beans; 1 x onion; olive oil; sweet smoked pimenton = beans on toast a la Nebraska
If you could go for a walk with a famous person who would it be and what would you tell them?
Artist-cum-tech guru John Maeda springs to mind. I'd ask him where we're going. In every sense. Getting lost is part of finding our way.
What's your guilty pleasure?
Pleasure is presumed innocent until proven otherwise. It's the law.
Do you like cats?
Cats maybe cool but dogs are definitely dope.
Love this? Check out our House playlists HERE
For more info check:
Heist Facebook: https://www.facebook.com/HeistRecordings/
Heist Soundcloud: https://soundcloud.com/heistrecordings
Nebraska Facebook: https://www.facebook.com/djnebraska/
Nebraska Soundcloud: https://soundcloud.com/dj_nebraska
Tags:
Heist Records
,
nebraska