Tony Humphries – 10 Tracks Which Massively Influenced My Career (LV Legends)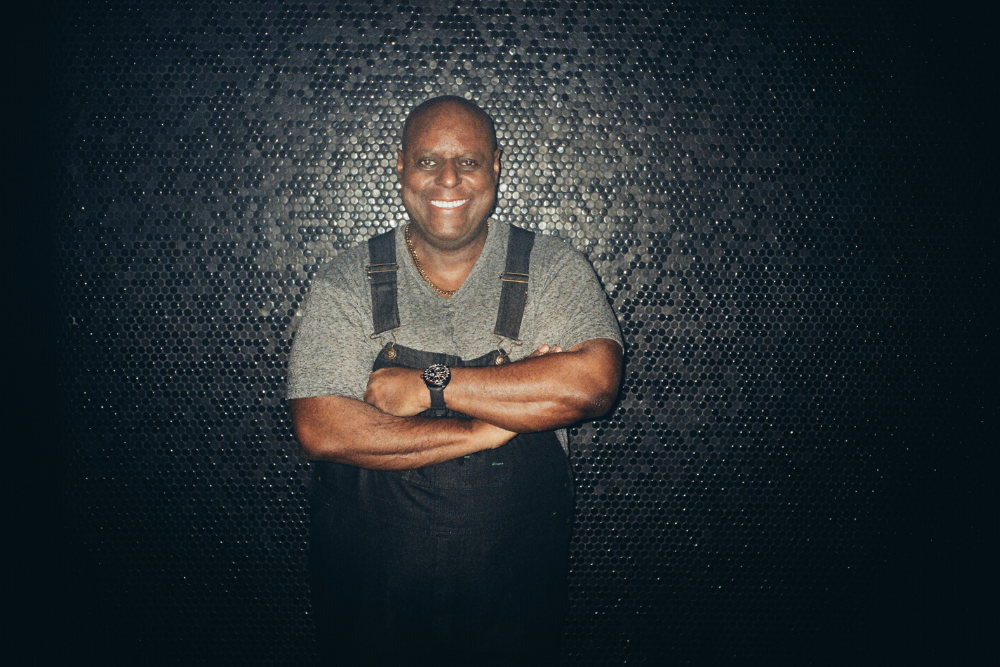 Tony Humphries – 10 Tracks Which Massively Influenced My Career (LV Legends)
One of the true legends of the house scene Tony Humphries has been DJing for nearly 35 years. After a chance meeting with Shep Pettibone at the offices of Prelude Records Tony rose to prominence via his decades long residency on Kiss FM (later Hot 97) as one of it's greatest Mastermixers. His stand out appearances would lead on to his now legendary residency at The Zanzibar in New Jersey where his eclectic DJ sets there would sometimes last up to 10 hours.
Tony has also made his name as a remixer. He was behind a classic mix of Mtunes' Juicy Fruit which would be heavily sampled by the blossoming Hip Hop Scene. There would also be key remixes for the likes of Janet Jackson, Indeep, and the Fresh Band.
Tony's incredible reputation which would spread across the Atlantic via bootleg tapes of his Kiss Shows leading to guest posts at Danny Rampling's Shoom & Norman Jay's High On Hope in London int he late 80's. he would head back to the UK to hold down a key residency at Ministry of Sound in London in Italy at Echoes in Rimini on the Italian Riviera.
His Ministry of Sound residency would be marked by him taking the reigns of the first volume of their landmark Sessions Series. It's a mix which perfectly showcases an important moment in time for House Music. You can check the mix below.
Tony was never one to sit still and in 1998 he would launch his own label Yellorange releasing a string of classic tracks from the likes of Sunkids, Stacy Kidd, Ron Carrol and the Pound Boys. It's a label who's output has most definitely stood the test of time.
In the late 00's Tony would appear with 'Little' Louie Vega and David Morales on the Kings of House tour which would take them from New York's Webster Hall to the finest clubs all over the globe. Tony is still hugely in demand as a DJ spinning at the best clubs and parties on both sides of the Atlantic.
Tony is hugely well regarded by the cream of the current crop of DJ's as one of the pillars of our scene. As Soul Clap's Eli Goldstein recently discussed:
"For us, the gospel, deep, tribal sound he created at his Zanzibar residency reached us through the many remixes and tracks named after the legendary club. We finally had the honor of opening for Tony this year and we were blown away by his ability to represent the old, while pushing a unique, modern house sound. There is clearly only one Tony Humphries!" Amen to that.
We asked Tony to pick some of the tracks which have been key to his career so far. Check out his choices below from disco to dancefloor punk, house to hip hop. Expect both brilliant music, including his own productions and tracks which have influenced him over the years. Tony chose these tracks in chronological order, including music inspiring him today, along with fascinating recollections about each track.
Tony is appearing in the UK on Saturday 30th November for Brighter Days in Cambridge. Pop it in the diary now and make sure you don't miss one of the founder members of House Music doing what he does best. For more info check the Facebook event: https://www.facebook.com/events/599420480575025/
Tony Humphries – 10 Tracks Which Massively Influenced My DJ Career (LV Legends)
1: MFSB – Love Is The Message – All Versions 1973
During the era of vinyl record jackets, its inner sleeve showcased each company's album catalog release covers. I became a huge fan of the Philly International Records catalog, learning quickly that MFSB was the common denominator of all those iconic hits. It's my default quality music level I live by. Danceable Jazz. Lush orchestrated funk.
The "Message' is "Top 5 All Time" of Brooklyn NY's classic dance jams, going on 47 years. A staple at block parties, cookouts and holiday parades across many cultures. I've danced, played and spun this jam, from the original Quad Stereo version through 14 others.
2: Milton Hamilton – My Love Supreme – Crystallized 1976
Before "Giant 45" 12 inch disks were sold commercially, this was my First promo single disc bought from a local record store called "Aces" The store was six blocks from my house in East NY, Brooklyn. Beside being intrigued with the new vinyl format, I also liked the songs' combination of up-tempo jazz with Latin breaks. Some would describe this fusion as "Latin Jazz" or "DiscoJazz". It was perfect for the popular Latin "Hustle Dance" crazed crowd.
3: The Slits – I heard it through the Grapevine – 1979
I started going out to night clubs primarily bouncing between commercial black clubs and commercial white Latino clubs, who noticeably started to feature uptempo R&B music labeled "Disco".
Young and adventurous, I wandered into this club where people were dressed differently with colorful makeup and dancing to a different type of music. It was difficult to identify gender or the music played. I got schooled later on that I was at a "Punk Rock" club.
There was one tune I got into. A cover of one of my favorite Motown Records songs I had by Marvin Gaye and also by Gladys Knight & The Pips called "I heard it through the Grapevine." It was strange, but funky as hell. I finally found it at a rock store in The Village section of Manhattan. A 12 inch version with an oversized label on it. I played it to death. I was used to soulful and reggae artists rendition of pop tunes, but wasn't used to punk versions. It widened my taste in danceable music.
4: Kurtis Blow – The Breaks – 1980
Those pain in the ass dudes in your neighborhood. Once you've experienced performing in front of a crowd be-it singing, dancing or spinning records, that powerful interaction never leaves you. Back then, the gadgets of the day that young people could afford, fell into primarily two categories, turntables, mixers, and sound system equipment, or drum machines and samplers.
I merged with three college buddies branded as "Tropea Inc" (named after the jazz artist John Tropea), to begin the journey of mobile DJing. Today those events would be called "Pop-Ups". Guaranteed, there was always one dude in the crowd, who would come and ask us " Yo, you got a mic, you got a mic" trying to push his way into emceeing while we played our music. Sometimes we'd let them. Some were actually pretty good. This merging of street rapping on music breaks and instrumentals became huge in the inner cities. The best example of this is "The Breaks". Funny with real messages inside those lyrics, and audience participation.
5: Mr. Monday – The Future – 1990
The first time I got booked to play in Switzerland was by a guy by the name of Dario Djaimin. I heard him play this tune before I came on, and asked him what it was. Only thing visible on the label was the word "elevation", the rest of the label was blacked out with magic marker. He was gracious enough to give it to me. It was like a high-powered Latin disco jam session, but funky. The ending with the pads and strings is epic. It still works going on 30 years later.
6: Cameo – Money (The Reese Revamp Mix ) – 1992
During my residency at the Ministry Of Sound in 1993 and living in London, I was mixing a Bananarama song at the Champion Records recording studio. It was there I found this promo on the floor in one of their offices. I asked if I could have it. I got home and played it at least 5-6 times. I played it at Ministry and every gig on tour we did.
In Riccione, Italy during my residency at the "Echoes Club" they did the "Magic Mondays" night exclusively for the workers of all the other nightclubs to party. This was the most popular song. Even the owner requested a copy. I play about 90% of all the productions that Kevin Saunderson has done throughout the years. He is one of the most underrated producers I know. His drum tracks on this mix is Badass.
7: Janet Jackson – Together Again (TH Club Mix) – 1997
It was an extreme honor to be able to mix this song, after being a fan and growing up buying all the Jackson 5 albums. My partner back in the days of our "Yellorange" records label, was Alan Anderson (RIP) who got me this gig to do this mix for Nigel Wildman, and to spin at the Janet Jackson record release party in New York.
I thought what a way to express your feelings about friends no longer with you with these lyrics. There is a lotta love in there. When doing the remix I thought why not go Philly and get classy with this tune, reminiscing to when the Jacksons had an album on Philly International / Epic Records. The magic of the music conductor Mr. Terry Burrus shines brightly here. Ironically, It is so fitting that the one who got me the mix is now remembered by these lyrics.
8: Tony Humphries – Oh Adam (Original) – Housework 2014
Wheeler del Torro (aka DJ Fortune), food anthropologist and pop up hotelier, reached out to me to create a soundtrack for his latest series of Bon Vivant Hotel pop up installations. Del Torro's presentations featured an Afro-Caribbean theme, where the chef wanted to extend to his guests' an auditory experience. Simultaneously, he included university lectures on African Culture.
Together with DJ Junior White & Noelle Barbera I took on the difficult task of transforming actual conversations and chant filled "Work" songs preserved from the days of slavery, and making it dance floor friendly. The call and response elements of "Oh Adam," was a serious subject to represent respectfully. We're very proud of this project series parts 1&2.
9: Brian Power ft. Hil St Soul – A New Day (The World is Mine) Club Mix –  2018
With the lyrics "Now I'm in a happy place whatever comes my way", "It's a new day and the sun is going to shine…" etc, sung by the soulful female songstress this one was too important not to play. The positivity, musical arrangement and vocal delivery was a thing of beauty and I had to share it with my audience. A quality lyrical optimistic gem.
10: Kings of House NYC ft. Julie McKnight –  Still Here (David Morales Groove Dub) –  2019
Those who know me, know I'm a lyric and instrumental solo spinning DJ. When you come across a tune that anyone or everyone can say that's a song about me then it deserved to be shared. "Still Here" by Julie McKnight will be around for a very long time. Simple and representative of so many types of people's life experiences. It's very Gamble and Huff. Kudos to the writers and producers, and everyone involved. I have played this one for nearly 20 minutes, or at least 2-3 times throughout the night. A bonafide Tony Humphries anthem.
My initial thoughts listening to the lyrics began with, here's a woman (probably one that could be expressing equality being a part of the "me too" women's movement). Then after hearing the "I'm a survivor" part and thought of Gloria Gaynor's "I Will Survive". Then I thought about black women's strife, then Smokey Robinson's "Tears of a clown", then I thought no, this is a story about current positive success. Then I thought about damn, this is Julie McKnight singing like this, with emotion that could be revealing some personal stuff. More personal than "Finally". Then I started thinking of my own life. Then I thought anyone can relate to this hook no matter what gender or culture or country or age or where they may be in their life right now. Then I thought "Love Train" by the O'Jays. Then I finally settled … it was just a great uplifting, relatable, across the board hit. Song of this year in the dance world by far!
For more info on Tony Humphries check:
Facebook: https://www.facebook.com/TonyHumphriesOfficial/
Soundcloud: https://soundcloud.com/tony-humphries
Love this? Check out more LV Legends Features HERE
Like what you hear? To help support LV Online buy us a coffee via Ko-FI. Click HERE
Tags:
David Morales
,
Janet Jackson
,
kevin saunderson
,
Kings of House
,
Kurtis Blow
,
Little Louie Vega
,
mfsb
,
Ministry of Sound
,
new york
,
The Slits
,
Tony Humphries