Tropical Disco with Moodena and Sartorial – LV Label of the Month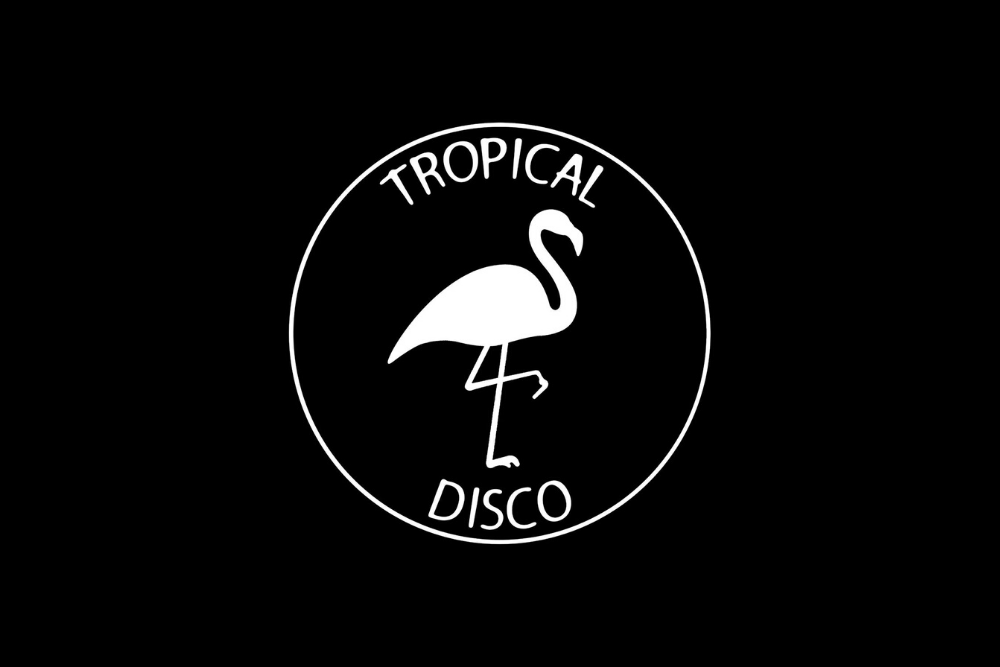 Tropical Disco with Moodena and Sartorial – LV Label of the Month
Tropical disco is run by friends Moodena ​& Sartorial two artists with a strong shared passion for music, parties and a love of vinyl.
With a powerful visual aesthetic and an incredible run of releases which have touched on disco, funk, jazz, soul, boogie and house all perfectly formulated for today's dancefloor they have quickly built Tropical Disco into one of the best recognised and most successful labels around in less than three years.
Starting out as a radio show on House FM with Sartorial and then a club night in Brixton the label launched with Tropical Disco Edits Volume 1 in 2017 and has consistently dominated both the download and vinyl charts since. Behind that success is a real work ethic which has seen the label release regular digital offerings and bi monthly vinyl releases. Despite this heavy release schedule they have been hugely successful in keeping the quality of the music sky high across the board.
As well as regular offerings by both label heads they have also hosted the crème de la crème of the disco world including Hurlee, Chevals, Paul Older, Hotmood and Natasha Kitty Katt.
In 2019 alone they had a mind boggling 8 number 1's on Traxsource.
Support for the label has been huge with Traxsource giving them a coveted label spotlight feature and they have also had huge DJ support from some of the key scene tastemakers including Chez Damier, Joey Negro, Soul Clap, Danny Krivit, R'N'T, DJ Spen, Jkriv, & Marshall Jefferson.
With the stratospheric rise of the label their parties have also blossomed with regular dates at Ministry of Sound and Number 90 in London and international dates rolling in.
We spoke to label bosses Moodena (Tim) and Satorial (Alex) about the label, their love of music, some of their favourite tracks and the future plans for Tropical Disco.
They also put together this very classy Tropical Disco Records mix for us to give a fuller flavour of the label. Please give it a share on Soundcloud and help spread the love. The full tracklist is at the bottom of this interview.
Hi there Tim and Alex
Thanks for speaking to us today.
Firstly how would you describe the musical style and ethos of Tropical Disco Records?
Thanks for having us on board! The label started as a disco edits label but has slowly developed into all different styles but generally we steer towards music that has soul, funk and jazz elements. We don't want to stick to one particular style or genre, if we feel it, we will put it out. The first question we ask ourselves when listening to demos is 'would we buy it? or play it?' We very much sign on our gut feeling.
Please can you give us three tracks released by the label which you would say are quintessentially Tropical Disco?
Alex
This is a tough one! Firstly 'Welcome to the Disco' would have to be up there. The title itself says it all and it's a proper party starter and always goes down well whenever I play it. Our first number 1 'Strawberry Jam' again needs a mention. Lastly 'Know The Time', as this was my first digital number one. It was such a great feeling to see your track N1!
Sartorial & Simon Kennedy – Welcome To The Disco
Moodena – Strawberry Jam
Sartorial – Know The Times (Tropical Disco Edits Vol.2)
How did you two first meet and what was it that led to your journey to founding
the label?
Tim
I met Alex (Sartorial) in Borough in London at a Cafe that he used to run 13 years ago. He was always asking me questions whenever I went in about music and booking DJ's. He then booked me for one of his events and we developed a closer friendship from there. After he released Volume 1, he hit me up asking if I would do a release for the label. I actually turned him down at the beginning as I was busy with other projects but he kept persisting and I'm happy he did! He really wanted me to be more involved helping run the label as at the time I was only playing the events as a resident DJ. I wasn't keen to start with as was busy with my job and was quite happy just being an artist and DJ…but it wasn't long before I joined up fully with Alex and Simon (Kennedy) who was an integral part of the label at the beginning. Simon then left to set up his own successful label 'Dubplate Disco' and we still put out releases from him.
Alex
I really wanted Tim to join the label because he had so much love and knowledge for the music its unreal. We both have a love for vinyl and that I think was a huge pulling power to get Moodena on board to start with.
What labels would you say were your own inspiration to founding Tropical Disco and how you wanted to run it?
Alex
So coming from a drum and bass background I would say labels like metalheadz and V Records were two labels I looked up to growing up as a young DJ. I used to love going to label nights as they always had an extra special vibe to them. From when I started djing in 1997 I knew I wanted one day to have my own record label!
Did either of you have any label experience before and what was the most daunting thing about setting up the label?
Alex
I had no experience in running a label, at first I set it up for me and a few pals to put our music out on vinyl. I have to say the label really started to become an international label once Moodena joined and things really started to develop. The most daunting thing for me at the beginning was are people going to buy our vinyl.
Tim
I was co-founder of a company called MN2S back in the mid nineties and we had a couple of labels, one called Milk'n'2 Sugar Recordings which later became MN2S Recordings and the other 1 Trax. We also had a digital distribution company so I had some experience and knowledge from this.
Your first three years in business have been spectacular to say the least with a constant stream of chart topping singles and sold our records. What would you attribute this explosive success to?
Primarily we would like to think, quality music! We try and keep the quality level high and also diverse. We get sent a hell of lot of demos. We are driven by what we love and what we vibe and it's great to see this transcend into sales. We also have a great name and logo as well playing and promoting our brand at Tropical Disco events.
What is a day in the life of Sartorial and Moodena at Tropical Disco like?
Alex
Every day there is something to be getting on with TDR. If I'm not working on the label I'm messing around in logic or having a mix!
Tim
I work at a DJ/Management company 4 days a week. For me it can be hard to balance the two but my main time consists of running the business side of things, A&R ing, production, events and Djing. I have Friday off which gives me time to work solely on the label or productions and we meet up one night mid week and most weekends to deal with other label bits, go through music etc. Listening to demos and responding to people takes up a lot of our time as we make a point of listening to every demo and responding to everyone that sends one! We also have another resident DJ called Dylan Pasqua who helps with all the technical side of things, uploading to soundcloud, Bandcamp and creating promo videos and lots of other useful bits as well as playing for our events.
What would you each say is your proudest label moment to date?
Alex
This one keeps changing as the label grows and new goals are set as old ones are achieved. Stand out moments have to be volume 1 on vinyl as this was massive for me and the birth of the label as such. Strawberry Jam going N1 with our first digital Number 1. Tropical Disco Records hosting the loft at MOS was a big deal and our first international gig in Barcelona for a Tropical Disco Records party has to be up there! Also selling out our event at Night Tales and djing along side Joey Negro and Marshall Jefferson at our Tropical Disco Records party last year.
Tim
Very similar to Alex to be honest. The event at Night Tales was dope and all the international gigs we have played have been lots of fun. Seeing the releases doing so well is a big buzz and all the support we have been getting. Signing music from so many talented artists from all over the world and seeing the TD family constantly expanding is also amazing.
From what you have learned from running a label during your time with Tropical Disco what 3 tips would you give to anyone looking to start up their own label?
Be committed 110% and prepared to invest a lot of time, energy and money. We don't pay ourselves anything from the label, any gig money, sales even our own royalties for our own productions we just invest back into the label. Create a strong identity, good branding/logo name but ultimately put out good music! Do it from the heart and have real passion and love for what you're doing and never give up.
Don't just try and sign the next biggest hit. Build and develop your own vibe and sound first and then hopefully the hit will come to you.
Have you both been surprised by just how huge the disco scene has become over the last few years, what do you think has led to this resurgence of interest in the genre and where do you see it going in the next few years?
Alex
I think it's great to see young kids getting into old disco tracks, cutting them up and making them fresh and playable for 2020. Who knows what will happen in the next few years, let's hope it keeps growing the way it has over the last few years!
Tim
I'm definitely surprised how it has blown up but also obviously embracing and loving it. Disco has become cool/popular which can be a 2 edged sword as these things tend to run in cycles. Having said that House Music has just developed and progressed for over 30 years now and disco has always been a major part of this and is developing and changing all the time. You have a lot more original disco music being made now too which is great to see and let's hope it stays and evolves for many more years to come!
What was the last record that each of you bought?
Tim
The last record I bought was 'Chez Damier Presents – Purpose by Design – Compilation Project. All the tracks are dope, but Brawther's – Endless (UG Mix) is a groover.
Alex
I buy so much music each week that I can't remember the last one I brought. Juanito Rose, is a track i've been playing a lot of late.
How difficult has it been balancing the rigors of running a label with creating time
to work on your own productions?
Alex
It's not difficult to find time for the things you love in life, you always make time for the things that make you happy in life!
Tim
It can be difficult but for me I have Fridays off so i'll dedicate Fridays as studio days.
You are also active club promoters with the Tropical Disco events also starting to create a major buzz. What can you tell us your club nights, where and when can we find them and what should we expect when we come down to check them out?
We had some big ones last year with Joey Negro, Marshall Jefferson, Ray Mang, Get Down Edits and Souled Out. We also did a big event with Up on the Roof and The Shapeshifters in Brixton which was a wicked party.
Musically you can expect a full range of music from Disco, Deep House, House, Soul and Funk. Party wise we have a regular event at Number 90 in Hackney and our next event is 28th March which is a residents night and then we are playing with Norman Jay at Number 90 again on 3rd April. We are also excited to be playing Gottwood and Noisily Festival in the summer with the Jive Talk boys!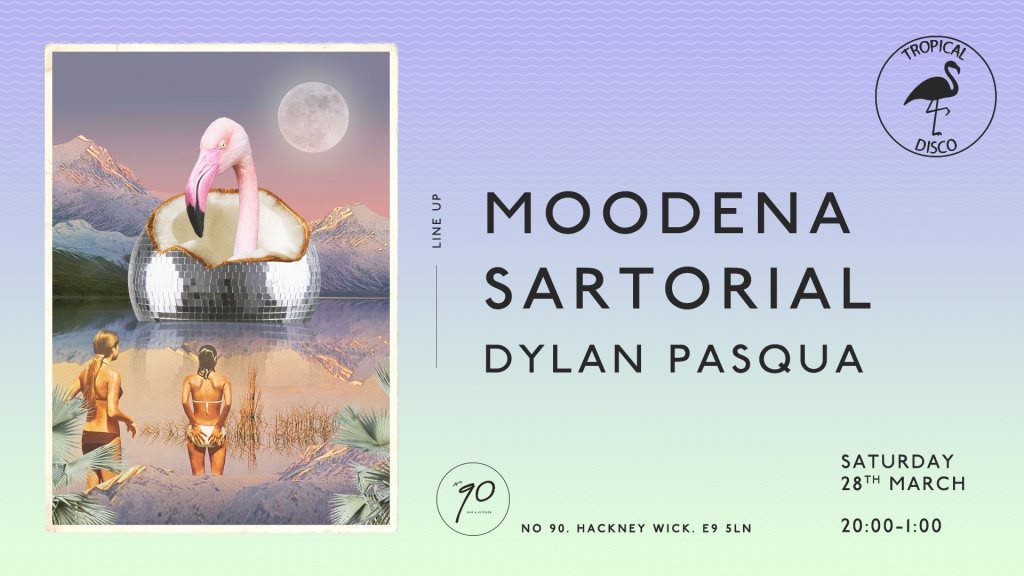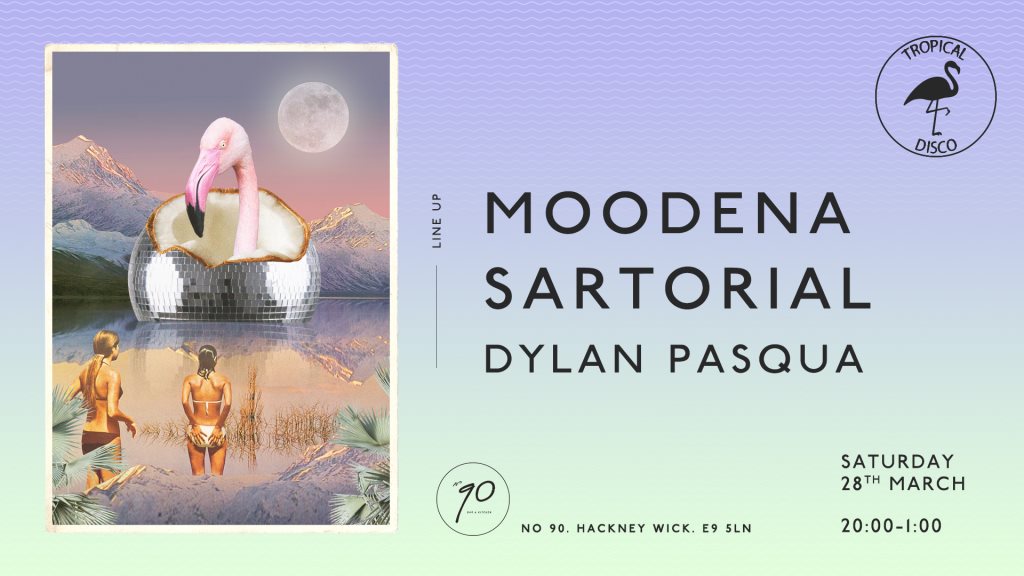 And finally what can we expect from Tropical Disco in 2020?
Lots more beautiful music to come, more original productions, lots of funked up edits and an ever evolving sound.
For more info on tropical Disco check:
Facebook: https://www.facebook.com/TropicalDiscoRecords
Soundclud: https://soundcloud.com/tropicaldiscorecords
LV Mixtape 118 – Tropical Disco Records Tracklist
Sunshine – Phazed Groove
Papi chulo – Moodena
Hurlee – la Jeune nuit
Monsieur van Pratt – clavs & trumpets m
La Babar – Sweet Cakes
Caprice mood – Igor Gonya
Sartorial – night shade
Soul Avengerz & Odyssey inc. – just can't live without you
Din Jay – sunshine boogie
Paul older – Let's make music
You've always been – castle queenside
Deep fried funk – Moodena
Come get it – Moodena & Sartorial
Got that feeling – Moodena & Sartorial
Brothers in arts – what's wrong
Groove this way – HP Vince feat Rau Romo
Sartorial – Ruby Tonight
Jive Talk – Funky tranky
kikko esse & emanuel del
Carmine Vamos baby – Sould out
Jakob Apelian – say something
Rio Soldierman – tiger discoman
Tags:
disco
,
disco house
,
Moodena
,
Sartorial
,
Tropical Disco Records