Ben Sun selects his Top 10 Razor-N-Tape groovers.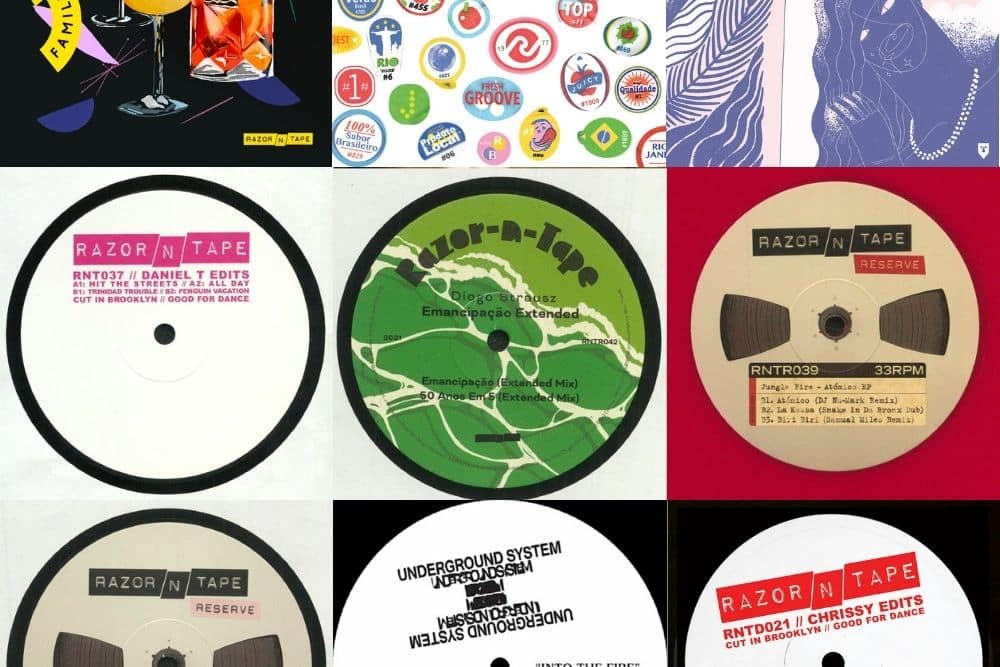 Ben Sun selects his Top 10 Razor-N-Tape groovers.
Like what you hear? To help support LV Online buy us a coffee via Ko-FI. Click HERE
With a brand new EP Distant Messenger arriving this week on Razor-N-Tape Ben Sun has conjured up a seriously tasty 4 tracks of classic house vibes from deep and ethereal to acid edged all ready to head straight to the dancefloor. It's a very classy EP, we reviewed it HERE and we also spoke to Ben about the mix which he put together for us, which you can check below.
You can grab the EP via: https://razor-n-tape.fanlink.to/BenSun
As our regular readers know we are big fans of Razor-N-Tape, it's a label which time and time again delivers the goods be it on their original vinyl imprint or via the Reserve imprint which hosts ben's EP. From outrageous edits to the finest original house and disco they cater to all tastes.
To celebrate the release we asked Ben to pick 10 of his favourite Razor-N-Tape jams and he has delivered in spades. Check out his brilliant choices below.
Ben Sun's Top 10  Razor-N-Tape Groovers.
1.Diogo Strausz – Emancipacao (Ron Trent Remix)
I love the music of both Diogo and Ron Trent – this is such a big expansive tune. RT has made it super club friendly but it's still straight up timeless Brazilian jazz-funk. Epic.
2.Jungle Fire – Biri Biri (Samual Miles Remix)
Sprawling psychedelic mix of this wicked afrobeat tune. Wild crescendos, heavy breaks and a big bad bassline.
3.Underground System – Desnuda
Powerful yet soothing and laid back… a dreamy horn section and gorgeous vocals. Proper blissed-out jam from a killer band.
4.Baiana System – Água (Jimpster Remix)
Driving cut with deep hypnotic piano riff; heavy hitting but totally emotional and bit melancholic. Sick tune from Baiana – bravo Jimpster, dope version!
5.Sentimental Animals – Love Vibration (Basement Mix)
I'm always a sucker for the boogie / photo house version. Deep, raw and funky, still got the hook.
6.Lay-Far – Acid-Funk Bass Extended Tool
As promised on the title… Rad blend of disco strings, acid bass and breakbeats. Massive rave tune, love it.
7.Daniel T – Trinidad Trouble
Super heavy-duty club edit of of a deep, hypnotic African funk jam. Bound to cause stank face all round.
8.Ferias'77 – Rainha Do Mar (JKriv Rework)
The original track behind this rework has a special place in my heart, and I was stoked when I heard JKriv's version – all the gorgeous funky delight, and diving deep into the groove. This track works anywhere.
9.Elado – Gulab Jamun (Edit)
Eastern hooks, 303 acid bass, bi-lingual vocals, call and response. What more do you want?
10. Ragtyme • T.C. Roper – Fix It Man (Chrissy's Fixer Upper Mix)
Raw as could be but still has that pop sensibility that Byron Stingily always seems to nail – the bassline changes up, the vocals are loud and a tiny bit of sparse guitar completes the palette.
For more info please check:
Ben Sun Facebook: https://www.facebook.com/bensunmusic
Ben Sun Soundcloud: https://soundcloud.com/bensunmusic
Ben Sun Instagram: https://www.instagram.com/bensunmusic/
Razor-N-Tape Facebook: https://www.facebook.com/RazorNTape/
Razor-N-Tape Soundcloud: https://soundcloud.com/razor-n-tape
Razor-N-Tape Instagram: https://www.instagram.com/razorntape/
Razor-N-Tape Twitter: https://twitter.com/RazorNTape
Love this? Check out more releases from Razor-N-Tape HERE.
Tags:
Baiana System
,
Ben Sun
,
Chrissy
,
Daniel T
,
Diogo Strausz
,
Elado
,
Jimpster
,
Jkriv
,
Jungle Fire
,
Lay-Far
,
razor n tape
,
ron trent
,
Sentimental Animals
,
Underground Sstem