Everyone Back To Mine With Local Talk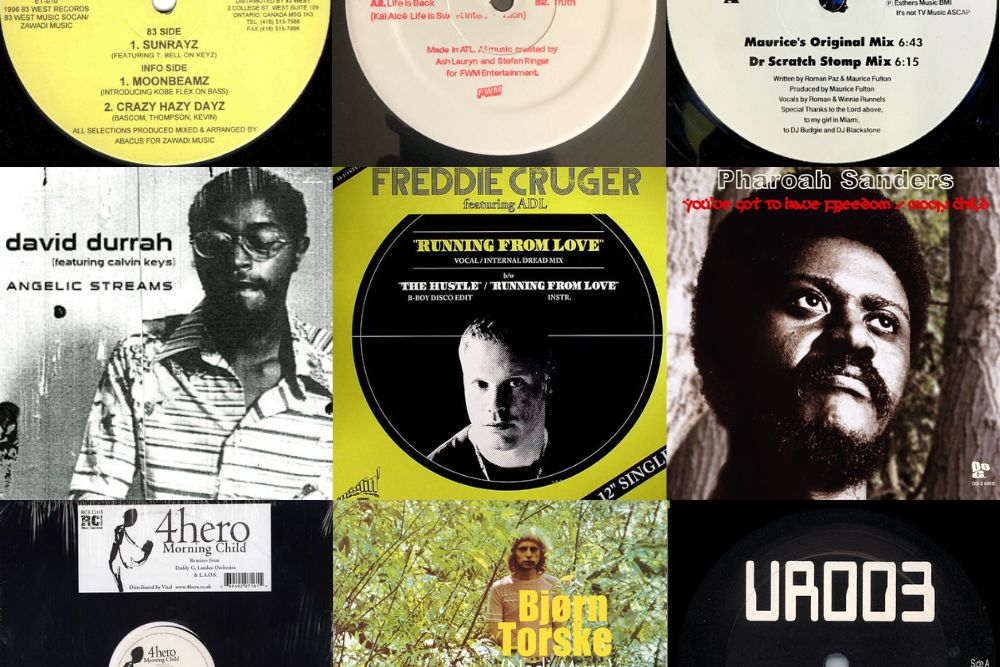 Everyone Back To Mine With Local Talk
Local Talk this week celebrates it's 10th anniversary by all the way back and re-visiting it's first ever release, Bassfort's Moon Shadow / Moon Light, the one that stated it all for the label. They have commissioned two fabulous new mixes from scene legend Joe Claussell and Kyodai who are also 2/3 of original act Bassfort.
The resultant EP is incredible, both artists have conjured up truly brilliant mixes. You can check out the premier of Joe Claussell's deep house odyssey below, eleven minutes of sumptuous and spellbinding house music.
You can grab the new EP via: https://localtalk.bandcamp.com/album/moon-shadow-moon-light-10th-anniversary-mixes
To celebrate the release the heads behind Local Talk have invited us back to theirs to sample some of their favourite records. Expect incredible life affirming music from David Durrah, Pharoah Sanders, Niko Marks, Bjorn Torske, Ash Lauren, Maurice Joshua, Underground Resistance, 4Hero, Freddie Cruger and many more.
Everyone Back To Mine With Local Talk
01) David Durrah (featuring Calvin Keys) – "Angelic Streams"
We do love our jazz and his one hits all the right notes, a perfect tune to start the afterparty.
02) Pharoah Sanders – You've Got To Have Freedom
This one is a masterpiece and if you haven't played it 100 times on repeat really loud until your neighbours call the police, then you haven't done it justice.
03) Abacus – Sunrayz
Everyone should have an Austin Bascom record in their collection, this one just keep on building and building. I had this idea once to make an edit that was at least two hours and just play that for a gig. It would probably work great.
04) Niko Marks – Truly Something
Chune, the a-side on this release, is a great tune and gets played a lot – as it should – but I dare you to play the b-side. Truly (!) uplifting tune.
05) Rhythm & Sound w/ Tikiman – "Music A Fe Rule" (Part 1)
This is the perfect track to start over with, play this with care though, you'll probably tear down the walls.
06) RWJ – Joy In My Life (Maurice's Original Mix)
I moved house recently and this was the first record I picked up when I went thru the boxes with records. Very straight forward track with a positive message, you'll learn the lyrics in 2 seconds and then sing along. I like those kind of tracks.
07) Bjorn Torske – Fresh from the Bakery
Torskefar makes the perfect Nu Groove track, an ode to the '90s..done in the 90s.
08) Marcel – On the Beach (Chaser Remix)
It's perhaps not the most sought after Nuphonic release but it still sounds damn good and shows also how something really simply – it's just one chord – works all the way.
09) Underground Resistance – The Final Frontier
This is the track you play when the police arrives to tell you to turn down the music but instead they start dancing electric boogie.
10) Ash Lauryn – Life Is Back
The kind of music I want to hear being played at parties. Go Ash
11) 4Hero – Morning Child
The track you play when the sun is going up and people realize it's time to go home and you want to leave them with something they'll remember.
12) Freddie Cruger – The Hustle (B-boy Disco Edit)
RIP Freddie!
Grab Moon Shadow 10th Anniversary Mixes from: https://localtalk.bandcamp.com/album/moon-shadow-moon-light-10th-anniversary-mixes
For more info please check:
Kyodai Facebook: https://www.facebook.com/kyodai.project
Kyodai Instagram: https://www.instagram.com/kyodai_official_/
Joe Claussell Facebook: https://www.facebook.com/Joe-Claussell-47558567307/
Local Talk Facebook: https://www.facebook.com/LocalTalkRecords
Local Talk Soundcloud: https://soundcloud.com/localtalk
Local Talk Instagram: https://www.instagram.com/localtalkrecords/
Local Talk Twitter: https://twitter.com/thelocaltalk
Local Talk Bandcamp: https://localtalk.bandcamp.com/
Love this? check out more from Local Talk HERE
Like what you hear? To help support LV Online buy us a coffee via Ko-FI. Click HERE
Tags:
4Hero
,
Ash Lauren
,
Bassfort
,
Bjorn Torske
,
David Durrah
,
Freddie Cruger
,
Joe Claussell
,
local talk
,
Maurice Joshua
,
Niko Marks
,
Pharoah Sanders
,
Underground Resistance