LV Disco Selectors 43 – Charles Vaughan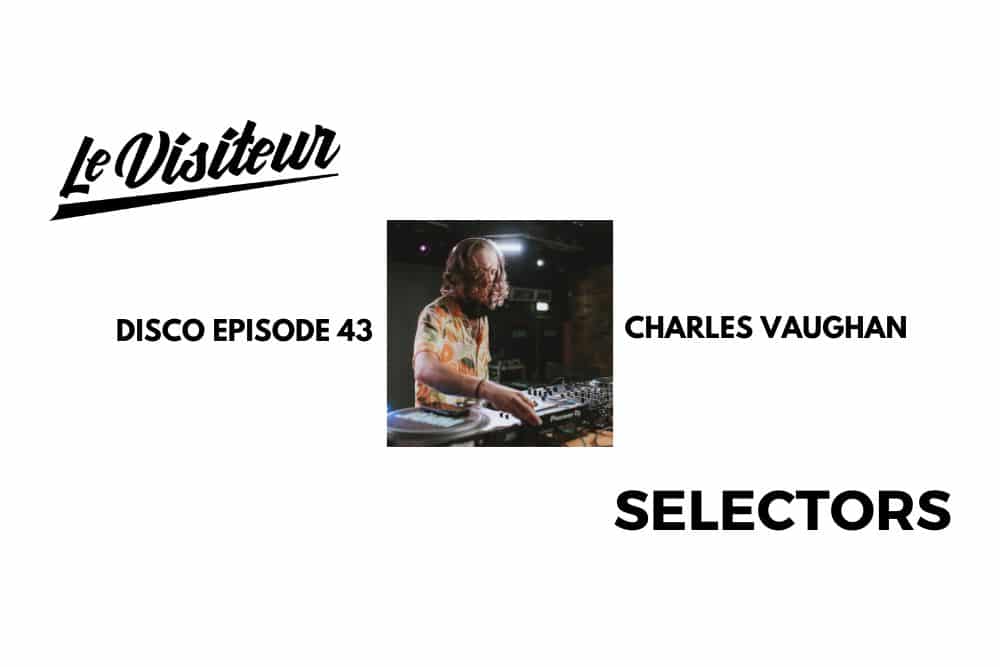 LV Disco Selectors 43 – Charles Vaughan
With a brand new EP out this week featuring his soaring rework of Sound Experience's 1975 gem 'Got To Keep On The Move', which you can check out more about here, we thought that it was high time that we got highly rated selector Charles Vaughan in to drop a guest mix for us. It's very safe to say that he has lived up to his soaring reputation, putting together a high energy vocal and groove heavy mix, just the way we love it!
Indeed given this one features five stone cold all time Le Visiteur favourites from Lorraine Johnson, Betty Wright, Thelma Houston, LCD Soundsystem & George Kranz guest mixes don't come more Le Visiteur than this one.
Youcheck out the radio edit of Charles rework of Got To Keep On The Move below and grab it via: https://snd.click/xqdy
We also spoke to Charles about the mix and you can check out the full tracklist below.
LV Disco Selectors 43 – Charles Vaughan
Q1: What can you tell us about the theme of the mix and what are some of the key tracks for you?
So recently I've been a bit under the weather, which isn't really how I intended to kick off summer. I've been putting in a ton of work behind the scenes to make this EP the best it can be, but this has sadly taken its toll somewhat. I think this is a part of the creative process we often don't speak about but is often just as prevalent as the joy of artistic creation. Because of this, I haven't had as much energy to play my favourite records as I'd like to – so I took this opportunity to put together something that would really remedy this.
The tracks I selected are a mix of some newly discovered gems and some favourites that I've been returning to often on gigs. It's all music that truly gives me joy and gets me going like nothing else. I wanted to focus on creating a strong feel-good and approachable energy to the mix rather than going in heavy on the mixing – although of course there's some tasty blends in there still.
Rather than getting deep into connecting conceptual ideas with this mix (as I often love to do), I wanted to record something that was truly self-serving – an antidote to my blues if you like. I've been absolutely craving high energy disco and deep groovy house records at the moment and nothing makes me feel better than dancing around my lounge in the sunshine. So that's what I did – so much in fact that I lost track of time and didn't actually fit in 3-4 tracks that I had planned! That's the sign of a great mix really.
Some of the highlights include Theo Parrish's 'Space Cadet' remix of LCD Soundsystem's '45:33'. I first heard it in Four Tet and Floating Points' b2b mix from the closing party of Plastic People and I was immediately transfixed. It's just so out there – truly extra-terrestrial! I had no clue what was going on the first time I heard it – that man can really do anything with his music, it's incredible. What a groove!
Another is Thelma Houston's 'I'm Here Again'. I had the absolute honour of warming up the dance for Charlie Dark at one of our OOX parties (a set I am incredibly proud of) and he absolutely blew my mind when he dropped the Danny Krivit edit of this. But since then I've actually been digging the journey and emotional arc of the original. It's something I wanted to embody in my upcoming EP – a complete disco journey that truly moves you over its course.
A final highlight would have to be the Unabombers Electric North Remix of 'Sing' by The Electric South. Luke has been such an inspiration to me – both independently as a DJ and through Homoelectric, which I've interviewed him about multiple times. I wanted the mix to not just be straight disco and instead venture into the darker and deeper energies that you might find in a real basement disco affair, and man does this one kick. Acid induced soul chugging carnage.
Q2: How does the style of mix here compare to how you would approach a live DJ set?
I pre-selected the tunes for this mix before recording, which I don't tend to do for live sets. Mainly because I already had a strong idea of the kind of mix I wanted to record and, because of that, the songs I wanted to play. Plus I knew I wanted to traverse a couple of different sounds. Don't get me wrong, I love doing it live and finding those unexpected paths through different sections of my collection – but for this mix, I knew what I wanted to do from the get go.
These days when I play out live I try not to have too much of a plan. There was a time when I was so nervous for bigger bookings that I'd relentlessly map out every possible direction I might want to take the music. I don't want it to seem like I think that approach is wrong or bad practice; for me personally it just puts me into this kind of tunnel vision state rather than letting me trust my instinct. DJing is a great way to learn to trust yourself. It challenges you to make snap decisions and believe in your own judgments – you can't turn to anyone else, you just have to believe in yourself.
When I get to record mixes at home, I really enjoy being able to get a bit more creative with the FX. I have a beautiful Bozak Iso-X2 on my master output which is a four band rotary isolator. The sub control is incredible and it's such a joy to experiment with. When I play on my full home setup, I can get really deep into shaping the sound and creating little moments of tension and release within each track. It would be a dream to bring this rig to every live gig I did – promoters take note!
Q3: Which other artists DJ mixes do you find yourself coming back to time and again and do you have a favourite that you gravitate towards?
I definitely have a little selection of favourite mixes and DJs that I regularly go to – more so than anything, because it gives me such joy! I often love to get a bit nerdy and start breaking down the composition of records they've selected and how it's informed their mix. But, I think ultimately I got to these DJs because they fill me with energy – they inspire me to create amazing music. Plus when you're feeling that inspired, you get this deeper appreciation for the music in their collection – it just gets me so excited!
My rock throughout the pandemic and beyond is Charlie Dark's Worldwide FM show. I really resonate with his message of peace, positivity and blessings and how outward he is in talking about positive mental approaches to creativity. Not to mention his incredible selections; he's truly put me onto so much new music, it's incredible how deep his bag goes! Plus, he's the loveliest man.
Jayda G is another absolute beacon of positivity. I'm a very energetic person both behind the decks and in person. So for me, seeing her disregard any notions of being the 'cool' DJ and instead absolutely losing her mind over the records she's playing makes total sense. How on earth can you not be dancing just as much as the crowd when you're playing those kinds of joyful records – she's a true performer.
Sometimes, especially when you're a smaller DJ, it can feel like a risk to play deeper cuts at the gigs you're booked for – especially in establishments that aren't necessarily designed for it. But every time I feel discouraged by this, I go back to Mafalda's live sets. She never holds back on reaching deep into her collection and every time I've seen her live she's astonished me by the energy she can sustain with such deep music from across the spectrum.
I think my favourite though would have to be either Floating Points or Gilles Peterson – two different figureheads of different worlds of DJs but they have something in common. I've never wanted to settle into a certain genre or sound – I just can't sit with it! As much as I adore disco, I always want to build my sound by selecting everything from spaced out IDM to Dilla-inspired Hip Hop. Floating Points & Gilles (both in their own different ways) inspire me to do this – their sets are often so diverse. They've managed to carve themselves out their own space in the industry, meaning they can play the records they want to on their own terms. A hard thing to do in today's industry…
Many years ago whilst I was still a young student (I'm not that old now but go with the dramatics), I ventured to one of Gilles' Sunday Phonox sessions. It had been snowing non-stop all week in London and nothing was more surreal than walking into a dark sweaty  club at lunchtime in boots, a snow coat, hat, gloves and scarf. It was my first time seeing Gilles and I was not prepared for the music I was about to hear. I cried that day in Phonox watching a couple dance to Nina Simone's 'My Baby Just Cares For Me'. Moments before, Call Super & Beatrice Dillon's seismic techno cut 'Fluo' had shaken me to my core. It was every part of music and DJing that I love neatly bundled into one set. A truly life-changing moment.
Love this? You can also check out Charles Vaughan's Top 10 Lucky Cloud / Loft Style Classics HERE.
For more info please check: 
Charles Vaughan Facebook: https://www.facebook.com/cvaughanmusic/
Charles Vaughan Soundcloud: https://soundcloud.com/c_vaughan_music
Charles Vaughan Instagram: https://www.instagram.com/cvaughanmusic/
Charles Vaughan Twitter: https://twitter.com/cvaughanmusic
LV Disco Selectors 43 – Charles Vaughan – Tracklist
Sound Experience/Charles Vaughan – Got To Keep On The Move (Charles Vaughan Disco Odyssey Remix)
Peggi Blu – I Want It All Now (Justin Van Der Volgen Edit)
NYCC – I'll Keep A Light In My Window
The Invitations – We Don't Allow
The Warriors – Destination
Motown Sounds – Bad Mouthin'
Lorraine Johnson – The More I Get, the More I Want
Jax Transit Authority – Life Is a Miracle (Full Length Mix)
Betty Wright – Lovin' Is Really My Game (Live Version)
The Lyman Woodard Organization – Theme in Search of a Sportspectacular
Thelma Houston – I'm Here Again
LCD Soundsystem – 45:33 (Theo Parrish's 'Space Cadet' remix)
The Electric South feat. Bob Lind – Sing (Unabombers Electric North Remix)
George Kranz – Din Daa Daa (Original US Mix)
East Coast Love Affair – Chicago
Sound Experience/Charles Vaughan – Got To Keep On The Move (Charles Vaughan Disco Odyssey Remix)
Like what you hear? To help support LV Online buy us a coffee via Ko-FI. Click HERE
Tags:
Charles Vaughan
,
disco