Footshooter – 11 releases that blew the house down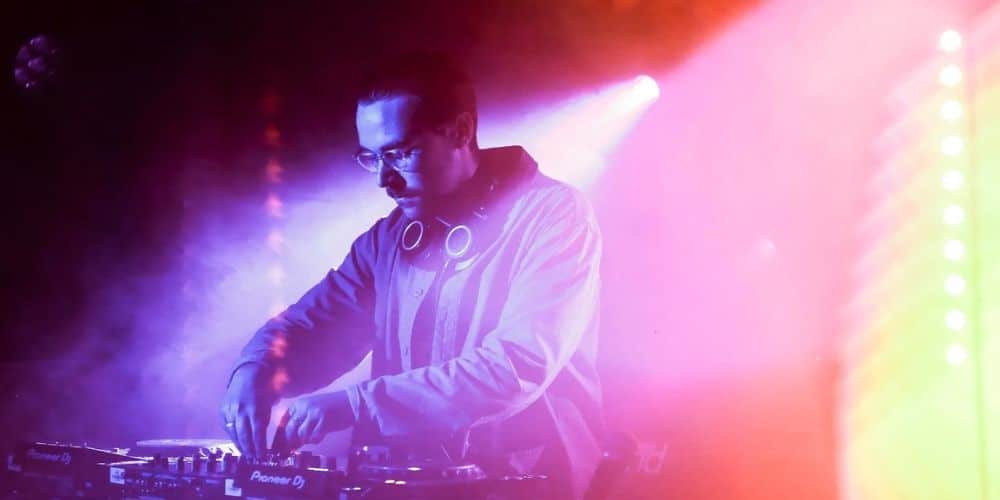 Footshooter photo by Ed Mooney
Footshooter returns to Wolf Music following his excellent remix of Velour for the label last year. Since that remix he released a stand-out artist album Southside hymns via Astral Black further establishing a signature sound which merges a multitude of electronic genres into something vibrant and truly exciting.
His latest EP for Wolf titled Afterglow FM continues his evolution into one of the most exciting names on the scene. The EP features six tracks combining everything from cinematic synth grace to energetic broken beat, hip shakin' percussion and laidback bliss. Indeed horizontal track Angel is one of the stand-outs on what is an truly excellent EP.
As far as production skills go, Footshooter is a real stand out talent at the moment.
You can check out the brilliant Archetype 7 from the EP below.
To celebrate the release of the EP, Footshooter put together a list of 11 of his favourite tracks for us. As you would expect it's a varied collection but each with that certain extra something which stands it head and shoulders above the competition.
Grab the EP via: https://www.phonicarecords.com/product/footshooter-afterglow-fm-pre-order-wolf-music/183372
1. Saba – Few Good Things (ft. Black Thought & Eryn Allen Kane) (2022)
This is the closing tune from one of my favourite records of the year, A Few Good Things by Saba. The flow of the whole LP is incredible, with beautifully detailed production and poetic lyricism throughout. The way this beat evolves throughout the track is insane.
2. Stefan Ringer – Let's Get The Rhythm (ft. Ash Lauryn) (2021)
Love this bumpy piece of smoky house from Stefan Ringer with sick vocals from Ash Lauryn. There is some amazing house and broken beat coming out of Detroit and Atlanta these days (as always).
3. Mereba – Rider (2021)
I'm quite late to Mereba but her music is a blessing. This tune is such a vibrant offering referencing RnB, Soul, Afrobeats and as with all of her stuff, there are tones of Folk music in her vocal delivery which I love.
4. Ben Hauke – Turn It On (2022)
Ben has been a huge influence on me for years after meeting him through music events in south east London. He's a legend and musically is unmatched – this bumpy broken tune perfectly sums up his skills. This came as part of a compilation called 'Soon Come' from other local legends Touching Bass.
5. Byulah & Anja Ngozi – B Brave (2021)
More south east London magic here. Anja's production is incredible (go check out her label Sibin) and I love the spaced out RnB vocals from Byulah.
6. Kam-BU – Pickney (2022)
Kam-BU is one of my favourite MCs coming out of London at the moment. His voice is so rich and I love his choice of beats – always just the right side of trippy.
7. Lex Amor – Rocks (2021)
I was lucky enough to finally collaborate with Lex on the recent SAUL project we did for Rhythm Section – everything she touches is gold. Beautiful introspective tones, and I can't get over how she switches between singing and rapping so effortlessly.
8. Jeff Parker – After The Rain (2020)
Incredible spiritual jazz here from Jeff Parker – the whole LP, Suite for Max Brown, is one of my favourite jazz records of recent years. The label this comes from, International Anthem out of Chicago, is also worth checking out – everything they release is incredible.
9. DJ Lycox – Solteiro (2017)
5 years old now, but still love this track. The synths and harmony are so emotive, but the beat still makes you move your hips. This is a great track for 'resetting' the dancefloor during DJ sets. Lycox is part of the Principe Discos crew out of Lisbon – their output is constantly pushing the boundaries of electronic dance music and is nicely weird.
10. Weldon Irving – Morning Sunrise (1979)
Beautiful, soothing soul music here from Weldon Irving. I was in a taxi to the airport at sunrise recently to go and play in Milan with SAUL, and Nathan (Natty Wylah) played this tune through the aux – it was a really lovely moment.
11. SAULT – Angel (2022)
Another modern classic from the Forever Living Originals camp. Produced by InFlo, who produced Little Simz' LP Sometimes I Might Be Introvert and Cleo Sol's music – this one features Chronixx on vocals. The way it flows through the different sections is a real trip.
For more info on Footshooter and Wolf Music check:
Footshooter Facebook: https://www.facebook.com/footshootermusic
Footshooter Soundcloud: https://soundcloud.com/footshooter
Footshooter Instagram: https://www.instagram.com/footshootersound/
Footshooter Twitter: https://twitter.com/footshooteruk
Wolf Music Facebook: https://www.facebook.com/wolfmusicrecordings
Wolf Music Soundcloud: https://soundcloud.com/nysoul
Wolf Music Instagram: https://www.instagram.com/wolfmusic/
Wolf Music Twitter: https://twitter.com/WOLFMusic
Love this? Check out more from Wolf Music HERE
Like what you hear? To help support LV Online buy us a coffee via Ko-FI. Click HERE
Tags:
Footshooter
,
wolf music